Airbus and interiors manufacturer HAECO are offering a new solution to the problem of emergency equipment, crew bags and other non-passenger items taking up overhead bin space with the Centerline Ceiling Stowage compartment, an un-snappily monikered storage option that is much more exciting from a passenger experience perspective than its name suggests.
Worldwide, the crunch on overhead space for passengers' cabin bags is getting more problematic for airlines. In several regions, particularly the United States, this is driven by the amount passengers bring on board, while storage for crew bags, emergency equipment, inflight entertainment systems, and other items not required to be accessed in-flight compound the problem.
For business and first class passengers in particular, where one or even two rows of overhead storage may be taken up with airline equipment, not having anywhere to stow their bags is a reasonable complaint. One of the reasons passengers pay for a premium fare — either with cash, miles or as part of their loyalty perks — is to not have to hang around the gate area waiting for the Pamplona-esque running of the frequent traveller bulls down the airbridge once the agents start boarding.
The centerline ceiling stowage (CCS) compartment comes in two sizes — regular and large — to accommodate a range of equipment and baggage.
"The CCS is designed to hold crew luggage, onboard wheelchairs, life rafts and other emergency equipment, among other items. The compartment is offered in two sizes, and is available in two positions on the A320 and three positions on the A321. The ceiling compartment will be compatible with fixed and pivoting bins, and will also be available as a retrofit option through an Airbus service bulletin modification," an Airbus and HAECO statement explains.
With careful, professional stowage, each compartment appears roughly equivalent in size and storage space to an Airbus A320 current-generation overhead bin.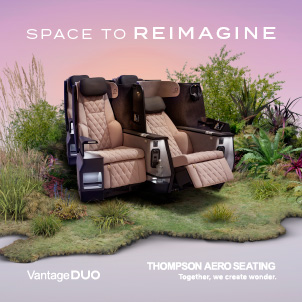 "We're extremely pleased and very fortunate to be selected by Airbus to provide this ceiling storage, which is something that is actually an idea that we presented a couple of Hamburg interior shows ago," HAECO senior vice president of engineering and product development José Pevida tells RGN.
"We started to work with Airbus on this particular application on the Airbus 320 family of aircraft, and finally we've arrived to being awarded the linefit and retrofit program," so we're very pleased to have that," Pevida says.
Pleasingly, both Recaro and Airbus are very much approaching the new bins as an opportunity not just for equipment that won't be touched except in an emergency, but for a wider range of items.
"Really, the primary functionality for it is to create additional storage space so, very much, that storage can be used for emergency equipment, but it can also be for additional crew storage areas or some equipment that is currently occupying the overhead bin space — which we all know is at a high premium in the cabins," Pevida says. "This is one of the solutions that allows, for example, portable oxygen equipment, first aid kits. That type of emergency equipment you may see normally in the bins can be moved to these areas and that frees up these areas for baggage."
Of course, the system hasn't been without its engineering challenges. Any time that an interiors supplier suggests fixing new storage options to the attachment points inside the cabin and fuselage, a significant amount of recertification and consequential engineering hurdles must be overcome.
"Some of the engineering challenges are your common challenges that we have to make it a lightweight product," Pevida notes, "but there's also the aesthetics of it to make sure that it properly blends with the rest of the ceiling lines so that it will fit within the cabin aesthetics."
With an increasing number of interiors suppliers — and indeed airframers and airline customers — taking care to ensure that the overall design of the cabin works from the often competing perspectives of safety, functionality, and looks, the centerline ceiling stowage compartment is relatively unobtrusive and matches the rest of the cabin.
"The other thing is the ergonomics," Pevida notes. "We do have several mechanisms in there that allow it to very smoothly transition from a stowed position into an open position, and we have things like hold-open devices so that the equipment or the items that are already stored in there can be taken in and out without having to hold the door open."
Clearly, there are questions to be answered about how airlines and cabin crew use these storage areas. While HAECO has engineered them to be ergonomic, the crux will be around whether there is user (i.e., crew) friction compared with the previous normal option of just popping bags into the business class overhead bins.
But this kind of stowage is not entirely unprecedented in the airline arena. Your author recently flew on a Swiss Boeing 777-300ER and noticed a pull-down storage bin over the galley, which the cabin crew were using for stowage of their personal items to avoid needing to compete with passengers for space.
The supplier-furnished, linefit nature of the bins is also not to be overlooked. HAECO is giving the impression of a seatmaker and interiors supplier that would like to be even more involved with factory-fitted work despite also being one of the world's most influential maintenance, repair and overhaul operations.
"HAECO Cabin Solutions' selection as a supplier of SFE equipment to Airbus is a milestone for the Greensboro, North Carolina based company, which became part of the Hong Kong based HAECO Group following the 2014 acquisition of TIMCO Aerosystems," the company says in a statement.
Related Articles: