"We all live in a digital world and to be present in that digital world is where we spend a lot of time." This was Lufthansa Group CEO Carsten Spohr's message this week as he introduced the company's Digital Aviation workshop in Frankfurt.
Much of the discussion at the event was around harnessing data and personalization for passengers. "This dynamic – of using data, individualizing offers to our customers, knowing more about them to enhance their travel – is the cornerstone of our digital experience. We call that Project SMILE: Surpass My Individual Lufthansa Experience," said Spohr.
Media got the chance to witness an example of SMILE at work during a tour of Frankfurt airport. Bluetooth beacons for location tracking, the Lufthansa app, flight booking details and lounge occupancy data combine to allow Lufthansa to offer a personalized discount offer for lounge access if a traveler arrives at the airport early or if the system knows a flight is delayed. This is a relatively simple use case and one that does a good job of showing the various data systems integrating. And it has the potential to drive incremental revenue for the carrier.
Lufthansa is not alone in its efforts. Many airlines now have beacon-based location services available at their hub airports. And SAS has been experimenting with similar offerings in more advanced stages for a couple of years now, helping to improve service recovery during IROPs scenarios.
Maximizing performance means obtaining data inputs from all sides. And getting that data from passengers, particularly in Germany, can prove challenging. But Spohr believes changing consumer demographics will soon drive major changes in the way passengers interact with the airline, saying:
Surely there is a generational gap where older passengers do not want airlines to know too much about them. When it comes to young travelers, growing up in the Facebook years, they are fully open to providing us with as much information as we want as long as they believe we create additional value.
His comments mirror those made recently by Emirates, which pointed out that travelers in the social media age are far more willing to put useful personal data online. The challenge is in aggregating and filtering, not in driving disclosure.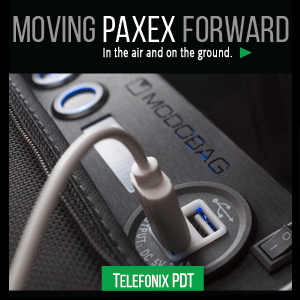 Lufthansa also highlighted some back-office innovations such as digital manifests for cargo, replacing the reams of paper that must accompany most shipments. Much like the switch from paper tickets to e-tickets for passengers, the cargo project requires massive infrastructure upgrades and planning before any real progress will be seen on the front lines. The company estimates that it has completed about 40% of the work required.
Spohr did not ignore inflight connectivity during the event; indeed, that was one of the key components of his presentation. After all, Lufthansa Group's airlines are in the process of rolling out Inmarsat's Global Xpress (GX)-powered solution on their short- and medium haul aircraft, and initial pricing tiers have been confirmed. Mobile messaging will be available for 3 euro per flight, general web browsing will be priced at 7 euro and streaming media at 12 euro.
Unfortunately, Lufthansa's new GX connectivity was not offered to media to use during the demo flight despite Sphor's suggestion that it would be.
Passengers on board the Digital Aviation demo flight did, however, watch a live broadcast of interviews over the airplane's wifi network.
By spring, almost 100 aircraft within the Group are expected to be equipped with GX. While both Lufthansa and Inmarsat expressed their desire to have GX in service sooner than the current timeline, Inmarsat's Dominic Walters, senior director aviation market strategy, suggested that, "Yes, it may be slower to market than we desired, but we have to get it right."
Getting all of Lufthansa's new digital projects "right" seems to be the name of the game for the company.
(n.b. Lufthansa provided one-way airfare for me to attend the event in Frankfurt; all opinions are my own)
Related Articles: