Operators, airframers and inflight connectivity providers find themselves at a pivotal point in the way airlines use connectivity, not just for passenger experience, but for driving ancillary revenue gains. Airbus expects the $40.5 billion in ancillary revenue reported in 2015 to more than triple to $130 billion annually by 2020. Moreover, as Airbus vice president for cabin marketing Ingo Wuggetzer highlights, much of the growth will come from real-time purchases on the aircraft over connectivity pipes, rather than in the booking channel.
"Why we do connectivity: because of the sales. That's a big portion of your revenue already — important for airlines. We do bundle some ticket elements. We want to sell more, a lot more," says Wuggetzer in reference to airlines' desires.
Connectivity, in essence, has matured to a point where it can frequently be used for real-time, high-bandwidth applications. This is akin to the "Cute Cat Theory": in essence, a significant test of a platform's utility is passing the threshold of being useful enough to share pictures of cute cats. In aviation terms, if the millennial in 28A can send pictures and videos of his cat to Twitter, the system is probably reliable enough to start developing more passenger-focussed amenities.
Partly, this means more onboard sales, and making those sales more efficient. Duty free is physically heavy, to start with: not just the trolleys full of goodies, but the glossy magazine in every seatback to help sell them. Moreover, Wuggetzer says, not every onboard item looks attractive in the magazine. "Virtual reality could give you better retail with the products that you hide in the trolley."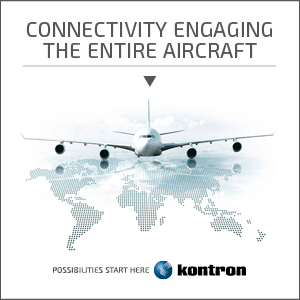 In short, a single still isn't a patch on a moveable, 360-degree application to show how an electronic gadget works, how a scarf looks against a variety of skin tones, or to illustrate a child enjoying playing with a toy. "I saw this on the plane — do you think Pat would like it, darling?" will become a rich VR content link rather than a grainy smartphone snap over WhatsApp.
"That's what airlines really target, of course: increasing ancillary revenue," Wuggetzer explains.
"You bought the ticket, you have a lot of time you're spending in a flight; how can we sell you some items on the flight? Out of our food, out of the shopping list, the partner list, or online availability?"
Inflight food will become more responsive to real-time. At-gate delivery is already a reality in the departures area thanks to a myriad independent app-based services, but being able to order something to be delivered on board a connecting flight is a win for both passenger and airline.
A connected shopping program can also become a pivot to offline sales of products previously relegated to the back of the trolley, especially if passengers see something cool or funny and shareable.
"You can use virtual reality to show you, to share," Wuggetzer says. "And then you can purchase your retail from your mobile devices. Actually this has also many opportunities in terms of connectivity and new technology."
It won't just be using the captive audience's boredom to sell a case or two of wine from the seatback, either. It'll be "tap your phone on the bottle you're drinking as a refill is poured, and choose whether you'd like one, six, twelve or more delivered to you." Link that in with some smart range selections and Amazon Prime-style fast delivery, and perhaps a half-bottle of red will arrive at your airport hotel room tonight?
It also means making the most of the upgrade opportunities at the very point at which the inventory is most distressed — and yet most appealing to potential customers — on the plane. How tempting would the "want to upgrade, Ms Lee? You can use 10,000 of your points to relax with a gin and tonic in business. Just tap here and enter your frequent flyer password to confirm" be, using the passenger's name, real-time points balance, and a glamorous picture selected automatically based on her preferred pre-departure beverage? It's the development of Emirates' current crew-tablet-based system, but with personalisation, automation and big data crunching written all over it.
Pleasingly for the bottom line, the rise in online ancillaries also means a reduction in fraud. Smart airlines are already hooking up their point-of-sale machines over the inflight connectivity pipes for verification purposes. Expect this trend to continue as more aircraft are connected.
"It took quite a while to get to 5,000 aircraft connected, but that was 75 airlines ago," Wuggetzer says, noting that "it's still rising fast. In 2025 we will see up to 16,500 aircraft connected. Smartphone users are currently just over two and a half billion people, but by 2020 Airbus expects that number to more than double to 6.1 billion. Airbus' data predicts 100 percent smartphone penetration in the millennial market in the next two to three years.
Some of this will require the connectivity backbones that Airbus is developing with its tick-tock "digital native aircraft" and "high bandwidth architecture", but it will also need a new generation of apps developed for smartphones and other devices that don't even exist yet. Airlines need to be agile in identifying, targeting and responding to where their customers now spend a massive proportion of their lives: in their phones.
Related Articles: