Nearing supplemental type certification for its 4G inflight connectivity system on the Cessna Citation Excel business jet, SmartSky Networks says it is attracting orders from business aircraft operators – there's now a "waiting list" – and suggests it is enjoying growing interest from commercial airlines.
The company, which recently announced it intends to use the 2.4 GHz unlicensed spectrum to support its solution, is aiming to give Gogo a run for its money in the air-to-ground (ATG) connectivity space, competing with both Gogo's current US network in the near-term, and the Chicago-based company's forthcoming next-gen ATG offering, which will also exploit the 2.4 GHz spectrum.
SmartSky's decision to tackle business aviation first was intentional; the market is "more approachable" and has "less centralized decision-making" and – as has proven to be the case – the business aviation decision leaders "are likely to move faster", company chairman and CEO Haynes Griffin told RGN at the recent National Business Aviation Association (NBAA) convention in Orlando.
Would-be customers have been able to test the SmartSky service when flying on the equipped Excel, and they've been "doing video streaming" and are "all excited", according to Griffin. "So we're going to have a very consistent, knock-your-socks-off service, just like the folks we were showing [at NBAA]."
SmartSky has also introduced itself to the commercial airline industry – first in Hamburg last year at the Aircraft Interiors Expo, and then again this year at the recent APEX Expo in Singapore, where airlines expressed "burgeoning enthusiasm" due to the favorable economics, said Griffin.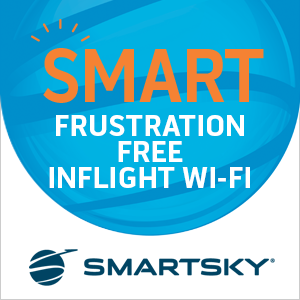 But the firm is quick to point out that business aviation customers will not find themselves dealing with a capacity-constrained system should airlines also adopt the service. "The way our network is designed, it will enable every aircraft to have its own beam. This [business aviation] audience needs to know that we're not going to overload it with the commercial airline industry because they have found themselves in that situation today," noted management in apparent reference to the Gogo Biz service.
"So I'm always quick to make that point, because they all ask us the same question – 'surely you're going to go into commercial', and I say you don't have to worry about that [in terms of performance]."
SmartSky is also highly curious as to how Gogo intends to implement its next-gen ATG plan without treading on SmartSky's IP, with Griffin throwing down the gauntlet by saying, "It's not clear that they have a perfect picture of what they're planning to do themselves".
Added the SmartSky chief:
All we know is what the public announcements are. But beyond that, we know it took us five years to figure out how to do this, and to do it well, and along the way we had a blank piece of paper in terms of IP, and then we have of course constructed a robust and growing portfolio of patents along the way. So if we were to start today, knowing everything we know, we would not be able to do this without having access to our patents. So what they're proposing to do is, number one, inherently very challenging from an engineering point of view…"
Following RGN's discussion with Griffin, we reached out to Gogo CEO Michael Small for his take on the IP question.
Said Small:
Gogo has well over 100 patents for ATG technologies that have been acquired over 20-plus years. We have a lot of our own patent portfolio; we have evaluated carefully SmartSky's patent portfolio [and] we don't see how the vast majority of [their patents] even remotely apply to what we're doing; they are around mesh networking. I'd ask SmartSky to explicitly say what their patent portfolio is so we don't infringe on any of it. We believe we'll achieve a 100 Mbps solution; I'd ask SmartSky what they can achieve. We think we can achieve reliability of over 99%; I haven't heard what SmartSky [thinks it] can achieve. We think we can achieve 140-mile range from a cell site; I haven't heard what SmartSky can achieve. Our solution is based on our own proprietary development and it will be the industry leading solution.
Meanwhile, though SmartSky is "completely focused" on the US right now, it has ambitions that could take its technology further afield, including Europe.
"The good news is the laws of physics work in Europe the same way they work here," quipped Griffin. Though other challenges exist, including regulatory hurdles, "the thing that will be interesting is that, for a business aviation customer who flies over the water, he can roam then into Europe. In the same way you can take your cell phone .. and take off in Chicago, use our service, and then [use it] in London, Paris, etc." in the future.
Would SmartSky ever envisage cell towers on buoys or ships to support an over-water ATG offering (it may sound fantastical, but more than a few engineers have wondered the same)? Some of the drawings in its patents suggest a maritime element, after all.
"We've got so much that is straightforward in terms of opportunity and service that we can roll out, when you recognize that this is … useful everywhere. We don't 'like to talk too much about things that are that far. They are on our radar screen but we're trying to keep focused for now."