When an aircraft vanishes from radar and is not quickly found by search and rescue teams – as witnessed several times in recent years, including the very latest, EgyptAir Flight 804 over the Mediterranean Sea – it seems logical to assume the International Civil Aviation Organization would have something meaningful to say about the situation on social media. But as the search for the EgyptAir Airbus A320 continued well into the day, and talking heads on corporate media pontificated about what might have happened to the aircraft, ICAO was silent until several hours after MS804 went missing. At 9:40am Eastern Standard Time, the United Nations agency squeezed out a tweet, saying, "The civil aviation community's thoughts today are with the families and loved ones of the 66 passengers and crew of EgyptAir MS804".
It's a predictable refrain from an organization that is not generally known for holding industry's feet to the fire on certain safety initiatives. Because while thoughts and prayers might be comforting to some, they do nothing to answer the uncomfortable questions around why industry doesn't use every tool in its proverbial shed to improve search and rescue operations. Condolences don't explain why triggered transmissions of black box data is still not a thing in an age of constant and ubiquitous data connectivity, and why the timeline for meeting even lukewarm ICAO tracking recommendations has moved to the right.
The still shocking 8 March 2014 disappearance of Malaysia Airlines MH370 was expected to be the final straw for civil aviation's inaction. But even decades before MH370, and in the years since, "the value of improving aircraft tracking, distress alerting, search and rescue support as well as data recovery" was evident, says industry consultant Michael Denis, who serves as Principal at SLM Aero. "In 2009, a 14-year old girl was found in the Indian Ocean following the crash of Yemenia IY626. Time is the one thing we do not have the luxury of in aviation emergencies," he notes, adding that the search for Indonesia AirAsia flight QZ8501 in the Java Sea in late December 2014 represents another example of how more precise position reports may have been beneficial in those crucial hours after the crash.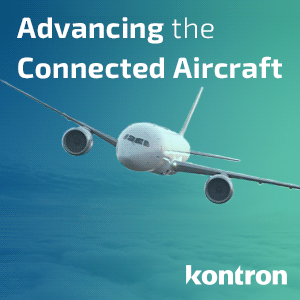 Would such reports be able to help search and rescue teams in the hours after the early morning disappearance of EgyptAir MS804 from radar? When the A320 abruptly turned and lost altitude, as reported, should a triggered transmission of the flight data recorder not have instantly started? As a commenter on the popular PPrune pilot forum website stated earlier today, "12 hours in and there's still no sign of it. Not acceptable in 2016!"
So what's the status of the so-called Global Aeronautical Distress and Safety System (GADSS) concept, which was proposed at a special ICAO multidisciplinary meeting on flight tracking held shortly after MH370's disappearance, and during which the group "concluded that global tracking of airline flights should be pursued as a matter of priority"? Though it was originally envisioned that airlines flying over oceans and remote regions would adopt 15-minute position reporting by November 2016, an ICAO advisory group spearheading what's known as the Normal Aircraft Tracking Implementation Initiative recommended a delay to this mandate until November 2018.
This spring, the ICAO Council adopted the normal aircraft tracking Standards and Recommended Practices (SARPs), setting an applicable date of 8 November 2018. It also agreed on SARPs relating to the location of an aircraft in distress, and established the requirement that aircraft autonomously transmit information from which a position can be determined "at least once every minute when in a distress condition". But these SARPs are only applicable to new aircraft with take-off mass greater than 27,000kg built from 1 January 2021.
"An aircraft is in a distress condition when it is in a state that, if the aircraft behaviour event is left uncorrected, could result in an accident," said ICAO in a statement explaining the reason for the new SARPs. That statement is just as true today for all aircraft as it will be five years from now when the SARPs for distress tracking go into effect. Indeed, investigators into the 2013 crash of a LAM Mozambique Airlines Embraer 190 over Namibia recently recommended that ICAO should "expedite" the advancement of flight tracking capabilities in order to provide early warning about abnormal aircraft behavior, as reported by Flightglobal last month.
But are regulators – which ultimately control whether any of this gets done – really listening? While some civil aviation authorities have already enacted certain aspects of ICAOs initial recommendations, including Singapore CAAS and EASA, other regulatory bodies are "dragging their feet", including the US Federal Aviation Administration, according to consultant Michael Denis. To wit, he says, during the Aircraft Commerce MRO IT conference in March in Miami, Chris Parfitt, an avionics aviation safety inspector for the FAA's Avionics Maintenance Branch presented the agency's "concerns" about the implementation of the GADSS SARPs and identified the FAA's "dual mandate" of economic impact and safety as one reason to postpone implementation.
To paraphrase, says Denis, "The FAA presenter in MIA said – we currently do not have agreement with ICAO on what 'abnormal' and 'distressed' means – so we cannot proceed with policy or an economic analysis of prescriptive solutions and AMOCs [alternative methods of compliance]."
Pressed today by RGN as to why the FAA is seeming to espouse an even slower adoption of flight tracking than the already delayed ICAO deadline, and whether the agency believes position reports from aircraft could be an important tool in search and rescue operations, the FAA insisted, "We are not doing anything to postpone implementation of normal tracking. The only 2018 date we are aware of related to anything in ICAO SARPs is installation of a low frequency underwater locating device (LF ULD)."
The FAA defines normal tracking thusly, as outlined in Parfitt's report: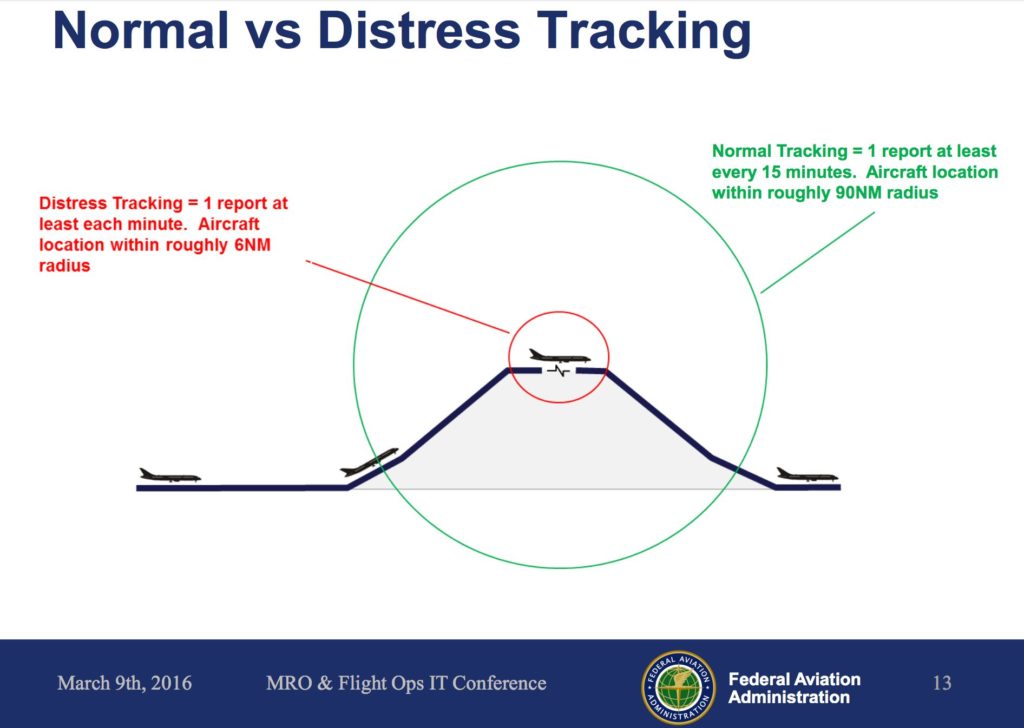 But in describing the FAA's policy on global tracking – slide 16 in the presentation here: FAA- Chris Parfitt_Day 2 – Parfitt said,
Take into account safety and economic impact. While cost-relieving for States, implementation of new tracking and reporting systems may be economically burdensome to manufacturers and operators who realize little or no return on investment. This makes justifying rule making difficult, and presents a risk of resulting in a high non-compliance rate.
The FAA – which has long been touted as setting the gold standard for safety, and whose policies are followed by many other countries – added in its statement to RGN today that, "We must consider both the safety and economic impacts of every rule we propose. We have not implemented rules related to the GADSS because we are still developing policy, and that policy will be based on ICAO SARPs and guidance that are not final. Because it takes time to propagate a rule, there may be a lag between effective dates in ICAO SARPs and effective dates of related FAA rules. We believe it would be premature to mandate installation of a particular, prescriptive technology when a less expensive, effective alternative may be available to operators."
But the FAA stressed, again, that: "None of the above relates to normal tracking of aircraft. There has been discussion at ICAO to eliminate HF voice reporting as an acceptable means of meeting the standard. If that happens, some operators may have to equip with additional systems, but we do not believe that would delay implementation of normal tracking by the FAA."
Longtime industry consultant Robert Mann is not surprised by the pace of change, or in this case, the lack of meaningful change. "It's hard to know who's the [FAA's] customer, whether it's the air traveling public or aircraft operators. There has always been a natural tension between trying to do the right thing for the public as opposed to being, as I think some 15 years ago… it was chided for not being more kind to airlines, and it took a long time to bring it back to a neutral position." He suggests that when tragedies happen to "a non-G20 nation", it's "not front and center" for the FAA.
In an Op-Ed for RGN in the aftermath of MH370, Mann argued that industry needs a persistent overwater flight following solution — a better fix on where an incident aircraft was most recently, its trajectory, and an improved estimate of where it may rest.
Such flight following position information can be provided by an automatic, un-interruptible upload, once per minute, of GPS-derived latitude/longitude, altitude, heading and speed data, on a persistent VHF link when over-land and via a persistent satellite link when out of VHF range, over water. That is not a lot of data, even for what are 30,000 daily overwater airline flights worldwide. Moreover, off-the-shelf technology and satellite bandwidth and capacity is available to do it now, while greatly expanded capacity in new, under-utilized satellite spectrum is going up into orbit every year.
Denis adds today, "This is not a money problem. This is not a technological or procedures problem; it is a willpower problem. Live TV and IFE sells seats; tracking does not. The unwritten rule is we do not financially compete on safety. That has always been the unwritten rule. It seems to me like people are dragging their feet over money."
Meanwhile, over at ICAO's Twitter feed, you'll currently see the following tweet pinned to the organization's profile. Isn't it time for a little less talk and a lot more action?