A lot is riding on the successful colocation of the mega #PaxEx event that will combine Aircraft Interiors Expo with the Airline Passenger Experience Association (APEX) Expo in Asia in 2016. For one, the event in Singapore will determine whether or not the two parties colocate in the Americas in 2017 when APEX returns to Long Beach.
"For 2017, Aircraft Interiors Expo (AIX) will be back in the US, and we're looking at the Aircraft Interiors Expo Asia show as just for 2016," lead organiser Katie Murphy from Reed Exhibitions – which traditionally puts on AIX, Americas each fall in Seattle – told Runway Girl Network. "The location has not yet been decided for 2017. We would welcome an opportunity to maybe have a future possible collaboration with APEX, but our focus at the moment is to make our colocated event in Singapore next year a success."
The two events will also be joined by the Future Travel Experience (FTE) expo in Singapore, where the size of the larger AIX event has essentially doubled the space being used at the Marina Bay Sands hotel. The three AIX halls on one floor will be joined by two APEX halls and one FTE hall on an adjoining floor, APEX CEO Joe Leader revealed to RGN. "Our exhibitors and our members wanted us to bring everything together."
"I think the overlap was 20 percent between the shows," Leader noted. "It all depends on your perspective. As we worked through discussions with AIX and FTE, each of the groups saw the opportunity of working together as far greater than anything that might take away from their potential to go it alone."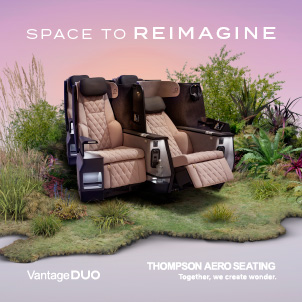 AIX and APEX will be three-day shows, with FTE as a two-day show starting on the first day of the other events, Leader said. But the colocation of the shows, and the lack of a need to compete with Reed on the events front, means that APEX's work can be focused more closely on work that other events are not doing.
"We've refocused our energies on emerging and future technologies for passenger experience," Leader explained at the APEX Expo in Portland this year. "I attended … a symposium of new and emerging technology companies centered on passenger experience with Google. It was phenomenally well attended and well presented with over two dozen companies. I think it shows a future path where APEX can really show airlines thought leadership in terms of where the future of passenger experience will be growing."
Leader also hopes a new boost for day three of the combined event in Singapore will reap rewards. "In the past we've seen a lull on day 3, where shows go down in attendance. We're going to be making it so that exhibitors are able to invite key participants — clients in the area that wanted to come by the booth, but didn't want to do the full spend for APEX Expo — specifically for day three, to be able to get a taste of it. Our belief is that if we do this we broaden our audience by hundreds of people on day three."
APEX's refocus and new initiatives hinge on Expo success
The success of the colocated AIX-APEX event could prove a bellwether for whether APEX can evolve to an association focussing on emerging and future technologies. Joe Leader's appointment brought with it the opportunity for APEX to work again with Reed, with which it had previously collaborated before a cooling off in the relationship.
"The colocation of AIX and APEX previously has been a huge success when we joined forces in America," noted Reed's Katie Murphy. "We've been colocated in Long Beach and Seattle together. The event attracted over 100 airlines and more than 300 exhibiting suppliers, and we feel that a colocation with APEX again is of benefit to the entire industry. Following feedback from our exhibitors and the airline attendees, we know that is what they would prefer us to do."
APEX's Leader echoed the call from members of the association to colocate in order both to reduce the number of events and to release APEX resources for other work. "When you focus too much on an event, you miss an opportunity to deliver value for your members," Leader told RGN. "This is a philosophical shift within APEX to recognise that, being a four decade old organisation, we have a responsibility for the betterment of our industry — to not just look at what APEX has historically had but to look at what APEX can deliver."
Reed certainly sounds keen on the idea of working with APEX, but the undercurrent of RGN's discussion with Katie Murphy was that it would be on their terms. "Reed Exhibitions works with a wide range of associations, and we always think it is to the benefit of the industry if we can help those associations to broaden their membership by working closely with them in the exhibitions that we run." Murphy repeated several times that Reed's focus is on the 2016 event and that no plans have yet been made for a 2017 colocation. Given the lead-times for event organisation, it would be quite surprising if an AIX Americas 2017 location (and colocation) decision did not need to be made in advance of the 2016 event, however.
There is a significant role for APEX as a public-facing association representing the passenger experience industry, as Leader noted in an Op-Ed for RGN, and reinforced at several points during our discussion. 
"I'm out here on the US West Coast right now, and we're going to be bringing a couple of different initiatives we can't unveil yet," he said. "I've been working in terms of making sure that we refresh our awards ceremony, and that we refresh also the role APEX takes in technology leadership."
A big part of Leader's plan for APEX revolves around improving its education opportunities. "We're going to dramatically increase the quality of the content and the quality of the speakers we're delivering to our members," Leader said, highlighting the recent APEX Asia event as a model for the future of the organisation's event. "Each time you have a gathering it should bring groundbreaking new ideas and information forward."
APEX will also be taking what Leader characterised as "a spotlight role" at Reed's flagship AIX Hamburg exhibition in the spring, "conducting a leadership role among airlines". Reed's Katie Murphy described it as "an educational forum" which "will be held by APEX in the Hamburg Messe on the Wednesday, for their members to attend. I think it is a fantastic opportunity for members while they're in Hamburg to go to an educational forum held by APEX."
"I'm heading to London next week to advance the details," Leader told RGN. "It's great that's the first step we're taking together in April."
APEX is also developing FlightTrack, a centralised database of what IFE content is being shown on what airline, on what flight, on what hardware, on what route, at what time. In terms of providing member benefits, the initial potential of such a database is immediately evident, but the work seems to be at a very early stage, and a path to success in this area is neither easy nor well trodden.
"We're focusing on new initiatives like APEX FlightTrack and other technology where what we will be putting forward will help not just airlines, suppliers and content providers advance, but where we will be providing constant value throughout the year from a technology perspective," Leader said. "This is a step by step approach, and we are not rolling it out all at once, very strategically consulting everyone."
Equality and diversity are promised
APEX has done a disappointing job in featuring women as keynote speakers and presenters of late. Just two of eleven named keynote speakers in the 2015 education event at APEX Expo in Portland were women.
Despite a strong membership showing of women, the lack of women in the breakout panel sessions at the same event — and, in fairness, at similar events across our industry — was notable. The optics provided by APEX's all-male Emerging Technologies Panel as noted by RGN's Tomas Romero at the association's technology conference a few weeks ago was less of a snapshot and more of a symptom.
RGN quizzed Leader extensively about APEX's plans to increase the diversity of its panels, and while he acknowledged that the issue was firmly on the organisation's radar, he would not commit to putting in place a guideline, such as the BBC's from 2014, that panels should not be all-male.
Early signs of APEX progress elsewhere are promising, though. It was a remarkable coincidence that just a month ago, an RGN Op-Ed under my byline finished: "Progress in 2016 on doing demonstrable work in committee, taking public stances on issues of importance to members, and on putting on a useful Expo with actually educational events will be the bellwethers of the future of APEX."
It turns out that much of the necessary work flagged in that piece is now under way under APEX's new leadership. Speaking with its CEO, it seems that those bellwethers are starting to point in the right direction. But the success of the colocated APEX-AIX-FTE event in Singapore will determine whether a lot of these green shoots are able to grow.
Global Eagle Entertainment interviewed Leader as part of its Spotlight series after APEX and AIX announced their colocation in Singapore. See the video below.