It takes a lot to surprise Panasonic Avionics when it comes to inflight entertainment, but the increasing popularity of live sports on the plane — delivered via its eXTV network over the eXConnect Ku-band satellite system — is one of those things. That's why the IFEC giant has signed a five year extension to its contract with Sport 24 network provider IMG.
According to Panasonic's Neil James, executive director of corporate sales & product management, when an airline puts live sport on seatback TVs, there is "a tremendous takeup rate. We continue to be surprised about the popularity of what you might consider to be US domestic sports abroad. The takeup rate of the NFL, the takeup rate of the Super Bowl, is tremendous on international airlines."
Over 250 aircraft are equipped with eXTV across ten airlines, serving the Sport 24 channel from IMG Media. "IMG's strong and long-standing relationships with federations have allowed us to negotiate these unique sporting rights and, together with our production expertise and facilities, provide a unique live offering to travellers," said IMG senior vice president Richard Wise.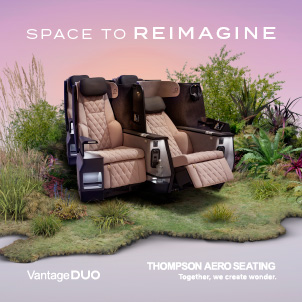 "Over the past three years, Sport 24 has emerged as the most exciting and in-demand programming available through our global live television service," Panasonic's James added. "We've extended the exclusive relationship for the rugby world cup, golf, Formula 1, Wimbledon, MotoGP, the NFL including the Super Bowl, and the Barclays Premier League through the Sport 24 channel, which is provided by IMG."
"Even more excitingly," James enthused, "there's a load of new programming that's being added to that: the NBA, the Champions League, the Olympics in Rio, and a renewed contact with the Premier League, which is tremendously important."
James highlighted that there is "a huge amount of content, lots of customers saying 'when can I get more sports' or 'what happens if there are games playing simultaneously'. We're actually adding a second channel that will run simultaneously during peak times for sports, so you can watch two Champions League games side by side."
The conspicuous absence from the list of sports — which also includes Germany's Bundesliga and Grand Slam tennis — is cricket, often quoted as the world's second most popular sport, at least partially resulting from its number one status in south Asia.
In a response to a question from Runway Girl Network, Richard Wise from IMG initially cited logistics for the lack of cricket: "Cricket's quite difficult to schedule, actually: so much cricket, every day. If you follow the Ashes, that's five days. Having said that, we do have cricket, we have the Australian Big Bash, and we have other cricket potentially in the pipeline."
The Big Bash is a Twenty20 format of cricket, which takes approximately three hours to complete, and which was introduced in 2003 to provide a shorter and faster paced cricket match where the format lends itself to a big-hitting game. The most famous and profitable version of the Twenty20 format is the Indian Premier League. Will the Indian Premier League (IPL) be on board any time soon, RGN asked Wise and James?
"The IPL is exceedingly expensive, so sometimes we've just got to say no," IMG's Wise said. Even for customers with large pockets? "We're talking to rightsholders all the time, but we've also got a duty not to pay ridiculous prices because at the end of the day it has to be passed onto the industry."
Notably, Wise suggested that there wouldn't be airline exclusives — not even for Emirates, Wise admitted when RGN pressed for specifics, citing an existing eXTV customer with both budget and a huge south Asian network (not to mention a huge footprint in the UK and Australia, two other core cricketing nations). It will be interesting to see how long the absence of the IPL and other cricket can be sustained.