Hollywood 'big six' movie studios have hit back at BAE Systems' claim that one of them has given its blessing to the defense contractor to stream early window movie content to passengers' own devices. Additionally, the launch customer of BAE's new 'IntelliCabin' wireless IFE solution, Indian full-service carrier Vistara, says its ambitions don't even extend to offering such content to passengers at this time. But BAE is remaining steadfast in its claim, telling RGN today that it is a "respectable" company that stands by the press release it issued on 29 September.
That release – published during the APEX Expo in Portland, Oregon – is considered unprecedented in the inflight entertainment world, as major Hollywood studios aren't prone to letting IFE newcomers – let alone IFE stalwarts – lead their news.
In its statement, BAE claimed that IntelliCabin "is the first IFE solution in the commercial airline industry to secure approval from a major Hollywood studio for the streaming of early window content — movies recently out of theaters, but not yet available for home viewing — to both passenger- and airline-owned devices". When asked if BAE was referring to one of the 'big six', company director of cabin systems Jared Shoemaker told RGN 'yes' and indicated that the firm had received approval from two of the 'big six'. BAE later walked back the claim that it had secured two, but stands by the original assertion in its press release.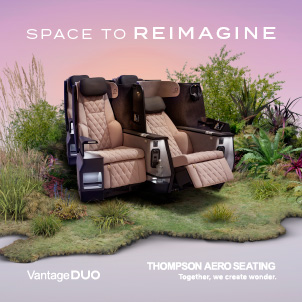 "All I can say is we stand by our press release," BAE director of external communications Liz Ryan Sax told RGN today after VP-level executives in the non-theatrical units of Hollywood's 'big six' studios – Disney, NBCUniversal, Fox, Warner Bros, Paramount and Sony – responded with an emphatic 'No' when RGN asked if they had granted approval.
Echoing a common refrain amongst all of the major studios, Phyllis Bagdadi of NBCUniversal said, "No NBCU has not approved early window content to passenger devices of any kind."
Noting that BAE is a "publicly owned, long-standing respectable company", Ryan Sax insisted that the firm has "issued a press release that is truthful and we stand by it". She also reiterated BAE's position that its agreement is with one of the 'big six'.
Global Eagle Entertainment worked with BAE to secure its alleged approval, and the content service provider spoke at length with RGN at the APEX Expo about the process for obtaining approval (building the white paper) and the impact on embedded IFE (it suggested there would be no serious impact to the embedded market). But while Global Eagle backed up BAE's claim of having received early window streaming approval, it did not go on record to say that the studio is one of the 'big six'.
"BAE is the one that put out the press release, and they're on the hook," a major studio executive told RGN this morning. Another studio wondered if BAE was referring to a mini-major, like Lionsgate. Other stakeholders wondered about the role of Global Eagle's Entertainment in Motion (EIN) unit or other distributors.
In a brief statement today, Global Eagle did not speak to the veracity of BAE's very specific claim about securing approval from a major Hollywood studio, saying only, "As a global provider of aircraft connectivity systems, operations solutions and media content, GEE works with airlines, service providers and systems integrators to constantly improve the airline passenger experience. GEE works with BAE to do just that in a number of ways, including supporting the process of securing early window streaming."
The early window enjoyed by the non-theatrical market has been shrinking for some time. Historically, early window meant a date prior to the release of packaged media, but as an April article in Forbes pointed out, digital downloads are now permitted roughly at the same time as DVDs. So what does early window mean for IFE? Ultimately, said Global Eagle senior VP, digital media solutions Alexis Steinman at the Expo, "I know that each studio has a different definition."
That may be so, but each individual studio has told RGN that it has not granted approval to BAE. There is still value in preserving that window for approved embedded and airline-provided portable IFE, it seems.
In another twist, BAE's IntelliCabin launch customer, Vistara, told RGN contributor Neelam Mathews today that, as the carrier rolls out the IntelliCabin solution on its Airbus A320s – to offer content to passengers' personal devices – "then we will expand our content strategy but it will definitely not be as ambitious as Hollywood early window content".
Mathews' report from Delhi will be published tomorrow.