DELHI: India's refusal to revoke its rule – at least for the moment – to permit live inflight connectivity over Indian airspace forced SIA-Tata owned startup Vistara to seek interim solutions, says the carrier.
A Vistara spokesperson tells RGN that while Indian carriers are collectively trying to convince the government to permit Internet on board, clearances are still required from the country's ministries of civil aviation and telecom.
To ensure passengers get value-add on the full-service carrier and as government clearances do not come easy, Vistara tapped defense contractor – and IFE newcomer – BAE Systems to install its IntelliCabin wireless IFE solution on its Airbus A320s. This is not a live connectivity system. Wireless IFE systems stream content from an onboard server via wireless access points on board the aircraft. The content is pre-loaded and cached. The system will be installed on the nine-strong fleet of aircraft that Vistara intends to operate by the first week of January 2016.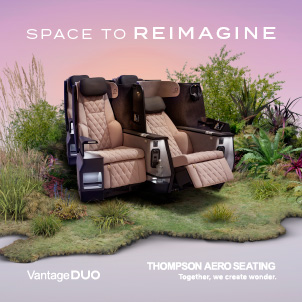 At present, business class passengers are offered Samsung tablets with local-based content that is changed every week, itself a stopgap measure to wireless IFE. Vistara is clear that the Samsung tablets will not be integrated into seats. "The tablets came as a package, suggested by BAE," says the airline. This statement contrasts with BAE's original press release, where BAE claimed it would integrate Samsung tablets into the seatback. The company appears to now have a history of making false claims in the IFE world.
"Right now we have content lined up and it is limited because we don't want to spend money in rights for just business class," reveals Vistara. "When we go across cabins – offering content on personal devices – then we will expand our content strategy but it will definitely not be as ambitious as Hollywood early window content. This strategy will pan out over a period of time and will depend on our customers' preferences." It should be noted that Vistara is the announced launch customer for BAE's IntelliCabin.
On whether the airline would look at Bollywood early window streaming, the answer was – interestingly – an emphatic "no." Is Bollywood eager to squeeze extra revenue out of different windows as Hollywood does? It's true that Indian content is coming on strong.
Meanwhile, BAE Systems this week declared to RGN that it had received approval from two major Hollywood studios to stream early window movie content to passengers' own devices, though its official statement did not mention Vistara specifically. BAE later walked back the claim of having secured approval from two studios, and said it only had one. All six major Hollywood studios – NBCUniveral, Disney, Sony, Paramount, Fox and Warner Bros – deny having granted approval to BAE for streaming early window content to passengers' own devices.
But, according to Vistara, part of the appeal of IntelliCabin is that it is connectivity hardware agnostic. "Vendors want to showcase their entire product. But what it finally chooses depends on the cost, fleet number, and specific needs of the airline," says the airline. It admits that, for the moment, live streaming over a connectivity pipe "would be speculative".
"We don't know when that would happen….[perhaps] over a period of time; we will figure out customers' requirements and needs," says the airline.
Vistara plans to have a fleet of 20 aircraft by 2018.