In the age of ancillary revenue — and a week after EMV chip card liability shifted in the United States — making it as easy as possible for passengers to pay for their onboard purchases is big business. Indeed, GuestLogix' tablet-based point-of-sale devices and wider retailing platform was a finalist in the Airline Passenger Experience Association's Best Achievement in Technology Awards (which, full disclosure, this RGN journalist was invited to judge) last week.
Payment via credit card is the clear preference for many passengers and the majority of airlines. Yet with multiple technologies involved — magnetic swipe, Chip-and-Signature, Chip-and-PIN (personal identification number), near-field communications — the vision of the future is murky. That's even true as non-gas station retailers in the US must, since 1 October, accept liability for fraudulent charges for EMV cards if a Visa, Discover or MasterCard credit card with a chip is magnetically swiped rather than using the chip. (American Express shifts over on 16 October.) 
European passengers accustomed to Chip-and-PIN, and North American passengers who are increasingly seeing Chip-and-Signature appear on their cards, are often surprised when airlines (let alone ground-based merchants) swipe rather than insert their cards. By contrast, a straw poll on Twitter suggested that a sizeable number of US cardholders don't even have chips, let alone Chip-and-PIN. Almost zero US cardholders had Chip and PIN — and even then, one of the three banks mentioned only falls back to Chip-and-PIN, preferring Chip-and-Signature to start with.
Narayanan Raman, Guestlogix' regional VP of client services for the Americas, isn't expecting Chip-and-PIN to be required on board aircraft any time soon. "I don't think it's going to happen in the next two or three years," he tells RGN. 
Jon Norris, VP of sales at IFE provider Lumexis, reiterated his prior comments to RGN that not one of Lumexis' customers has ever asked about embedding Chip-and-PIN into the seatback, not even for brand new orders like Caribbean Airlines' selection of the firm's fiber optics-based FTTS system for its fleet of Boeing 737s.
APEX as an association has warned its airline members for some time of the liability shift within the US and the requirements for chip payment, but a survey of members over whether APEX should seek an extension to the deadline received a mixed response. The reason cited for not supporting it was that the magnetic stripe readers are not used for high-value transactions in-flight and the cases of fraudulent magnetic card usage is very low. In addition, APEX received word from the Airlines For America lobbying group that they too were getting the same message from their airline members.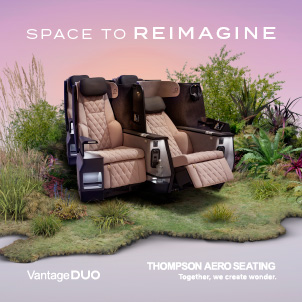 But there are other reasons for the lack of fast adoption of Chip-and-PIN in seatback IFE.
For a start, the Chip-and-PIN terminals are astronomically expensive. RGN talked with Panasonic Avionics director of product management Cedric Rhoads, who highlighted the cost variance between Chip-and-PIN and magnetic swipe: "It's huge. It's enormous. It's at least sixty to one. We can buy a mag stripe reader for about $7 material cost, give or take. Chip-and-PIN compliance involves all sorts of battery backup, electromagnetic shielding, key storage, hardware security modules, plus the PIN pad itself — it's such an order of magnitude higher."
Chip-and-Signature is less expensive — the requirement for a separate piece of hardware for the PIN pad is a big factor in the overall Chip-and-PIN cost — but still expensive.
Interestingly, "NFC is about four times what a mag stripe is," Rhoads told us. And compared with Chip-and-PIN? "Less, way less. That's why we've really gone all in on NFC. Chip without verification is still an absolutely valid transaction, so we're supporting that as well." The latter is, essentially, the Chip-and-Signature method currently used by the earlier adopter US banks.
Rhoads concluded, "We support both chip with non-sign and Chip-and-PIN via payment terminal (meaning point of sale terminal — the portable ones), and NFC at all seats."
From talking to airlines and suppliers at the APEX Expo last week in Portland, Oregon, it seems that the hope was that NFC might overtake Chip-and-PIN — something that might well happen in the US, but certainly hasn't in Europe, where the Chip-and-PIN standard is well adopted, as any US cardholder trying to use a Chip-and-Signature (let alone a magnetic swipe) card will attest. The relatively late adoption by Apple of NFC for its Apple Pay system is now the hope for tipping the significantly cheaper NFC over the line of install selection.
Of course, airlines have the added complication of the live versus not live payment processing question to take into account. Many carriers, it seems, are electing for a hybrid model, where relatively small amounts (such as food and beverage orders, which in some cases wouldn't require verification) are not dialed in, but much larger amounts are sent over either passenger-use broadband, dedicated narrowband or shared narrowband services.
So, in terms of the Internet of Things? In many cases, between the banking industry and the airlines, we're not even at the Internet of Buying Lunch.