Virgin America last week introduced a new upgrade option for its passengers. Marketed as "Bid. Boost. Fly Large", a traveler can log in to an app – dubbed SeatBoost – and bid for upgrades on flights from San Francisco to Las Vegas or any flight departing Las Vegas.
With SeatBoost, passengers participate in a live auction for the remaining first class seats on flights. Winners will present proof of such to the gate agent in the form of the SeatBoost screen and receive a new boarding pass for the upgraded seat.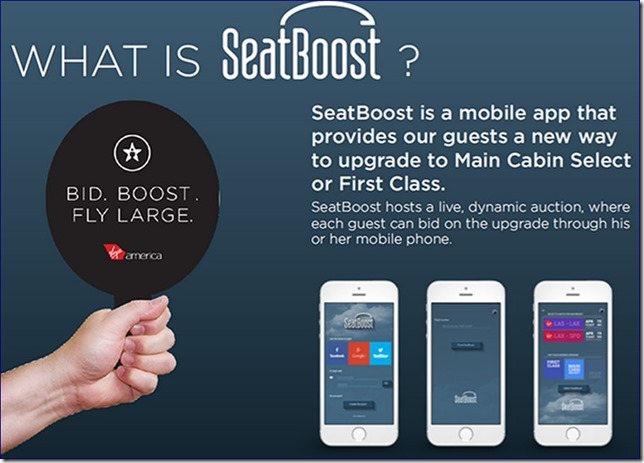 This is not the first time Virgin America has toyed with bidding options for upgrades. The company previously integrated with Plusgrade to allow passengers to bid for upgrades as well. And Virgin America is far from alone in this space. More than three dozen carriers have worked with Plusgrade, Optiontown and now SeatBoost to drive ancillary revenue for cabin upgrades, not to mention the buy-up offers some are running (United may be the biggest taking this approach). And, while the winning bidders are generally likely to be much more satisfied with the overall flight experience there are some challenges as well.
In the case of SeatBoost the "live" nature of the auction adds some competition and gaming to the experience, likely a big winner flying in and out of Las Vegas. At the same time, however, it requires a separate app to participate and the integration into the travel process is not especially tight.
There is also the potential alienation of frequent fliers who previously had an inside track to those upgraded seats. For the other carriers and integration partners there are challenges surrounding the bidding process and apparently in getting a solution which works for all parties. Virgin America has already switched once and there are a handful of other carriers which have participated in similar schemes in the past but no longer do today.
Perhaps SeatBoost will be just the boost Virgin America is looking for in this space. The fact that this is not its first try does speak to the difficulties airlines face in getting this sort of thing "just right" to make everyone happy along the way.