RGN has learned more #paxex details about Lufthansa's low-cost carrier Eurowings' intercontinental longhaul low-cost carrier ambitions, with the airline being positioned as a point-to-point non-hub leisure "value carrier" that delivers inflight and airport products to the Lufthansa group standards, including embedded seatback IFE, BYOD wireless content streaming, and Panasonic Ku-band inflight Internet. 
In business terms, Lufthansa is considering Eurowings as a startup more than a subsidiary, RGN is given to understand, and will be operating it accordingly with a minimum of interference from or reference to corporate headquarters. The umbrella LCC brand will be Eurowings, under which various air operator's certificates (AOCs) will provide flight services on an "operated by" basis. The precise number of subsidiary AOCs has not been decided, and the plan is for the airline to grow significantly, but short- and medium-haul flights will include the airline currently known as Germanwings in Cologne, the old Eurowings in Dusseldorf, and wetleased Airbus A320 family aircraft from Austrian. 
Providing flight services for the intercontinental fleet will be SunExpress Deutschland, a subsidiary of Turkish carrier SunExpress (which is 50 percent owned by the Lufthansa Group), together with a wetleased Boeing 767 aircraft from Hannover-based TUI Group during the initial startup period.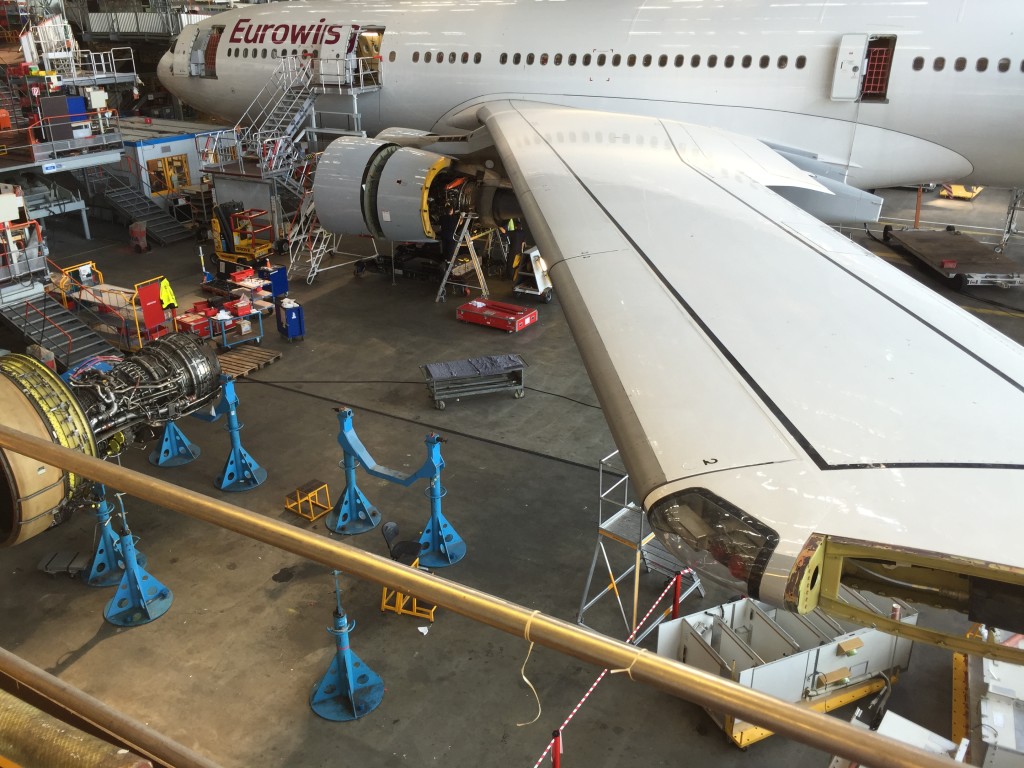 Intercontinental Eurowings will launch on 2 November with six intercontinental routes: Varadero in Cuba, Puerto Plata and Punta Cana in the Dominican Republic, Dubai, Bangkok, and Phuket. The first longhaul aircraft, an Airbus A330-200 registered D-AXGA owned by lessor GECAS and formerly with EVA Air in Taiwan, was in evidence in Lufthansa Technik's Hamburg hangar being gutted for a cabin fitting and having satellite connectivity installed last week. The second aircraft is an ex-Qatar Airways frame, and it is expected that the initial six aircraft (D-AXGA through -AXGF) will also be of EVA/Qatar extraction.
In terms of Eurowings' relationship with the rest of the Lufthansa Group, RGN was told emphatically that Eurowings is not intended to take over routes from Lufthansa, and will operate point-to-point exclusively from airports that are not Lufthansa hubs — Cologne or Dusseldorf, for example. (Plans for flights from Vienna, however, would suggest that Lufthansa Group hubs are not out of bounds for Eurowings.) Nor, indeed, is the stated intention to convert Lufthansa passengers: rather, it is to capture point-to-point leisure passengers into the Lufthansa Group who might previously have flown with a cheaper budget or charter carrier.
Based on the product choices created for the short and medium haul flights that Eurowings/Germanwings already offers, the longhaul Eurowings will offer three fare families: Basic, Smart and Best. Basic just comes with hand-luggage and free water — that's it. No seat reservation, no food, no lounge access if you are a frequent flyer, no changes, nothing, but of course Eurowings will gladly take your Euros for any ancillary extras you desire.
The Smart fare offers "preferred seating in the standard category" within the economy section on the A330-200, a 23kg checked bag, one piece of hand luggage, a warm meal and a cold meal, drinks, lounge access for frequent flyers, a "flex option" for changes, and frequent flyer miles.
The Best fare, meanwhile, offers a ZIM seat practically identical to Lufthansa's premium economy, in a 2-3-2 configuration in the pointy end of Eurowings' widebodies. Also included: two checked bags, two pieces of hand luggage, inflight entertainment, priority check-in, priority boarding, airport security fast lanes, a "flex option" for changes, frequent flyer miles, lounge access, and "à la carte catering".
RGN wasn't able to clarify what that catering option means, precisely — your choice off the buy-on-board menu? A separate meal? A British Airways World Traveller Plus-style economy meal tray with business class main course and slightly better wines? The decision will be a bellwether for how Lufthansa and Eurowings intend to position the Best product within the market.
Also unusual: lounge access included in what is ultimately a premium economy product. Lufthansa premium economy passengers can purchase access to Lufthansa's Business Lounges for €25 in Europe and $35 in the US. By contrast among other premium economy products sold as business on second-brand LCCs owned by a larger airline group: long-haul LCC "business class" passengers in Jetstar's 787 aircraft only see lounge access included if they are on the more expensive flexible tickets, while ScootBiz passengers can purchase lounge access departing Singapore only, as part of a package for SGD39 (€24).
State-of-the-art inflight entertainment onboard — both embedded seatback and wireless BYOD — will be provided throughout the aircraft, with Basic and Smart passengers charged at their seats for access. Final information on IFE will be fixed at the end of this month and will be confirmed in September, RGN understands.
The first A330 is also currently being outfitted with Panasonic Avionics' dual-panel Ku-band satellite antenna at the Lufthansa Technik facility in Hamburg.
As part of the startup branding, the launch of Eurowings intercontinental will take place before the official brand transition from Germanwings in the beginning of January 2016. Expect a significant advertising campaign, including TV spots, in addition to the online, print and radio advertising already raising awareness the switch.
Once the new Eurowings has fully emerged from its transitional phase, though, and continues to grow, it will be an increasingly significant player in the European aviation market. This is an airline to watch.
Related links: