Updated to note that Zodiac Inflight Innovations' RAVE Wireless system is being rolled out by LATAM, not Thales' AVA solution
Having deactivated the OnAir mobile and wifi connectivity on 31 equipped Airbus A320s operated by TAM, Latin American airline holding company LATAM says it has no plans to offer inflight Internet to passengers in the near-term, and is choosing instead to focus on the deployment of its new wireless IFE technology.
"We're currently pushing the wireless IFE project in our narrowbody fleet. We're very, very focused on executing that. That decision has already been made and we're currently performing the work here in Santiago, in San Carlos, Brazil, and also through many of our third party network [partners] that we currently work with," LATAM VP of maintenance and engineering Sebastián Acuto recently told RGN in Santiago, Chile.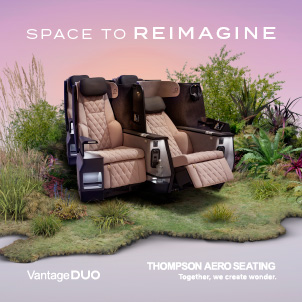 At the peak of the installation process, Acuto says LATAM will have five facilities working in parallel to roll out wireless IFE. Zodiac Inflight Innovations is providing its RAVE Wireless system for this project. "I think that the idea is to finish our fleet at the beginning of next year. We're currently targeting to do one installation every three days," says Acuto.
While Acuto characterizes LATAM's overall approach as "moving without rushing, but without stopping", the decision puts the airline further behind certain other South American operators that have signaled their intent to adopt advanced inflight Internet services. Aeromexico and GOL, partners to major Gogo customer Delta, have announced plans to deploy 2Ku, which is positioned as being an ideal solution for equatorial-area operations.
When pressed for additional comment about its decision to hold off on offering Internet, a media representative for LATAM Airlines Group offered a brief statement: "For over six years LAN Airlines and TAM Airlines have been evaluating the possibility of offering Wi-Fi on board. We believe, however, that the technology available within South America to offer Wi-Fi on board needs further improvement in order to provide a high quality service to our passengers. We are continually evaluating our possibilities as it is our objective to offer Wi-Fi on board in the near future."
TAM had previously equipped 31 A320s with OnAir's L-band-supported connectivity services, but all of these units "have been deactivated upon contract expiration", OnAir confirms to RGN.
When asked to comment on LATAM's decision not to renew its contract with OnAir, the airline offered a minimal explanation, saying only, "For strategic reasons, TAM Airlines decided to discontinue on-board mobile telephone service on its aircraft."
In other recent LATAM news, LAN Airlines has begun daily Boeing 787-9 service between New York JFK and Santiago. Though the twinjets carry Panasonic IFE hardware, LAN did not opt to take Panasonic's eXConnect Ku connectivity system, which is linefit offerable on the type.
Photo above credited to the author.