ALMATY, KAZAKHSTAN: As airlines shrink passenger space in economy to add extra rows — and, in some cases, extra narrowed seats in each row — Runway Girl Network often wonders whether CEOs are truly aware of the passenger experience they are offering, and the effect that has on their airline's brand.
In Almaty, as part of our visit to Kazakhstan and airline interviews courtesy of Air Astana, RGN sat down with company CEO Peter Foster to talk passenger experience given the airline's impressive plans for future organic growth. 
With a plan to take early delivery of the Airbus A321neoLR aircraft, an existing fleet of impressively outfitted Boeing 757 and 767 for longhaul, and an order for delivery of the Boeing 787 Dreamliner, together with a raft of awards, Foster and his airline are clearly trendsetters in the aviation industry.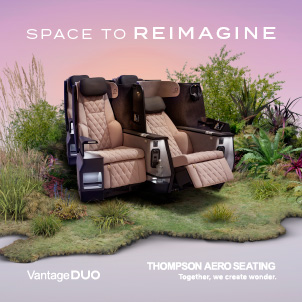 Low cost and full service are not mutually exclusive
Foster is keen to emphasise strongly that he sees Air Astana as a premium service airline, while stating, "We are already a low-cost carrier. I think there's a lot of confusion about this whole subject. There are low-cost carriers and there are no-frills carriers.
"No, we're not going to have aircraft configured to 28″ seat pitch with no food and beverage on board, because our flights are long flights, other than Almaty to Astana, which is an hour and twenty-five minutes. It's been proven beyond all reasonable doubt that the concept of longhaul, low-cost just quite simply doesn't work. We've seen that obviously in Asia-Pacific and we've seen that in Europe as well.
"The key really is efficiency, obviously. We are one of the most efficient airlines in the world. Our unit cost is significantly lower than easyJet, for example."
The efficient 767 and low fuel costs affect the case for the 787
"We're operating the 767-300ER with the reconditioned Pratt & Whitney PW4000 engines, plus those enormous winglets, so actually we're getting about six percent operating cost savings over the previous 767s that we had, which were not particularly old either," Foster says. Air Astana currently flies three 767-300ERs on international flights with domestic tags, delivered as recently as last year, some of the last commercial 767s produced.
"They were 1990 aircraft, so they weren't ancient aircraft. So actually if you take a combination of the reconditioned engines, a brand new aircraft, the winglets, fuel being as it is at the moment, the operating cost of those aircraft is extremely good and we're very happy with them. We're taking the 787-8s for the same operational reasons," Foster notes. The Dreamliners are due to arrive in 2019.
Yet current fuel prices make the 787 less of a great buy than the trio of efficient late-model 767 aircraft, as Foster emphasised when asked about operational cost reductions with the 787. "That's a very good question. The seat-mile costs were to show in the region of 18-20 percent seat-mile cost reduction, but now with fuel as we are that reduction is going to be less, if fuel were to be the same price in 2019 as it is today. Seat-mile cost going to be somewhere, we estimate, between 12-20 percent depending on where the price of fuel is." 
"The 787 is proving to be an absolutely superb aircraft, so certainly we're not regretting it. Obviously we've been very public on our position here: that we are extremely interested to see how Boeing progress their internal deliberations on the middle-of-market aircraft that they're talking about." 
Air Astana plans business class consistency with the 767…
The airline plans to operate its new 787-8 Dreamliners on New York routes to start off with, and in business class at least they will be familiar to passengers. "Our interiors will be very similar to our interiors on the 767," Foster tells RGN. "Those interiors are really very good indeed, and I don't think we'd really change them." 
Foster confirmed that the airline is planning Thompson Vantage seats in business class. "We love the Thompson seat," he says, which Air Astana already operates in a 1-2-1 configuration on its 767 in business class, giving a fully flat bed with direct aisle access for every passenger.
The wider fuselage of the 787 could mean Air Astana could add extra seats per row, but that would of course mean losing direct aisle access for those passengers who would need to step over a neighbour.
…but Foster seemed unaware that his airline selected LCC-style 3-3-3 787 seats
RGN asked Foster about Air Astana's plans for economy, particularly around whether the aircraft would be 8-abreast or 9-abreast. The CEO avoided committing to an answer and passed the question to staff. PR representatives later followed up to confirm that the airline is planning a 3-3-3 configuration, which gives a seat width of 17" or below. 
Air Astana currently states that its 767 aircraft are pitched starting at 30", although they have an extra 1.1" of width, a 2-3-2 layout, 2/3 fewer middle seats, and wider aisles — all of which makes a big difference compared with a 3-3-3 configured 787 at the same pitch. 
A 17" width and a 30" pitch is the narrowest and tightest seat that any operator worldwide operates on a Dreamliner.
If the 30" pitch is also "very similar to the interiors on the 767", Foster's keenness for Air Astana to be an airline of choice based on its passenger experience is at odds with its selection of a 9-abreast 787 cabin.
On an ultra-longhaul flight, a 17" wide seat with 30" pitch on a 787 does differentiate an airline — but not in a good way, as 17" between the shoulders is an extra-small for outfitters Brooks Brothers. And these are not extra-small flight times. There is no nonstop flight currently operating between JFK and Astana, but Cairo is just under 200 miles closer on a great circle route and has a scheduled flight time of 10h40m.
Despite repeated requests, Air Astana did not make senior management responsible for inflight product more involved with the decision available for interviews, either in person during RGN's week in Kazakhstan or via phone in the week since. Nor has the airline responded to a series of questions posed a week before, during and after the trip, including questions around the factors in this decision and how Foster expects to sustain a passenger experience advantage to Air Astana's hubs when there are (or will be) other airlines flying from New York with Airbus A380s and 18.5" wide seats plus 32" pitch, offering connections to Astana and Almaty.
But our overwhelming question is: just how much does Foster (and indeed any CEO) know about the seats in which the majority of his customers will be flying — and as an experienced executive at the vanguard of innovation in the industry, what does Foster's inability to give an immediate answer about 8-abreast vs 9-abreast on a 787 say about the consciousness of decisions by airlines worldwide to move to ultra-narrow seats and other passenger experience issues?