Just over a year ago, travelers witnessed the dawn of the so-called "transcon war", which pitted five airlines in a battle to capture the premium passenger traffic flying between New York and San Francisco or Los Angeles. United Airlines, Delta Air Lines, American Airlines and JetBlue all increased frequency and product quality on the routes while Virgin America remained in the game, but without much in the way of service changes. Especially prominent was JetBlue's fare structure on its Mint product. At the time of launch it was suggested that customers should "not expect to see any commas" in the prices and the carrier held true to that, with a $599-$999 price range for its flat-bed seats. And then the market waited to see what would happen.
United blinked first, choosing to leave the JFK market and bring its premium service across the Hudson to its Newark hub in October 2015. This move reduces the total daily flights between the coasts and also allows United to change the pricing a bit; the carrier often treats Newark as a separate fare market from JFK or LaGuardia. JetBlue and Delta were quick to respond, however. JetBlue was the first to indicate it would increase frequencies in the transcon markets, pushing its planes to higher utilization rates while it awaits five new Mint aircraft deliveries in early 2015. Delta is also increasing frequencies and up-gauging aircraft on the routes. Seven of the 18 daily flights will be on the carrier's 767s; the other 11 will remain on the 757s. This shift increases the number of premium seats in the market (and also the coach capacity), allowing Delta to capture some of the traffic which doesn't follow United to Newark.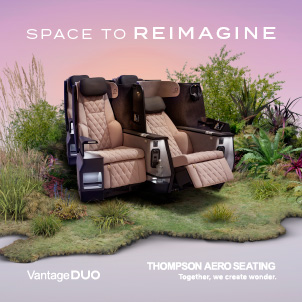 American Airlines is not changing at all, really. And with the recent indication that two of the three daily JFK-London flights will switch to a two-cabin aircraft the need for three-cabin transcon service for connecting passengers may be reduced, though the three-cabin planes are moving to the LAX-Sydney route, meaning some will continue to connect in the other direction. And then there's Virgin America. The carrier continues to be somewhat idle on frequencies and onboard seat product, though at least one significant change is coming. As first reported last week on RGN Premium, the carrier will be adding high-speed inflight internet service to its 10 new Airbus A320 aircraft deliveries. The service will be provided by ViaSat – the same service provider to JetBlue – but will constitute a hybrid Ku/Ka package that enables wifi connectivity on flights serving Virgin America's new Hawaiian destinations next year (routes where Ka capacity is not available).
A long-time Gogo customer – Virgin America offers Gogo ATG-4 throughout its fleet – the airline explains that ViaSat's technology "will deliver internet speeds that are typically 8 to 10 times faster than any other inflight wifi system – allowing travelers to experience internet speeds similar to what they have at home, with the freedom to watch, stream video and shop directly on any connected device when in-flight". Installation of ViaSat's system will begin immediately, with the first Ka-band antenna equipped aircraft to take flight in the continental US in September.
Notably, during the beta period rollout of the ViaSat product, Virgin America will offer free wifi access to passengers, mirroring JetBlue's popular decision to offer free service. However, Virgin America says it will introduce pricing for the service in 2016.
"I'm somewhat shocked they [Virgin America] would go for a split fleet. It kind of makes their Gogo monthly pass useless," suggests one industry observer.
The news today builds on Virgin America's announcement last month that it is upgrading to a new beta version of its Red inflight entertainment system. The guts-out-refurbishment of the Panasonic IFE system will also aid the carrier as it competes on transcon routes.
Despite all of this competition – and imitation – JetBlue EVP commercial and planning Marty St. George is not worried. Speaking to the new products, and especially Virgin America's new wifi service, he remains quite confident, telling RGN: "I'd put this product [Mint] up against any product in North America. I'm flattered that they're copying us. But at the end of the day I think JetBlue is going to win."
Meanwhile, the business to upgrade Virgin America's ATG-4 fleet with broadband internet appears to be still very much in play. The carrier previously signaled its intent to offer Gogo's hybrid ATG/Ku "GTO" product, but later began studying 2Ku. In light of today's announcement, ViaSat is doubtlessly bidding for the work against Gogo.