Virgin Australia's rollout of the B/E Aerospace Super Diamond business class seat has been pushed back after encountering safety certification problems. It's the second time the refit has been delayed, with the first Airbus A330-200 now not expected to start until August, five months after it was originally scheduled to begin.
"The industry regulations for how safety testing is conducted changed during the development stage of the project, which changed the original rollout timetable," the airline tells Runway Girl Network. This is word for word the same line given to Australian Business Traveller, which broke the story.
RGN understands that there is a particular issue with the certification for the A330, given that this is the first time that the seat has been certified for this aircraft.
Yet the Australian Civil Aviation Safety Authority (CASA) says, "We have full knowledge of these issues. There has been no change to any applicable regulations." After Virgin Australia's repeated insistence that the issues are with regard to changes in certification, a CASA spokesperson confirmed that there "was no regulatory change of any sort. Regulations take years to change after multiple consultation and drafting."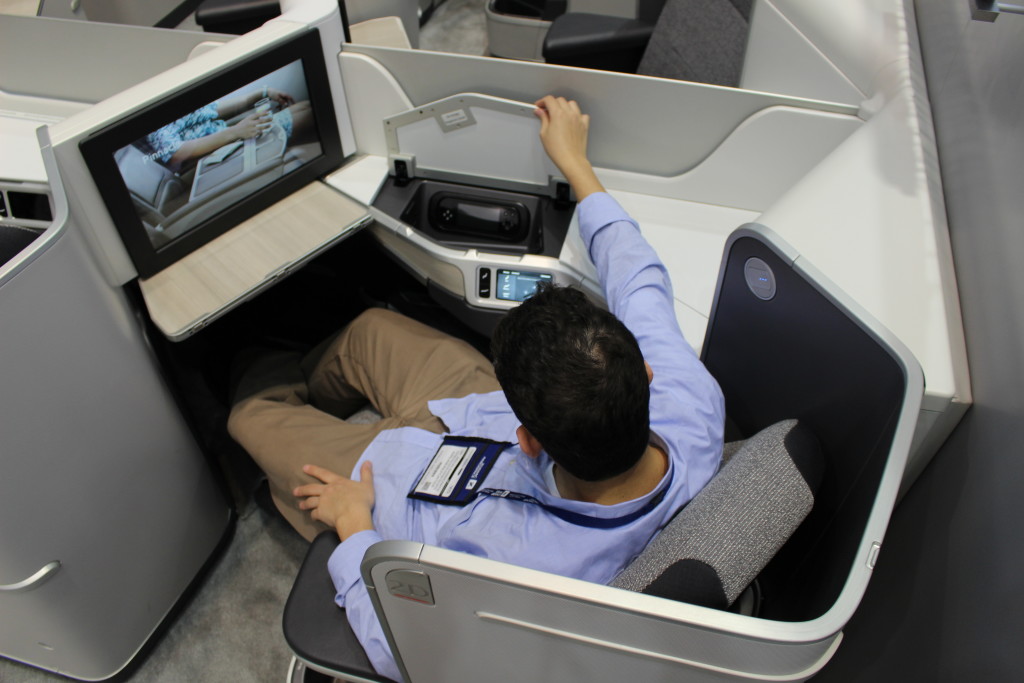 BE Aerospace stock Super Diamond at AIX 2015[/caption]
Whatever the reason for the delay, Virgin Australia will be disappointed. The airline has an ambitious 12-week refit plan for its six A330-200 aircraft, which will be upgrading to the B/E fully flat bed with direct aisle access from an angled lie-flat Weber 7811 seat in a 2-2-2 configuration. If the airline is to complete its domestic refit before the southern hemisphere summer, it will need to act quickly.
The passenger experience improvements will be significant as Virgin Australia continues its battle against Qantas for domestic transcontinental business class passengers. Qantas is making good progress on its own transcon upgrade programme, which is installing Thompson Vantage XL seats across its Airbus A330-200 and -300 fleet, replacing a hodge-podge of recliner and angled lie-flat products across roughly two dozen aircraft.
Virgin Australia will later this year continue the rollout to its five Boeing 777-300ER jets, which currently feature a now-outdated 2-3-2 fully flat bed in business class. The 777 fleet operates from Sydney and Brisbane to Los Angeles, as well as on flights to the Abu Dhabi hub of part-owner and codeshare partner Etihad.
RGN will continue to monitor the situation and press for answers to the serious questions this certification issue raises.