If last year's Aircraft Interiors Expo was the event where personal electronic device storage arrived on the scene, 2015 is the year when it has truly come of age. As usual, the aircraft interiors industry takes just under half a decade to fully respond to new trends in consumer hardware, like the demand for inflight connectivity following the iPhone revolution of 2007, and now the "hold and charge" requirement for larger PEDs as a result of the 2010 introduction of the iPad.
Onboard PED use among passengers is trending in three separate ways: first, the obvious inflight entertainment, whether video, audio or reading. Second, the stratospheric rise of BYOD — the "bring your own device" and stream off the airline's server or from the ground model — is driving change. And third, inflight entertainment providers (and indeed seatmakers) are integrating PEDs into their own offerings, with double-screening enabling new ways to interact with content, together with new remote control options for IFE and, with Recaro Aircraft Seating's CL6710 business class product, even seats.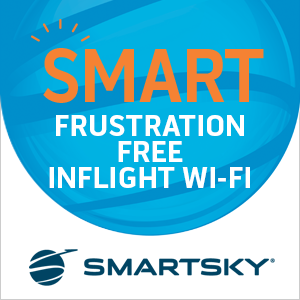 The problem passengers face, however nice a problem it is to have, is what to do with their devices. Most seats — even newly installed products — don't come with a PED holder of any form, so passengers must either perch them on a tray table (slightly easier for those passengers who carry their PEDs in a case) or hold them. With carriers outfitting longhaul aircraft with BYOD solutions, and the sector lengths of narrowbodies increasing, holding an iPad for longer than half an hour or so becomes a pain in the wrist, and increasingly so during meals.
In terms of the hardware to meet these new demands, new designed-in options are joining the first generation of retrofittable PED holders. Together, the range of PED holders from which to choose comes in five general types:
• the groove, where the device sits in a shaped carved-out section on the table surface
• the slot, where a rotating slot at the back of the table allows for a change of angle 
• the stand, where the device is supported front and back by an elevated device that points upwards
• the bracket, where the device is supported, often at eye height, by a flip-down shelf (and sometimes flip-up clasp as well)
• the bag, where a soft holder, often made of fabric, hangs from the seat in front
The big pre-show AIX news this year was dominant at-seat power provider Astronics entering into an exclusive distribution partnership with PED table innovator SmartTray. No longer left in the wilderness in a corner of the show, SmartTray took its place as one of three prestigious Crystal Cabin Award finalists alongside no less an industry name than Boeing (up for its Space Bins).
While SmartTray was edged out in its Passenger Comfort Hardware category by the SANTO seat that maximises the space to the rear of widebodies as the constant section tapers in order to accommodate larger passengers or people travelling with small children, the SmartTray product line is already winning orders from airlines including United.
Interestingly, United's order would seem to be for domestic first class, and it's to premium cabins that many seatmakers and aftermarket option providers are turning.
Airbus subsidiary Stelia Sogerma, for instance, is offering a new version of its popular Solstys seat, complete with a groove within the table to allow PED viewing in addition to the widescreen seatback IFE.
Acro, the ultra-slimline seatmaker, is hoping to expand its own line beyond LCC and ULCC customers with a more full-featured economy product, which also features a groove (see main picture at top). Acro's new regional business/longhaul premium economy class seat was displayed as an advanced mockup at AIX, and it would be a safe bet that Acro will also include some form of PED holder by the time we next see this product.
Towards the lower tech end of the solutions market comes the PED bag solution — an evolution on the old "cut a phone-sized hole in an empty airsickness bag" hack — that can be fixed to attachments on the seatback. Qantas' first version of its Q Streaming product offered airline-provided iPads that used this kind of technology. A pouch from Kanar Technologies was displayed on an Aviointeriors Canova business class seat.
Brackets are on offer from several seatmakers and IFE providers, including Recaro, Zodiac and B/E Aerospace (seen here as part of BAE Systems' IntelliCabin Samsung Galaxy Tab-based system).
Recaro is even offering a bracket option to fit a wider range of devices, where an elasticated loop can safely restrain a PED that isn't grasped by a regular bracket.
The big question about PED holders, of course, is HIC — the head injury criterion of aircraft safety testing. Interestingly, Etihad's VP guest experience Calum Laming noted that even high-budget, high-resource teams like the Etihad Design Consortium producing the airline's awardwinning new A380 first class products had to make some late changes (in this case to the armrests) as the result of HIC certification issues. At the other end of the size spectrum, Embraer's attractive E2 concept cabin won't be anything more than trade show vaporware until it can prove that the massive tablets embedded into the seatbacks are non-lethal, as BAE Systems must do with Samsung tabs.
The HIC answer for all the PED holder providers at AIX was the low-tech "stow or hold for takeoff and landing" option, and indeed it's hard to see how this is a hardship for passengers. The time from ready for takeoff bing to 10,000 feet bong isn't usually overly long to be holding a device, and tray tables must be stowed. It's the rest of the flight where people need to be able to put the device somewhere — and usually charge it.
On the charging front, industry is being urged to take a closer look at the safety implications of allowing passengers to charge PEDs during taxi, takeoff and landing. Engineering and certification experts are concerned that aircraft evacuations could be impeded if passengers trip or become entangled in cables.
The "hold and charge" requirement is one reason to keep an eye on the SmartTray-Astronics partnership, which combines the two sets of experience required to make that an effective product offering for an airline (especially one that doesn't want to take the role of figuring out how to integrate the two systems).
One trick still largely lacking at AIX, though: full 2A charging for modern devices, seen in a few spots (including Lumexis and BAE Systems) but still not seeming far enough up the list for increasingly power-hungry devices. With the new USB 3 Type-C charger already the talk of computer industry trade shows like CES appearing on Chromebook and MacBook products, little preparation or conversation was in evidence at the aviation industry's largest trade show, AIX. A challenge, perhaps, for the APEX Expo in Portland this September?
Yet even with the power question put to one side, the real question for seatmakers and their customers is this: in 2015, why wouldn't you buy a tray table with a PED holder?