It's not widely known by the traveling public that most point of sale (POS) devices used to transact food/beverage and retail sales on board aircraft do not authorize credit cards in real time. Rather, these transactions occur when the aircraft lands and arrives at the gate, and when passengers are long gone. As a consequence, airlines collectively lose hundreds of millions of dollars per year due to fraudulent charges.
Some carriers have been arming their flight attendants with POS devices and tablets that do transact in real time. Last year, it was revealed that Delta Air Lines flight attendants would be able to access Gogo inflight Internet to support credit card transactions and other applications. Rockwell Collins – through newly acquired ARINC – has been supporting Cathay Pacific's real-time credit card program, and reports wildly successful results, as detailed in our latest report for Future Travel Experience about aircraft e-enablement.
ARINC also boasts that airline customers of its 'Live CCA' solution can now "provide duty-free sales on their existing POS devices and receive authorization immediately, as well as facilitate passenger purchases such as high-end items or seat upgrades".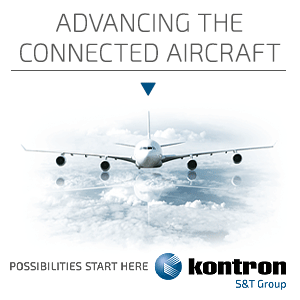 Dubai-based flydubai is bringing low-bandwidth Iridium connectivity to its aircraft to – among other things – process credit cards on board the aircraft, company VP inflight Daniel Kerrison revealed early this year. The carrier's Lumexis high-definition inflight entertainment system, and its substantial library of content, satisfies flydubai's passengers, says Kerrison, but Iridium will provide operational benefits.
Add South African Airways (SAA) to the list of carriers eager to remove the financial risk of doing business in the air. On 9 June the carrier installed Satellite Authorisation System (SatAuth's) communications system on an Airbus A340 (ZS-SLF), which was slated for retirement. SatAuth developed the solution to work in conjunction with point-of-sale devices (or devices which are able to host POS applications). A pre-requisite is that these interfacing devices are certified by the financial institutions which merchants are typically registered with.
"The fact that the aircraft was near end of life, made it an ideal candidate for the kinds of technical testing planned and achieved during the almost three week period (including its final return flight)," says a SatAuth spokeswoman."This  now gives way for more commercially focused testing to be continued on the A340-300 range as planned for July/August 2014. There are still a number of A340-300s in the SAA fleet."
She adds, "We are using the Iridium satellite network, in order to ensure global coverage for the airline and shipping industries."
SatAuth is unique in that it is the "first locally designed South African product with an EASA approved" supplemental type certificate, and which has been successfully installed on an SAA aircraft, says SAA technical representative Helmut Kolar in a statement.
Final POS interface testing is scheduled to completed by the end of August 2014, paving the way for the solution to be made commercially available to the aviation industry, says SatAuth.
To learn more about aircraft e-enablement developments, see Runway Girl Network's latest report for Future Travel Experience entitled "Keeping Track of Developments in Flight Tracking and E-Enablement". And consider joining us for the RGN/FTE Cabin Integration Symposium, which will take a deep dive exploration into the future of inflight connectivity and e-enablement, IFE and aircraft interiors. The event is scheduled for 24 September at the Mandalay Bay Resort in Las Vegas, where the FTE Global 2014 conference and exhibition will take place. 
Featured image credited to istock.com/martin-dm