Of the major airline seatmakers, Recaro is the one that doesn't immediately say "aircraft seating" — its automotive seating is still what the company is best known for outside the aviation industry.
Yet Recaro's aircraft seating business has been incredibly influential on aircraft interiors, not least with its love-it-or-hate-it Crystal Cabin Award winning (if forgettably monickered) BL3520 slimline seat, launched by Lufthansa in 2011 for shorthaul European flights and since installed worldwide on flights including US transcons.
Recaro's longhaul fully featured slimline seat with an equally-easy-to-forget name, the CL3710, also started a trend: blending the weight and space gains from shorthaul slimline seating into seats where airlines and passengers demand additional comfort and features.
So what's next for this avant garde company? Runway Girl Network sat down with CEO Dr Mark Hiller at the recent Aircraft Interiors Expo to find out.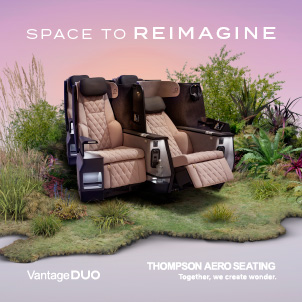 "BYOD," the bring-your-own-device inflight entertainment trend, is the first thing Hiller brings up. "It's critical especially for economy short and medium range. That's a major trend, and airlines are very much interested in the different solutions we are showing. There's very positive feedback, and we are assuming that we will receive … several orders for BYOD solutions either for new aircraft seats or also for modification of existing seats incorporating BYOD [in the weeks and months after AIX]."
Recaro is going for the low-tech head impact criterion certification solution, however. "We have a solution which works, but for sure the device will be stowed during taxi, takeoff, and landing. We have developed a special contour netting pouch where you can stow it, and then after takeoff you would put it into the holder," Hiller says.
The holder to which Hiller refers comprises a flip-down shelf to rest the device on, with a clip at the top for iPad-sized devices (or phablets in portrait mode) but an additional option of an elastic string to tuck around one corner for a smaller iPad Mini-sized PED.
"We've figured out there are more than 150 different devices in terms of dimensions," Hiller says, "so with the string we can support more than that, we realised, and all that fits [no matter] which direction you put it in."
RGN and Hiller moved on to a discussion of the company's two new business class seats, and whether he saw a future for the angled lie-flat seating currently operating on numerous medium to long haul routes. Notably, the only seat beyond its new CL5710 cradle seat that Recaro was exhibiting at this year's AIX (and indeed the only longhaul business seat it has in its website catalogue) was its new CL6710 product, a staggered seat in a slightly herringbone layout where the seats in succeeding staggered rows point slightly away from each other.
"We see really it's a fold flat seat for long range business class seats and then we see cradle seat for medium range," Hiller said, stating clearly, "we do not see an angled seat. Depending on the route, the airline, and flight time, if it's an overnight flight, you want to sleep and you really want full flat. If it's a day flight of five, six, hours, then you do not need to have beds, it's more or less just good relaxed positions."
Is there a plan to expand the catalogue, given the range of products available from the competition and previous years' concepts shown by Recaro?
"We've shown a lot of different concepts and we've decided to go with one concept which we have on display now," Hiller says. "We have collected all the feedback from the last expos, and also from in-depth customer reviews, and the concept we have chosen is the best solution, the best combination of having best comfort, best efficiency in terms of density, and also in terms of design, providing privacy and also having a seat which is open."
The CL6710 also comes with new options of inductive charging for phones and an app that enables passengers to control their seats from their own devices in addition to the usual armrest area buttons. "A European launch customer" will be launching the seat in late 2016.
While the new CL6710 isn't yet in catalogues for Boeing or Airbus, Recaro does have its CL3620 economy class seat in both the 787 and A350 catalogue, with the CL3510 also offered on the 787 and the CL3710 on the A350. (Recaro's naming system meant that a spokesperson had to follow up with the details of precisely which seats were available on which aircraft. A couple of days earlier at the Passenger Experience Conference, a senior executive at a major LCC customer also couldn't remember the name of the seat his airline had purchased, calling it "the Lufthansa one".)
Recaro is also offering a new supplier-furnished Airbus A320 family narrowbody seat, essentially moving the catalogue mentality into the single-aisle market. "I think it's very suitable for single-aisle aircraft. It's working or it might work also for long range aircraft, but for sure [widebodies entail] a much higher effort that needs to be taken with all the different combinations." 
Hiller was less effusive about the A350 and 787 catalogues, saying they were "okay" and "may give some advantages for the OEM or the airline", but shied away from calling them a "disaster" like competitor Haeco.
With a robust set of products focusing on its traditional strength of shorthaul slimline seating, new segment of full-featured slimlines, modern options for shorthaul business, and an impressively designed new fully flat bed with direct aisle access, Recaro is ticking a number of boxes for airlines and passengers. 
All it needs to do now is figure out a better naming system for its seats — if neither the CEO nor a major customer can remember the six-character strings of letters and numbers, it's probably time to take a look at what you call your products.