When airlines refurbish their existing aircraft, supposedly to bring them up to the standard of newer purchases, more often than not they miss the mark. Flying from Auckland to Shanghai on Air New Zealand's second refurbished Boeing 777-200ER recently, I can confirm that the improvements up front make what was an already decent product an outstanding one. I was impressed by the a crisp, clean cabin, new LED lighting, a much-needed IFE upgrade and an impressive soft product that truly brought the airline's decade-old 777s in line with the business class on its flagship 777-300ER.
The business class product improves on an already excellent bed
The Kiwi carrier's Business Premier is its top offering, and is a slightly adapted version of the 2003-era Virgin Atlantic fully flat bed with direct aisle access. Like the beds on Virgin and Singapore Airlines, a mechanism flips the seatback so that passenger sleep on a different surface to the one on which they sit. 
This was the original fully flat bed with direct aisle access when Virgin Atlantic introduced it, and it still stands up very well in the sleeping stakes, even for 6'3"/191cm passengers like me.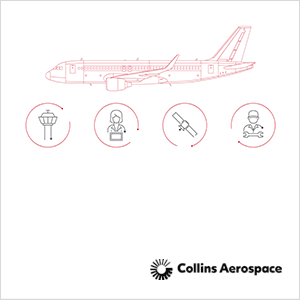 While some passengers dislike the herringbone layout for facing into the aisle rather than away from it, I've honestly never struggled to gaze out of the window on any of its incarnations (as the many, many pictures on my Instagram account will attest).
The second main issue some flyers have with the seat is the flip-to-sleep requirement, rather than reclining. There are benefits here, of course — beds and seats aren't made of the same material, allowing for a softer, fabric sleeping surface on which to place the mattress rather than requiring the leather seat cushions to serve multiple purposes. And the 20 seconds it takes to flip the bed isn't an imposition in my book.
Another principal criticism of the seat is that the recline isn't particularly deep, and there's no "Z-bed" style legrest to rise to support your legs in a lounging position. On this flight (leaving Auckland just before midnight and arriving in Shanghai in the early morning) that wasn't a concern for me, but it has been a frustration in the past on day flights with Virgin Atlantic. Yet for Air New Zealand's missions — ultra-longhaul 12-hour legs or three-hour hops to Australia — these seats actually fit the bill better than they do for Virgin Atlantic. 
Panasonic Avionics' eX2 system is a great improvement
Ten years is a long time for any IFE system, with the resolution and navigation of Panasonic's eX2 a real upgrade. For the first time on an eX2 system, the touch navigation was so quick and intuitive that I didn't touch the handheld remote once. 
A USB socket and a full universal power socket (the previous one didn't take UK plugs and was notoriously picky about any three-pin adapter) round out the top-notch offering. A wide selection and careful curation of Kiwi content has always been a strength for Air NZ, and that's continued here.
Next up for Air NZ is hopefully an improvement on the no-name noise-cancelling headphones, which could perform better, as well as some inflight connectivity. The best part of half a day to Shanghai is too long to be without email, particularly for people who are going under or emerging from the Great Firewall.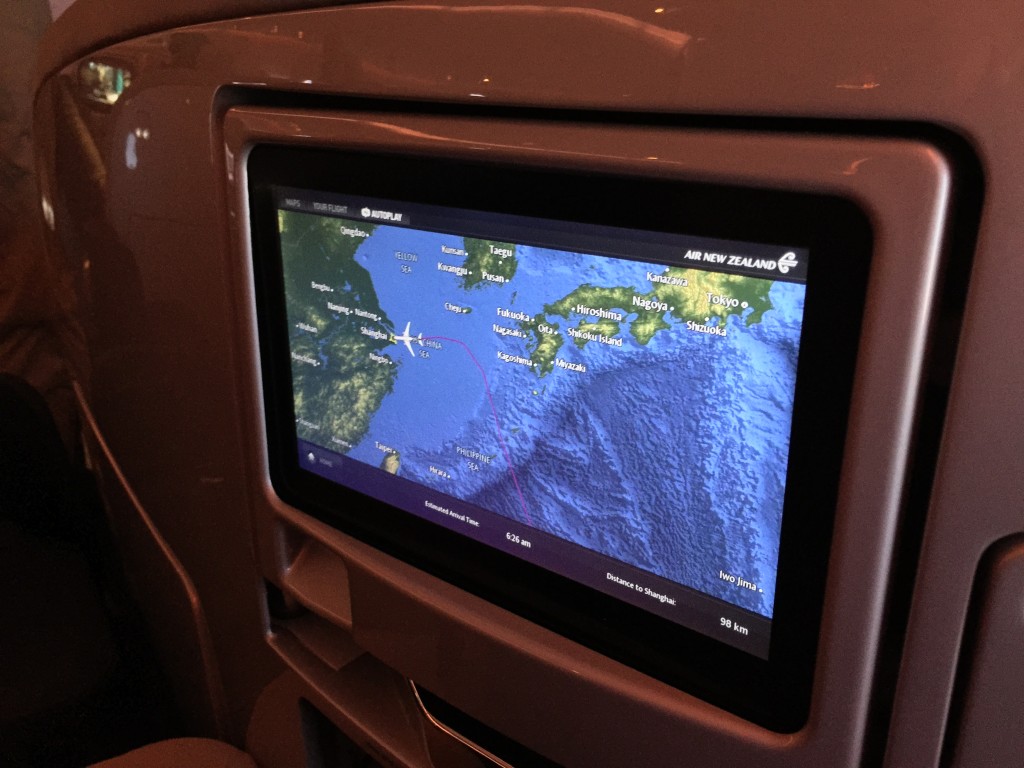 Air NZ's soft product and little touches make the experience
It feels odd to rave about an airline mattress, but rave I must — Air New Zealand's memory foam bed topper is the best I've slept on in the sky. On its own it was a serious upgrade for the older 777-200 seats when it was introduced alongside the 777-300ERs four years ago, but with the new product and the extra squish in the seatback foam it really shines.
I can't fault Air NZ's inflight food options either, which are hand-plated and well-considered. A tasty chicken plus tofu starter and an excellent belly pork main met both my palate and, from what I heard, the palates of the 75% of my fellow passengers who were mainland Chinese. The waffles with yoghurt and fruit the next morning were equally one of the best breakfasts I've had on a plane. I've had some iffy meals before on Air NZ longhaul, but if this is the current standard then it's very pleasing.
Fortunately, Business Premier has escaped the sole-provider wine controversy, with several top-notch drops from across NZ loaded on this flight. The Craggy Range Sauvignon Blanc was delicious, with a medium Riesling to please the Chinese palate and two solid reds that I sampled as part of my professional duties. 
Whether it's the pleasant bar area at doors 2 between business and economy that allows for a bit of a stretch without bothering the crew in the forward galley, or the by turns amusing and elegant lavatory wall coverings (one a chandelier, one a cartoon character apparently waving in from the window outside), the uniquely irreverent Kiwi details round out the product.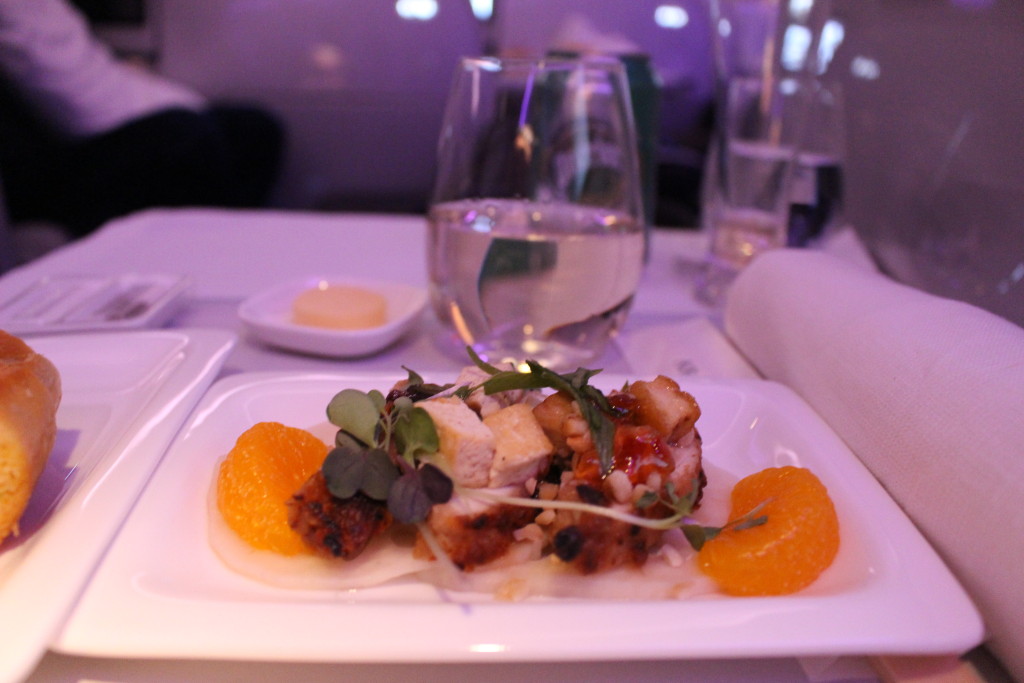 Further back, there's mixed news in premium and regular economy
It's not just Business Premier that has seen the refit. Air New Zealand's previous premium economy offering was really just an extra-legroom cabin on the 777-200s, with nine-abreast in both economy and premium economy.
The new cabins, however, use the same premium economy seat as on the airline's Dreamliners, but in a 2-4-2 layout befitting the 777's wider fuselage.
The bad news, however is at the back of the plane. Air New Zealand has converted the previously spacious nine-abreast seating into the dreaded 3-4-3 configuration, matching the width to its 777-300ER and 787-9 fleets. The best that can be said for this is that at least it's consistent.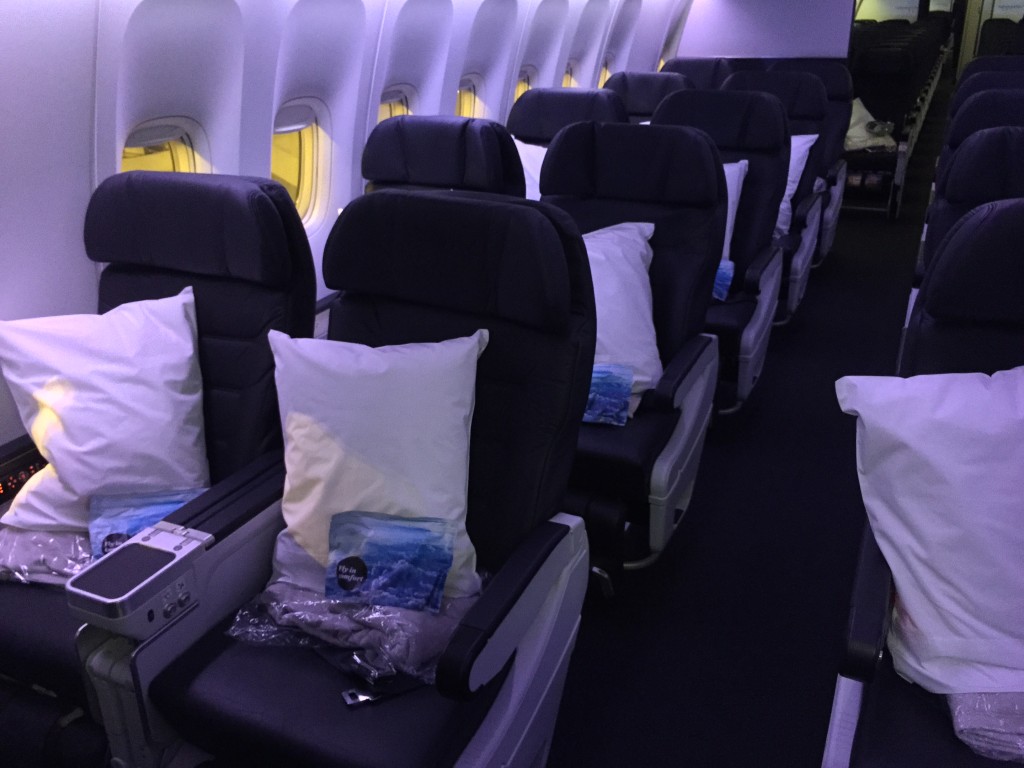 Air NZ's "Chiwi" Shanghai-based crew were a cut above
With over three quarters of passengers (based on a glance around business, premium economy and the general boarding gate area) appearing Chinese, Air New Zealand's strategy of outsourcing outstation crew has both language service and cost benefits to the airline. The airline argues that it provides Kiwi training to its Chinese staff, who self-identify as "Chiwis". With three of the ten crew on my flight New Zealanders, the risk is that the informal, matey Kiwi brand of service is diluted.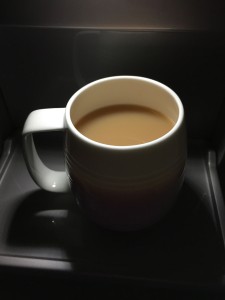 While my inbound flight from Shanghai was a bit of a miss in terms of the Chiwi crew's English skills and knowledge about wine (not to mention how to make a good strong cup of New Zealand tea), the return flight was much better. I was surprised to observe that there didn't seem to be any crew room in Auckland for the flight attendants to meet each other, with the hi-how-are-you-my-name-is introductions happening at the gate. Perhaps this is an area for the airline to examine in terms of consistency.
Verdict: Air NZ's business is hard to beat
For the routes it flies, only Singapore Airlines and Cathay Pacific can really come up against Air New Zealand in terms of product — and then Cathay is at a disadvantage on HKG-AKL flights with its derivative "coffin class" take on the herringbone seat aboard the A340-300 it uses to serve NZ. Emirates is the only Gulf carrier serving NZ, and requires a transit in Sydney aboard its A380s.
Of course, as the current NZ politics kerfuffle over precisely to whose airfares Kiwi MPs' travel perks should be pegged has shown, Air NZ's pricing isn't always the keenest. With increasing Auckland flights from Chinese carriers undercutting Air NZ on price — but not yet on service — New Zealand's national airline has a #PaxEx advantage… for now.