Welcome to Episode 23 of the #PaxEx Podcast. Our guest for this episode is Seth Miller, author of the popular Wandering Aramean blog and a regular contributor to RGN. A loyalty program expert and a trusted commenter on #PaxEx, Seth admits he is also known as a "rather bizarre and ridiculous traveler who enjoys flying for no particular reason", but we know he's not ridiculous and that his adventures are generating very useful insights for travelers.
Recorded during the Aircraft Interiors Expo (AIX) in Hamburg our show first addresses Airbus' unveiling of an 11-abreast A380. The 3-5-3 configuration raised eyebrows, not just because of the dreaded middle seat in the cluster of five – which claustrophobic people should probably avoid – but because of the living space afforded to passengers seated by the windows (see photo of RGN contributor Jason Rabinowitz above). Seth explains what he learned about Airbus' seat densification program for the double-decker aircraft during the show. #AvGeeks may be most alarmed at what this means for the comfort factor at their beloved window seat.
Next, Southwest Airlines revealed plans to offer the widest seat of any 737 flown in the US when it takes delivery of its Boeing 737 MAX. But while the carrier boasted about the launch of this 17.8-inch wide seat in reports – and seatmaker B/E Aerospace was said to be showing the seat at AIX – journalists ran into difficulty when seeking more granular detail and a look-see. Yes, a look-see would have entailed a measuring tape because passengers are now quite rightfully skeptical about promises of comfort in slimline seats. We know that Southwest has at least slimmed the armrests to fiddle the seat numbers for the 737 MAX, but in remaining so vague, is it also fiddling with media as well?
Meanwhile, for the second year in a row B/E adopted a closed-door approach to the press, shutting out journalists from its booth with a rude and dismissive tone, and refusing to grant interviews about its portfolio of products for much of the week. On the final day of the show – after being called out for its lack of transparency on social media, and in the face of a significant push from the Hamburg Aviation group – B/E allowed journalists past the barriers for a guided tour. In this episode, we consider why a publicly traded aircraft interiors company would adopt this strategy at a trade show that is open to the public, and at a time in history when its products are having such a significant impact on the passenger experience. B/E CEO Werner Lieberherr assured that the company would do things differently next year.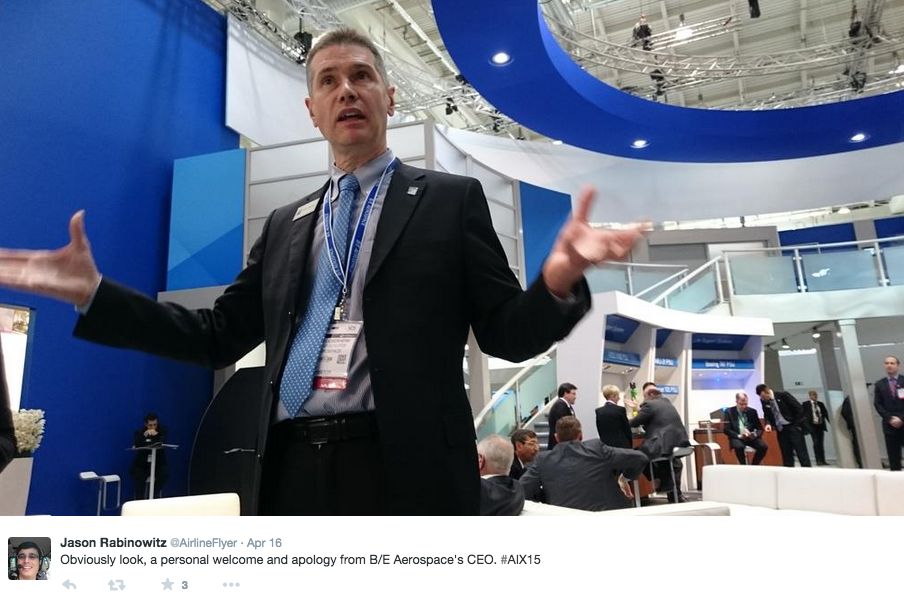 Last but not least, we'd be remiss not to discuss the profound impact that inflight connectivity is having on aviation. From nose to tail, in the flight deck and in the cabin, connectivity is changing the game. The excitement about connectivity was palpable at AIX. Seth provides us with some deep insight into pricing. We discuss why this year is a watershed moment for the industry, in this latest episode of the #PaxEx Podcast.