Good news for passengers: Hawaiian Airlines is installing new slimline seats from British seat maker Acro across its 18-strong Boeing 717 inter-island fleet. Yes, good news. While slimline seats have become the bane of existence for transcontinental, medium-haul passengers on five-hour flights within the continental United States – and ultra-slimlines are poised to make their debut on ever-packed planes – Hawaiian is thankfully only using these seats on flights of less than an hour.
Acro's seats are some of the slimmest, most bare-bones slimline seats in production. Yet the airline is clear that these are "20 to 60 minute flights" between the largest islands of Hawai'i, Maui, O'ahu and Kaua'i, with the longest being the 216-mile Honolulu to Hilo hop that Google Flights pegs at 50 minutes. Passengers on the Hawaiian version of the local bus won't have too much to complain about.
Hawaiian's chief commercial officer Peter Ingram is keen to emphasize that the refit will mean increased consistency and operational efficiencies. "These new, modern design elements rejuvenate the interiors of our Boeing 717s while allowing us to deliver a consistent onboard experience for our guests," Ingram says.
At present, the airline quotes five separate cabin configurations on its fleet, including different galley, lavatory and seat layouts that result from these 1990s-era airliners' operation histories. Some of Hawaiian's 717s were received direct from the manufacturer, but others have flown for QantasLink, AirTran, Midwest and Mexicana Click. Clearly, there are benefits to streamlining the differences these jets have picked up in the decade and a half since they first flew.
Hawaiian will also be able to add an extra row of five economy seats to aircraft that carry 115 economy passengers, which adds up to a four percent increase across the aircraft. The new seat total will be 120 economy seats (8 first class seats will stay the same across the old and new).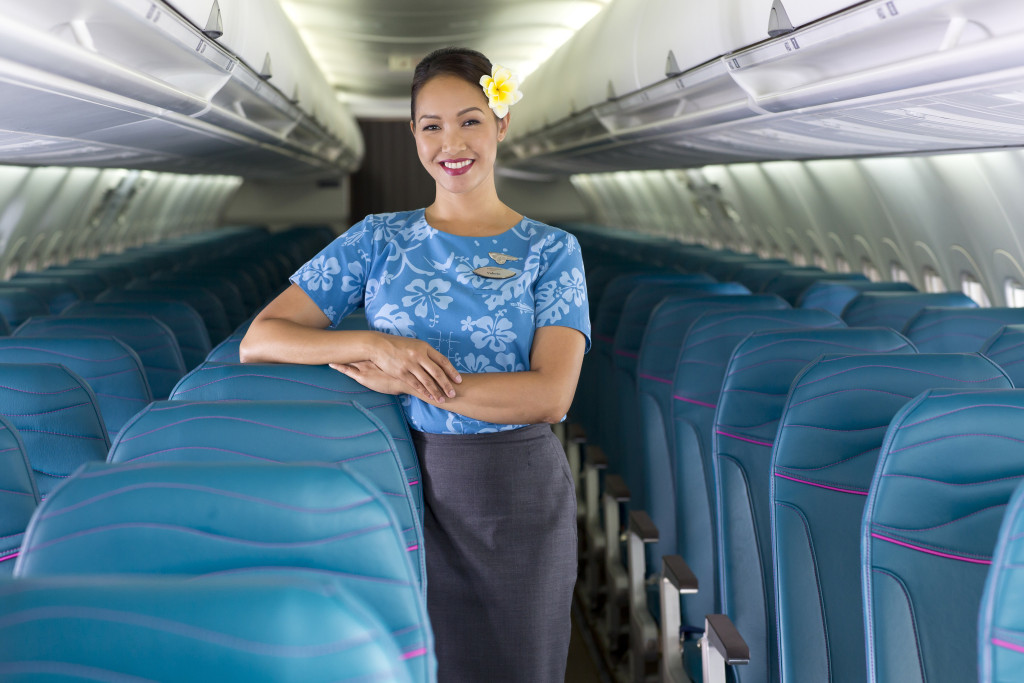 Ingram suggests the new lightweight seats "are engineered to ensure a maximum amount of personal space without compromising legroom or comfort", though a seat pitch is not listed. Hawaiian confirms the seats will equate to a decrease in operational complexity. Part of that comes from the robust simplicity of Acro's product, with fewer moving parts and including what Hawaiian calls "a 'tablet table' machined from solid aluminum, sized and designed for complimentary beverage service and the use of a tablet device".
For the flights Hawaiian is offering on these aircraft, this table is the perfect size — and again looking at operational complexity, it is incredibly sturdy, as RGN editor Mary Kirby demonstrated at the Aircraft Interiors Expo in Hamburg last year.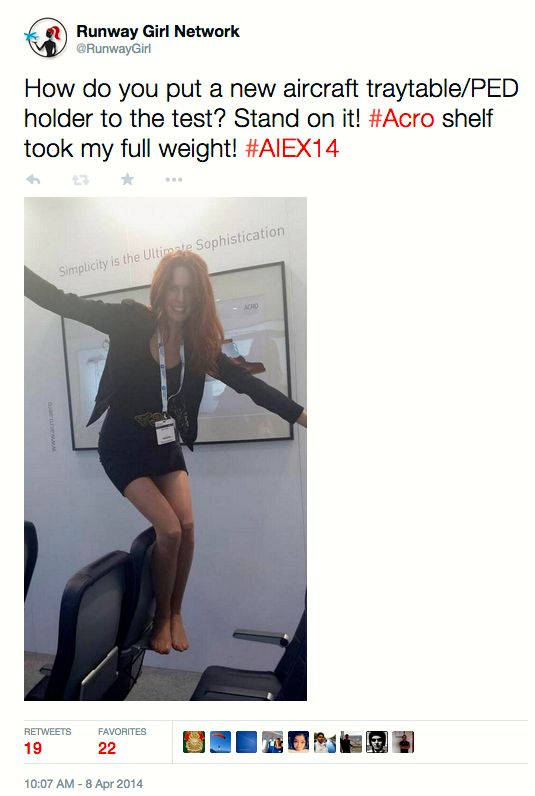 In passenger experience terms, a slimline 717 seat — particularly given the amount of elbow-room across the cabin diameter of the former McDonnell-Douglas product — is a reasonable experience for under an hour's flight. We make no such assertions for flights of longer duration.
Here is 6'1" (185cm) RGN contributing writer Jason Rabinowitz in an Acro seat pitched at 27 inches, again at the expo in 2014.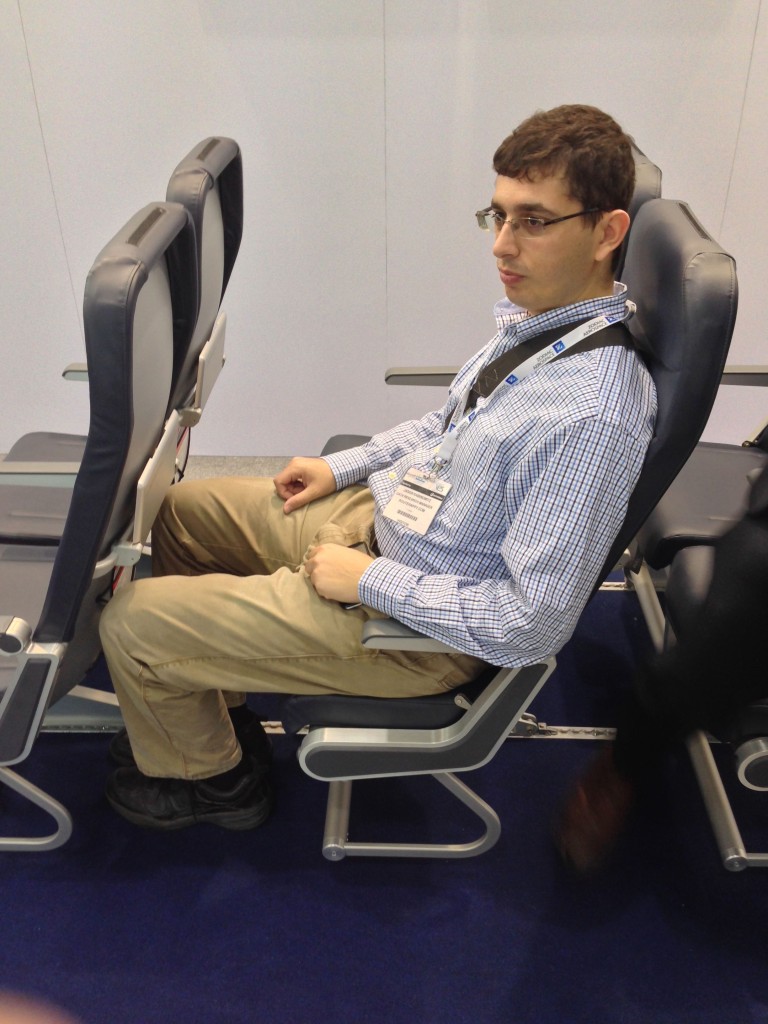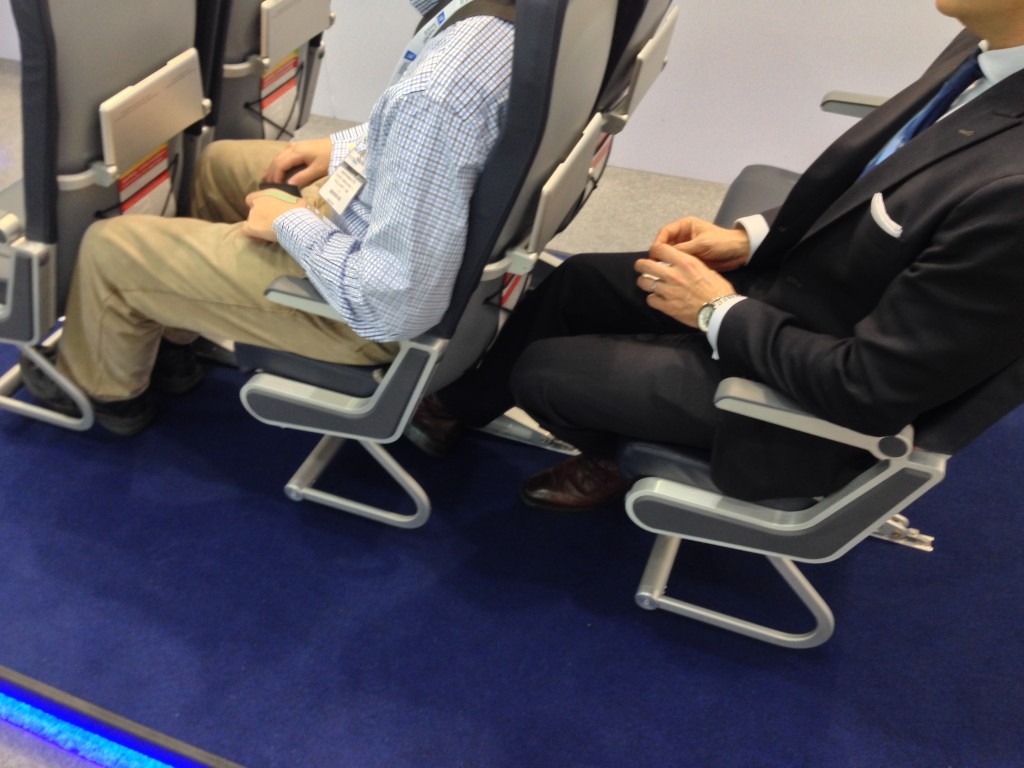 Local markets are — and need to be — realistic about the operating economics of inter-island jet flights. Mesa Airlines' go! brand disappeared a year ago, a brief period after Hawaiian's Ohana ATR-based subsidiary began operating on the shortest routes including the 27-mile Moloka'i-Lāna'i route. Hawaiian's 717 slimlines will keep locals moving around their home state.
The airline's entire narrowbody fleet, which operates more than 160 short-haul flights daily between the islands of the state, will be retrofitted to feature the new seats by the end of 2015.