Inflight connectivity provider Global Eagle Entertainment has been trying to crack into the Chinese market for a few years. The company holds agreements with Chinese telecom firms to help streamline the process of bringing its brand of Ku-band satellite-supported inflight Internet to airlines in the region. In recent weeks, Global Eagle has taken an important step closer to realizing its goal.
The company received Chinese certification via validation of supplemental type certificate (VSTC) to install its system on an Air China Boeing 777, after receiving FAA STC for the type. "So the system is installed; we're waiting for a few final check-offs from communication authorities in China before we start offering this," says Global Eagle CEO Dave Davis.
Though the Global Eagle Ku connectivity system isn't yet operating in revenue service, its capabilities were demonstrated on 10 March when China's national news agency broadcast live television between the country's legislature and the Air China 777 aircraft. The satellite connection successfully managed the transmission on the ground and in the air, including a live television crew that was filming on board the aircraft, says Global Eagle. Additionally, passengers were able to use the connectivity solution to browse the Internet, chat, shop and stream movies and television shows while in-flight. It's not clear how much Ku capacity was used, or the cost incurred, to cover the heavy-bandwidth applications tested on this flight.
It also wasn't the first inflight Internet test on Air China and won't be the last. In 2014 the carrier tested air-to-ground (ATG)-supported connectivity between Beijing and Chengdu (do let Google translate the Sina news report for you). A company called Hangong AirNet claims that while its name didn't necessarily garner the headlines for this test, it provided the necessary technology and operational support for Air China.
"We are the team to provide technology and operation support. Right now, some Chinese airlines are very interested in our ATG and business negotiation is ongoing very well," Hangong AirNet vice president Harry (Rui) He told RGN last year, and pointed us to a video of the demonstration.
It remains to be seen if China's infrastructure will support ATG connectivity for the region's airlines on a mass scale, but carriers are gravitating towards this kind of service over landmasses because the systems are lighter, less expensive, less costly and far less complex than satellite systems. Simply put, it's easier for an aircraft traveling 500 miles per hour to talk to cell towers that are on the ground pointing up. That's why Gogo – which operates an ATG network in the United States – is committed to participating in an auction of licenses to support next generation ATG service, and why Inmarsat is developing a hybrid ATG/S-band solution for Europe.
"By the way, we think ATG and satellite is complement, which is realized nicely by Gogo," said Harry (Rui) He.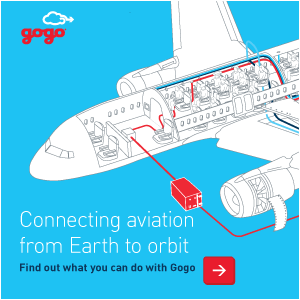 But satellite-supported connectivity is needed for over-water coverage, thus the reason why Panasonic Avionics and now Global Eagle have been making gains with their Ku-band systems. China Airlines offers Panasonic Avionics Ku-band connectivity on Boeing 777-300ER aircraft. And last year China Eastern Airlines also tested Panasonic Ku connectivity system on an Airbus A330, as part of a wider roll-out plan.
Air China also plans to trial Inmarsat's Ka-band-based Global Xpress service when it comes on line later this year. Honeywell brokered the MOU with Air China, as it is providing terminal units for the entire Global Xpress program.
Meanwhile, Global Eagle is celebrating its latest milestone with Air China, and awaits final approval to formally start the 777 trial. "We are are continuing to work closely with Air China and other parties in China to continue our progress toward launching inflight connectivity in China" says a Global Eagle spokeswoman in answer to a question about when Internet will be offered in revenue service.
The company will continue to invest in China as it sees "a huge market there and I think we're really well positioned", says company CEO Davis. But he cautions, "I would say the relationship between a successful trial and a linear conclusion to installs is not 100% predictable. [There are] a lot of complications with broadcasting Internet in China. We'll continue to invest and push it forward; there [is the]possibility we'll get installs in the fleet this year, and a possibility it flips into next year."