Germanwings flight 4U9525 has crashed in the remote French Alps after descending quickly on a single heading during its morning flight between Barcelona and Dusseldorf. The flight, operated by a 24-year-old Airbus A320 aircraft registered D-AIPX, began a swift descent of more than 3,000 feet per minute from a cruise altitude of 38,000 feet.
A total 144 passengers, including two infants, and six crewmembers were on board the aircraft, airline and government officials confirmed. Nationals of Spain, Germany and Turkey were reportedly on board, although that list may not be exhaustive. "The accident conditions, which have not yet been confirmed, lead us to believe there are no survivors," French President François Hollande said at an early stage in the developing incident.
The captain of the aircraft had over ten years experience with Lufthansa and Germanwings, with around 6000 hours in type, said Germanwings CEO Thomas Winkelmann in a press conference shortly after 1500 hours local time. Winkelmann did not reveal any information about the aircraft's first officer.
Reports are still conflicting about whether any emergency broadcast was made from the aircraft, with neither a '7700' general emergency squawk nor a MAYDAY/PAN PAN call made. French media has been reporting a call of «urgence, urgence» (literally: emergency, emergency) but it is unclear whether this was in French — or indeed why a German airline would be communicating in French.
It is equally unclear at this early stage why the aircraft's relatively shallow, seemingly steady rate and single heading over its eight minute descent would not have afforded the pilots an opportunity to communicated in some way with air traffic control.
Naturally, RGN will not speculate on the reasons for the aircraft's crash.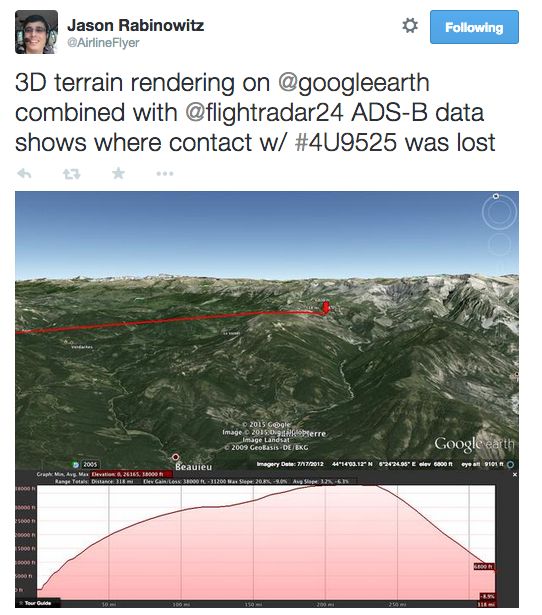 France's Bureau d'Enquêtes et d'Analyses (BEA) will be leading the investigation, with assistance from German and Spanish authorities, the airline and Airbus. "In line with ICAO annex 13, an Airbus go-team of technical advisors will be dispatched to provide full assistance," said the airframer.
Emergency services in the mountainous area in the Digne-les-Bains arrondissement are conducting the search for wreckage, though French President Hollande was quick to confirm that no survivors are expected to be found. Snow on the higher elevations — the crash site is likely between 2000 and 3000 metres — and the remoteness of the area are likely to contribute to a slow recovery and investigation.
Germanwings, one of the low-cost carrier arms of Lufthansa Group, flies the majority of the Group's flights from German airports outside the twin LH hubs of Munich and Frankfurt. Germanwings, and its sister airline Eurowings, has been in the news recently thanks to Lufthansa plans to outsource more flights to its subsidiaries with lower costs. Multiple labour organisations within Lufthansa Group have been taking industrial action to protest the plans. As has become standard, both airlines have greyed out their social media accounts, with Germanwings' website intermittently unavailable and updates coming from the airline's Facebook page.
The 4U 9525 aircraft, MSN147, while significantly older than Germanwings' fleetwide average of 12.9 years, is only slightly older than Germanwings' 16-strong A320 fleet's average of 23.5 years. The airline also operates a larger and younger fleet of A319 aircraft. Airbus confirmed the aircraft "had accumulated approximately 58,300 flight hours in some 46,700 flights" and "was powered by CFM 56-5A1 engines."
Originally delivered to Lufthansa in 1991, the aircraft has been transferred from Lufthansa to Germanwings twice. The last routine check was carried out yesterday in Dusseldorf, and the last major check was undertaken as scheduled by Airbus in 2013, Germanwings CEO Winkelmann said. Nearly 6600 A320 aircraft have been delivered by Airbus worldwide.
Photo at top: Germanwings A319 is part of A320 family – Germanwings Flieger