Aviation is growing exponentially within rapidly developing countries and their burgeoning middle classes. In Europe and North America, too, air service is reaching new and expanded populations. The aviation industry rejoices that there are people who are new to travel and keen to experience the world — but it also needs to take responsibility for guiding them through the travel experience.
In the same way that some airlines need to educate their passengers about sitting toilets (no squatting!), airlines with a greater proportion of first-time flyers — and that's most of them — need to educate their passengers about boarding and how to find their seat. The boarding pass is a key part of that.
Flight AB23, Gate 25A, Seat 24B, boarding door C — these are all concepts with which most readers of this article will be intimately (perhaps tediously) familiar. But for Chen Xiaoming from Changchun or Si Polan from Surabaya, or even Aunt Pauline from Plattsburgh or Parramatta, travel can be a disconcertingly unfamiliar experience, and the boarding pass is often little help.
Board early for a flight in the developing world — or even a low-cost carrier from a small airport in a more developed country. Whether it's AirAsia from Miri in Malaysia or Allegiant from Northwest Arkansas, it becomes abundantly clear that wayfinding inside the plane isn't plain to everyone.
On a recent flight within New Zealand, three passengers within the nine seats immediately adjacent were unclear about which seat was theirs. 
One man who looked to be in his 20s thought that the A seat meant aisle. An older woman mistook the row — not entirely surprising, since the row marker was two feet above her eye level. One woman speaking Mandarin with her travel companion had transferred from a turboprop flight where B was the aisle, and was surprised that it was now the middle.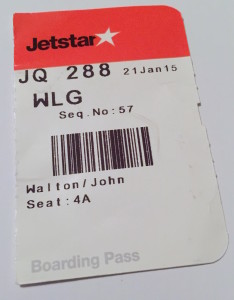 That's not entirely surprising: here's the ticket stub they would have had, where the seat number comes last, in the smallest type and without any identifier. If the seat number was more prominent, how much faster would that aircraft have turned round?
And this is New Zealand, a developed nation where a significant number of people travel on an "overseas experience", economic migration to and from Australia is very common, and traveling between the nation's two islands is possible only by swift aircraft or a long drive plus lumbering ferry.
Airlines need to do better — for their own sakes. With 25-minute turnarounds for narrowbody aircraft common, every couple of minutes that a passenger spends faffing around trying to figure out which seat is theirs is vital.
The boarding pass is the wayfinding horcrux. It's the one piece of paper that airlines issue to passengers between check-in and departure. In the age of global hubs, codeshares, bilateral partnerships and airlines many travellers may never have heard of, it may well be the only touchpoint the flyer has before it is scanned and passed to the plane.
Yet it's often impenetrable, emphasises information for the airline rather than the passenger, is frequently misaligned, and isn't laid out in a logical way for John or Jane Doe.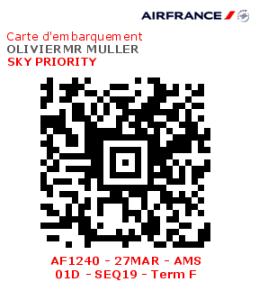 Sure, mobile boarding passes are great for frequent travelers, and technology like Bluetooth Low Energy (which drives Apple's iBeacon) can pass timely and local information to the passenger, but not everyone carries a smartphone, and it's unlikely that first time (or even just relatively new) flyers will be sporting the latest airline app even if they do.
Airlines and airports are already using boarding passes as an identifier for their own benefit. When passengers scan their boarding pass at various points in their progression from check-in to the gate, joined-up systems tell them whether or not they need to hurry to avoid missing their flight — or return to a ticketing desk because they won't have enough time to make it.
Surely helping the passenger to understand where they need to go on the aircraft is equally important.
So what's the solution? Clearly, much depends on enabling the airline's backend IT systems to print better boarding passes. Creating boarding groups (like Southwest) can also help passengers figure out where they need to go, even on airlines that assign seats. On board, clearer signage — perhaps through the use of colour, symbols or zones ("your seat: Aisle 23C in the Orange Zone") — is surely not beyond the realms of possibility. Airbus even has an LED-driven spotlight system that can project information onto any surface. Could the seat number be projected onto the seat, or wayfinding onto bins, floors and ceiling?
Passengers don't want to feel lost — and airlines don't want them to either. A smooth experience, where people find their way quickly and easily, drives fast boarding and a positive opinion of an organised airline. How can your airline make that a reality?
It seems like it's every few months that some keen user experience student or professional puts forward some suggestions for redesigning the boarding pass that meet with great acclaim and then disappear. It's time for the airline industry to take action.
Related link: