American Airlines is starting its Boeing 787-8 Dreamliners off on domestic runs between Chicago and Dallas/Fort Worth before sending them from DFW to Beijing and Buenos Aires.
The two-and-a-half-class configuration, with fully flat beds with direct aisle access up front and a 3-3-3 configuration in economy that is as bad in passenger experience as it is good for airlines' bottom lines, will allow the carrier to open up new long and thin routes, particularly from its Texas hub.
There's a #PaxEx conundrum on these long-haul flights, though: AA's business class isn't ideal for long, tall passengers, while economy class is really only for the thin — and there's a big gap in product between direct aisle access business class and high-density 3-3-3 economy.
Business: better than the rest but obvious room for improvement
In business, American has again chosen to install 28 of its new custom seats, which are a fully flat bed with direct aisle access in AA's unique forwards-backwards herringbone style. 
By comparison, British Airways' 787-8 seats 35 in the 2-3-2 Club World business class, with two rows behind doors 2, while United's 36-seat B/E Diamond cabin has 18 seats before and 18 aft of doors 2. 
While direct aisle access is appealing and praiseworthy, the problem is that the wall at the end of the bed doesn't allow taller passengers to tuck their feet past the edge of the cushion.
Passenger Jeremy Fegley, who is 5'10" — i.e., at the 50th percentile of US males according to US aviation regulators — found the seat adequate when flying . "I'm 5'10" and I could hit head and toe if I was flat on my back and toes pointed," Fegley said.
The 787 would seem a missed opportunity to make revisions to the product, which was patented by American and has been offered on refitted Boeing 777-200 aircraft for six months. Despite the significant capacity bottleneck in premium seats, could American have used the delay in putting the aircraft into service, at least party due  to the provision of seats, to fine-tune its specifications?
In an age of increasingly taller populations, and in the context of similar design choices on several new and updated seats, seatmakers and airlines need to make design decisions that reflect the increasing heights of passengers during the decade over which these products are likely to be in service.
Economy: more passengers in standard-legroom seats
There's nothing new in the cheap seats, though: no option for extra width in economy for anybody whose shoulders are wider than a Brooks Brothers XS shirt — 17". 
A total 150 regular economy seats and 48 Main Cabin Extra economy seats with "up to six inches of additional legroom" make up the rear two thirds of the aircraft.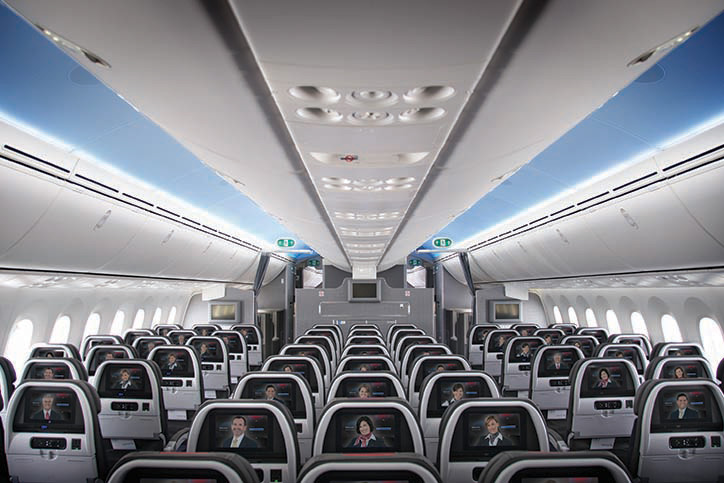 By comparison, United offers 113 regular economy and 70 Economy Plus seats, while British Airways has 154 regular economy and 25 seven-across proper international premium economy seats on its 787-8 fleet.
The #PaxEx bottom line on American's 787: the premium seat bottleneck continues to bite, concern is rising about the suitability of some business class seats for tall passengers, and the economy-to-business gulf continues to widen on US airlines.