The International Air Transport Association (IATA) is strongly recommending that operators of cargo and passenger aircraft conduct an assessment to identify all risks associated with the transport of lithium batteries in cargo, mail and passenger baggage, and is urging airlines to warn passengers about the restrictions that apply to their bags.
Release of IATA's 'Lithium Battery Risk Mitigation Guidance for Operators' document comes at a time when safety regulators are sounding the alarm about fresh concerns over the susceptibility of bulk battery shipments to fires or explosions.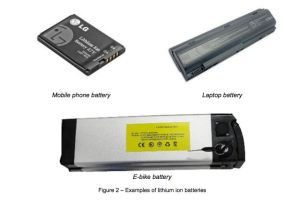 Lithium batteries power many portable electronic devices (PEDs), such as laptop computers, tablets and mobile phones; they have become the battery of choice due to their ability to power such devices for hours or even days. Stringent international requirements apply to their manufacture, testing and transport. "Providing these standards are complied with, lithium batteries are very safe," says IATA in its report. The legitimate lithium battery industry (i.e., those companies adhering to the international rules) "has an outstanding safety record since these batteries started to be shipped by air in the mid-1970s", it adds.
However, because lithium batteries have become such a common, everyday item, little thought is given to the precautions that need to be taken to ensure they do not pose a hazard in air transport. "This is an issue in passenger baggage but even more so in air cargo," says IATA, adding, "Experience has shown that there are shippers who, either deliberately or through ignorance, do not follow the requirements. Consequently, incidents involving lithium batteries catching fire on board aircraft have occurred."
Indeed, lithium batteries have been traced to a multitude of smoke and fire incidents. The association notes that there was great deal of publicity surrounding the loss of three cargo aircraft due to onboard fires:
February 7, 2006: UPS DC-8, Philadelphia – aircraft landed safely, but was destroyed by fire which had started in the descent
September 3, 2010: UPS Boeing 747, Dubai – the aircraft crashed during an attempt to return to Dubai due to a severe inflight fire; both crewmembers were killed
July 27, 2011: Asiana Boeing 747, 130 km west of Jeju Airport, South Korea – the aircraft crashed into the sea following a severe inflight fire; both crewmembers were killed
"It is known that all three aircraft were carrying lithium batteries as cargo, some of which on the UPS Boeing 747 were subsequently determined to have not complied with the regulatory requirements. However, the degree to which the lithium batteries were involved in these incidents (i.e., whether they were the cause or aggravated the fire) could not be determined," says IATA.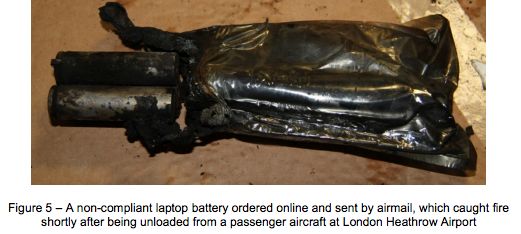 The association says risk management measures outlined in its new guidance (page 10 of its report) will help operators be proactive by identifying hazards and assessing risks before they become events. But IATA is also calling for more engagement with freight forwarders, battery manufacturers, designated postal operators, and passengers.
"Notices must be displayed at check-in desks at airports, warning passengers of the type of dangerous goods they must not carry. This is not ideal, since any warning at an airport is at a very late stage in the passenger's journey. Furthermore, warning notices are often generic in nature and experience has shown that passengers often do not even see them. Even if they do, they may be reluctant to empty the contents of their baggage in the very public area of an airport terminal," says the association.
It provides a number of examples of how airlines can get the word out, including via their web sites, inflight magazines, display cabinets at the airport and leaflets. Arrival videos, shown via the inflight entertainment, are also a good means of alerting passengers. "At the end of a flight, passengers may be shown a video about the city they are visiting. This provides a unique opportunity to inform a 'captive' audience about the perils of purchasing cheap lithium batteries from market stalls, if that is relevant to the destination."
Kevin Hiatt, IATA's SVP for safety and flight operations, notes that, in addition to being available free of charge, the Lithium Battery Risk Mitigation Guidance for Operators is copyright-free, allowing download and onward distribution to interested users. "Whether on passenger or cargo aircraft, operators can now rely on this guide, which will be updated and expanded as needed," he adds.
See IATA's general requirements pertaining to passenger and crew baggage below.
Related articles: