With its sixth airport lounge opening in Sydney this weekend, American Express is driving a stake into the ground: it wants to make the passenger experience better for its cardholders.
The Sydney American Express Lounge joins four Centurion Lounges already open in the United States and a pipeline of further spaces coming at key airline hubs that, for many premium passengers, may be a reason to keep that Amex-branded card in their wallet.
More crucially for the #PaxEx industry, like its siblings in Las Vegas, Dallas-Fort Worth, New York LaGuardia and San Francisco — with Miami already announced as a future location — it's another reason for airline passengers to drop their loyalty to a particular carrier and shift it to their credit card issuer.
From the window of the Sydney lounge, the curved wing shape of the Marc Newson-designed Qantas First lounge has a similar view. Yet gaining access requires top-tier Qantas Platinum or oneworld alliance Emerald membership, which is a significant outlay for most passengers.
In terms of footprint, the lounge is roughly the size of your average airport bookshop, perhaps 8m wide by 50m long. Think a smaller version of the Lufthansa First Class Terminal, but with one of the best views in aviation rather than looking at the side of an airport building. Or a slightly narrower Virgin Atlantic New York JFK Clubhouse, but without the hair salon and the bling.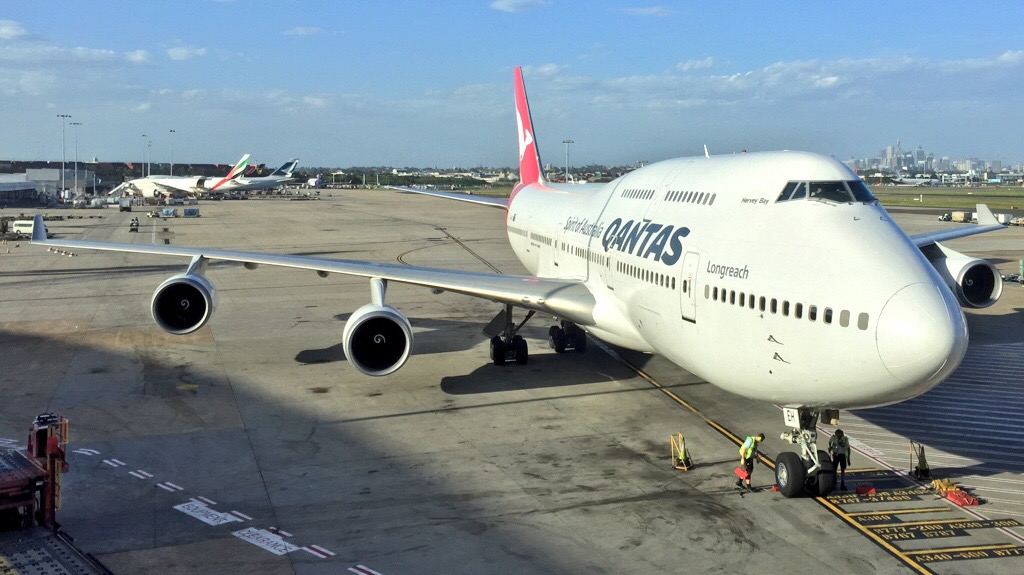 The space is big enough to separate into three zones: one a series of individual swivel chairs by the window overlooking the apron, runway and city; one a central spine of high stools and dining chairs, and one a set of four-person nests. Every seat has at least one power point available.
And, in a move that takes it ahead of all but the very best airline lounges, care has been given to creating a timeless space in shades of wood, with a half-dozen choices of seat type, luxurious leather surfaces and black-and-white vintage photos — all set beneath a view of Sydney's cityscape that's second only to the Qantas First lounge, a few floors higher and around the corner.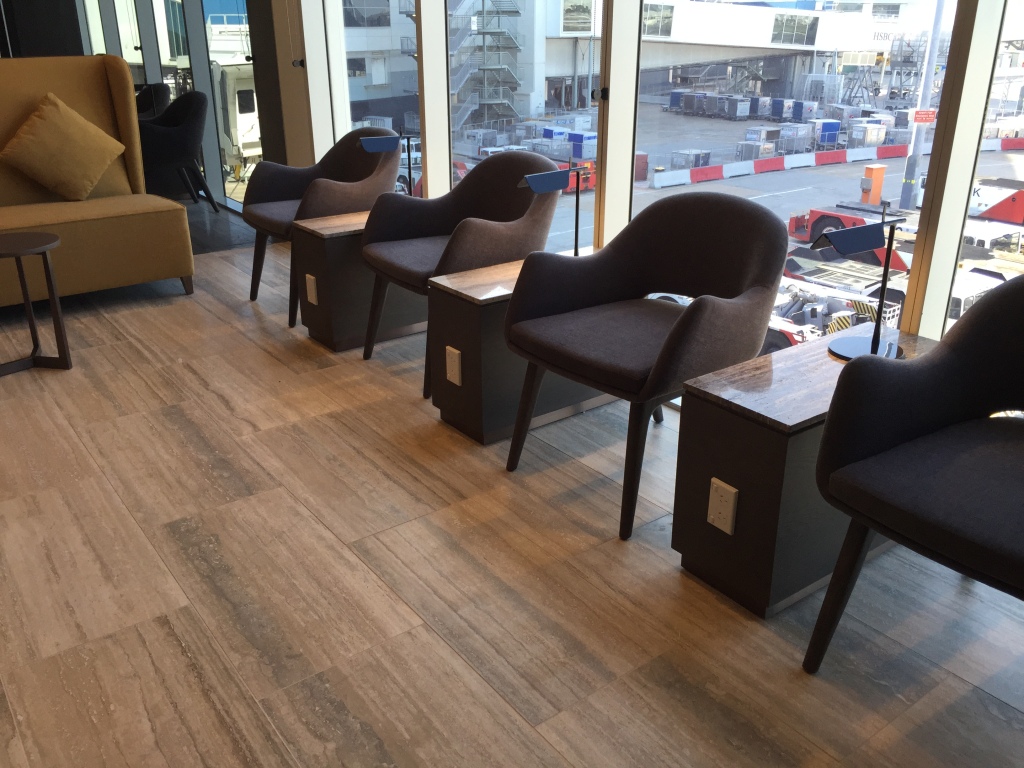 A full bar (pouring, among others, Grant Burge Australian sparkling, one of the better non-Champagne bottles around) plus barista coffee and an extensive upmarket buffet round out the hard and soft product within the lounge, while connectivity is via a simple Wi-Fi connection that offers over 20Mbps down and 32Mbps up — more than many of the offices frequented by the valuable corporate clients who will be its visitors.
Interestingly, the Sydney lounge is operated by Asia-Pacific buy-your-way-in independent lounge network Plaza Premium. It cleverly sits above the SkyTeam airline alliance lounge on the floor below, which is also operated by Plaza Premium, and which means that operational efficiencies can be made.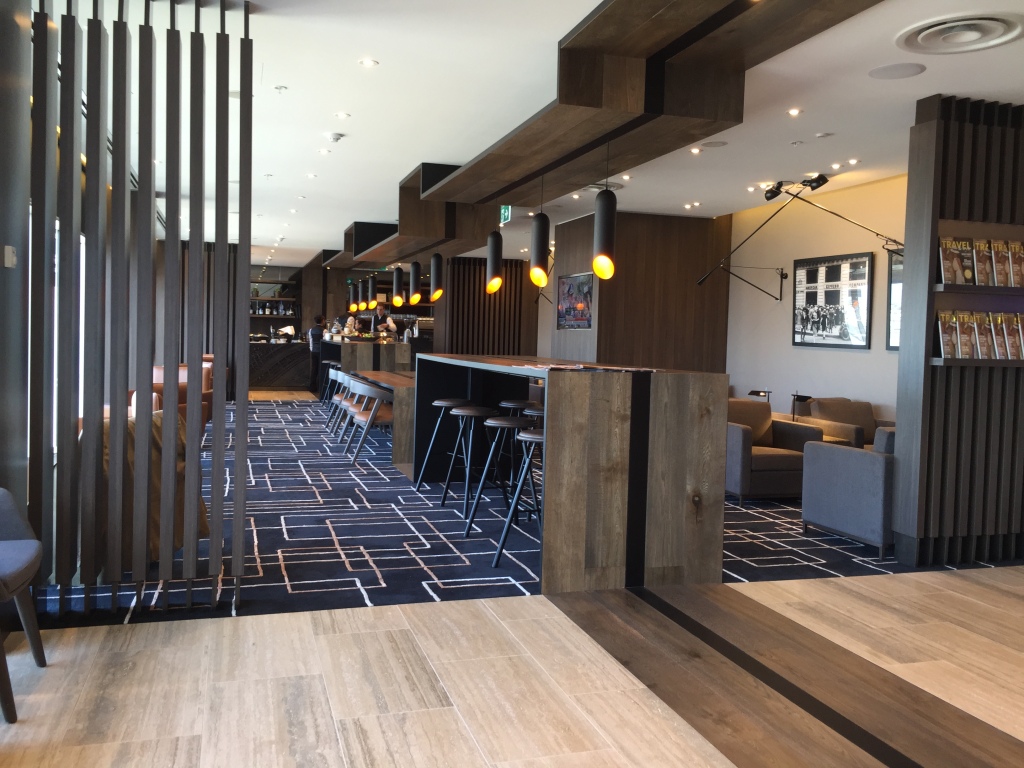 Entry is for high-status cardholders: American Express' Centurion or Platinum cards are permitted in gratis, while other American Express cardholders can purchase entrance for what is, at Sydney, a very reasonable $55. Our friends over at Australian Business Traveller outline a few further Australian-issued American Express cards that grant cardholders two annual entries.
The care taken with the design and placement of the lounge is a shot fired over the bow of full-service carriers. If a passenger is nipping across to New Zealand from Australia, departing LGA on a short flight (dictated by that airport's perimeter rule) or transiting via DFW, having lounge access prior to departure is no longer a reason to fly business class, accrue frequent flyer status or fork over the cash for a lounge membership.
And with earning in flexible credit card point currencies like American Express' Membership Rewards or Chase's Ultimate Rewards, even accruing those all-important butt-in-seat miles is looking less important.
It's a threat to the airlines all right. The questions: will they see it coming — and will they know how to respond?