ABU DHABI: The impressive Abu Dhabi Midfield Terminal Building — known as the MTB, and offering 65 gates and space for 30 million passengers annually — will transform the passenger experience for its principal tenant Etihad Airways and its "fourth alliance" of airline partners when it opens in 2017.
The terminal will serve more passengers than any but the three largest US airports (Atlanta, LAX and Chicago O'Hare) from its two massive piers, which form a flowing X at a central passenger processing building comprising check-in, security, lounge, food, beverage, retail, duty-free and arrivals facilities.
But the United States Border Preclearance currently offered on five of Etihad's seven USA flights will not be included in the new terminal, the airport's VP for capital projects, Sulaiman al Siksek, revealed today to Runway Girl Network in Abu Dhabi. The system currently allows precleared flights to arrive as if they were domestic services, with all the necessary paperwork done before departure.
"The preclearance facility is currently just by Terminal 3," al Siksek said, referring to the latest terminal, completed in 2009 and the home of most of Etihad's flights. "We're looking at the plans, possibly, for a future preclearance, probably in the satellite."
That's the satellite building for the MTB, which is not under construction, nor does it have a final design yet. With a tentative opening date of 2021-2022 for completion, al Siksek confirmed that preclearance will not be offered in Etihad's new home as of 2017: "not within the MTB."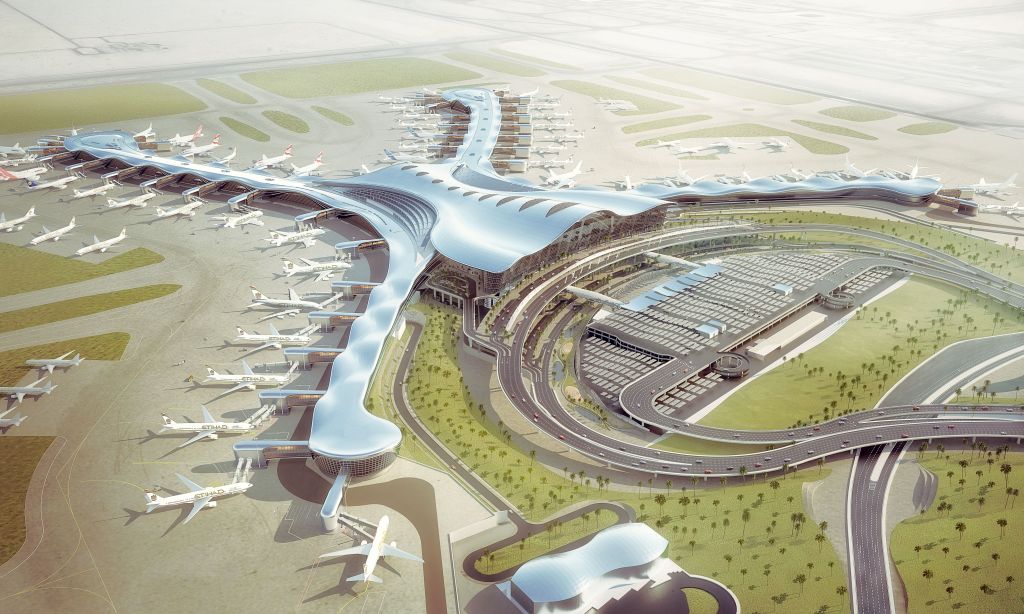 It's not necessarily a downside for passengers, mind. The preclearance, which influential miles-and-points blogger Ben Schlappig calls "a disaster" and "a complete mess", involves a separate sterile section of the departures area for the five US flights for which it operates: New York JFK (EY101 only), Chicago O'Hare (EY151) Washington Dulles (EY131) Los Angeles LAX (EY171) and Dallas-Fort Worth (EY161). Passengers must pass through US arrival-style security in good time for their flight, which often leads to delays at a congested airport where connecting can be tight.
With no space set aside for preclearance in either of the pairs of piers at the new Midfield Terminal Building, the future for Abu Dhabi preclearance is hazy. Etihad and most of its partners will be moving to the new terminal starting in July 2017. Will the airline leave its five US flights in the old terminals, which will remain operational, connected by underground tunnels to the new terminal building? Will preclearance end? Will space be found from the 27.5 square kilometers (10.6 square miles) currently earmarked for "up to 8 airline lounges" — the same amount of space as for retail and food/beverage in the whole terminal?
Etihad's US spokesperson was not available for comment this afternoon in Abu Dhabi following the comments from al Siksek; RGN will continue to seek a statement from the airline on its plans.
Preclearance itself is likely in its sunset days
The preclearance process is something of a throwback to the days of international flights before the days of efficient airliners that didn't require a fuel stopover, and currently operates at a limited number of ports in Canada, Ireland and the Caribbean in addition to Abu Dhabi.
Given the proliferation of automated border processing on arrival within United States airports, RFID information in biometric passports, and the continual increase in intelligence-sharing, it would seem less efficient to station US federal inspectors overseas than to boost capacity on arrival.
That's what many airports are doing given the increasing profile of the Global Entry program, for which preregistration is required, and the Automated Passport Control kiosks open to US, Canadian and visa waiver program nationals with electronic passports.
The kiosks are now found at 25 airports within the US and Canada, and Condé Nast's Jaunted managing editor Cynthia Drescher calls them "better than Global Entry" and her "favorite piece of travel technology to spread in 2014".