Historically the difference for passengers between low-cost and legacy carriers was one of quality of experience: if you paid less, your expectations were lower. But with easyJet winning multiple awards for onboard service, Norwegian filling the skies with free Wi-Fi and even Ryanair listening to its customers – all in the last 18 months – the gap is definitely closing, as is the price difference. In fact, it is no longer unusual to find flag carriers like British Airways competing with airlines like easyJet and losing, precisely because charging for checked baggage feels like a deal-breaker to the legacy customer.
For this reason, on time departures (OTD) are a vital currency in Europe, where national carriers still have the lion's share of better terminals, prime boarding gates, use of air-bridges and often face hefty fines for leaving those expensive slots vacant. Low-cost airlines by contrast pay much lower landing fees for their location (passengers using the selection of LCC gates at Gatwick – which require a 25 minute walk – may be forgiven for wondering whether their flight has been moved to an entirely different airport). Passengers expect later arrivals and departures as part of the low-cost experience, but in the increasingly cut-throat airline business, that isn't the sort of behavior we will accept from 'proper' airlines.
The observations above are written from a European perspective, which, if you are American, must seem charmingly parochial. Over the last few months I've spent some time in US airports, through both international and domestic flights, on a number of different airlines and I have finally come to the realization: it isn't just that they're having a bad day when I'm there. America's airports are actually in a state of permanent chaos. Desk clerks at boarding gates all seem to fulfill a sort of triage nurse function, with streams of people coming from late inbound flights and hoping to board the next plane to their final destination. Many flights appear to be overbooked with phantom passengers: on one recent trip, I was reserved seats (and given printed tickets for) three consecutive flights, "just in case". When I asked what would happen to my two other bookings, the clerk said "don't worry, they'll sort it out", so I assume I was a no-show on two of the flights then…
In major hubs such as O'Hare, which saw 67 million people transiting through last year, every boarding gate sees its fair share of people crying and panting, having run from a separate concourse after a delayed inbound plane, ready with stories of a family tragedy or a birthday celebration that will be missed if they don't get on THIS flight. Time after time, the caring but helpless desk clerks have to calmly explain that the airline has already cancelled their seat and put them on another flight with another carrier, leaving in 40 minutes (from yet another concourse).
But for the most part, seasoned American travelers are particularly accepting of the situation. Delays just seem to be the cost of flying for business. A group I was with in Chicago spent a morning using their smartphones to casually compare notes on how late flights were running, to work out how late they should bother going to the airport.
And so you have a situation where passengers turn up to the airport to find they've been shuffled around with abandon. The trauma of a TSA security check is not reduced when you've been told that you have just been moved onto an earlier flight, which is supposed to leave in ten minutes, but doesn't seem to have opened boarding yet. Arriving at a boarding gate to find out that, although the nice lady at the check in desk got you a standby seat on the next flight, you are number 12 on a list of 20 names all vying for the same two seats can be shocking, but not as shocking as when the gate suddenly finds half a dozen spare seats and manages to squeeze the first 12 or 13 standby ticket holders on to the plane. More drama, hope and anticipation cannot be found in a theatre near you.
As an outsider looking in, these situations are becoming so frequent, they now appear to be the norm. Having your flight cancelled in the United States is no more extraordinary than having a train cancelled in the UK – but at least there you will be given the cursory announcement "we are sorry for the delay to your journey today". In a US transit hub, no one is sorry for the delay – no one has time for apologies, because the news of a cancellation carries consequences: the clerk needs to get you booked on the next available flight, pronto. It is unspoken but widely understood that cancellations and delays are something that happens to us – customers and crew alike – and that we must chip in together to get through it. This is why no one apologizes. And the way that is dealt with is triage as well: the people who scream the loudest will wait the longest, but if you sound like you are probably going to complain, you will probably be added to the upgrade list. Of course you won't find out whether you will get your upgrade until you've been waiting for an hour and the plane's about to take off, but the hope keeps you quiet.
How long can this laissez-faire attitude continue? Surely there must come a tipping point where planes are delayed primarily because passengers arrive too late (because the plane is never on time). In which case, the most obvious penalty is a crackdown on tardiness and flying off without passengers onboard. But before that can happen, the airlines would need to regain control at America's airports. And I don't think they're done spiraling yet.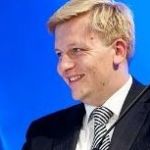 About the author, Alex Vail:
From 2010 to 2013 Alex edited AR.News, the leading industry publication for inflight retailers and suppliers. He has also written extensively on events, innovation, aviation and retail issues for various magazines and digital platforms, frequently speaking and moderating at events all over the world.