Virgin Atlantic is shaking up its route network, consolidating its position as transatlantic partner of its new largest shareholder and joint venture teammate Delta. Tokyo, Mumbai, Vancouver and Cape Town are up for the chop, while new services to Delta hubs reinforce or replace Delta-operated services.
Final Virgin Atlantic flights will depart Tokyo Narita and Mumbai on 1 February 2015, leaving partners ANA and Jet Airways to pick up the slack. Northern summer seasonal services to Vancouver will end as of 11 October, while the northern winter services to Cape Town will end on 27 April next year.
Virgin will start serving Detroit, a key Delta hub and one of the US' best airports for #PaxEx, and which VS says will offer over 100 new USA connections. Virgin's as-yet-undetermined aircraft type will join an eleven-weekly Delta 767 service on the route.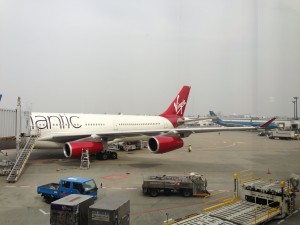 JFK and LAX will each see an extra Virgin flight. Summer services to Atlanta and winter services to Miami are also part of the package.
Virgin will take over Delta's Manchester-Atlanta flight, Delta will pick up a Virgin Heathrow to Newark, and Delta will fly daily Manchester-JFK in summer 2015.
It's a huge shakeup for Virgin Atlantic, which under Delta's influence hasn't been hesitant to cut long-haul UK-focused routes like the Sydney-Hong Kong leg, and which use older, inefficient Airbus A340 aircraft.
The Mumbai cut is remarkable: Virgin and BA had been battling for US-India connections over LHR — no longer, given Virgin's partner Jet Airways uses Heathrow T4 rather than Virgin's T3.
Also notable: an expansion of Delta's open-jawing its aircraft into Newark via partner hubs in Europe. The LHR-EWR flight is expected to work in the same way as daily Amsterdam and Paris CDG flights: performing a round-trip to Newark before returning via Europe to their home base.
The new game for Virgin Atlantic is clear: adding transatlantic capacity and options with a newer and denser Airbus A330 fleet — and, soon, its 787-9 aircraft — flying alongside Delta.
"Transatlantic flying has always been at the heart of our network and our most financially successful region," CEO Craig Kreeger says, and part of the new joint venture trick is a complementary passenger experience. Both DL and VS offer a standard 31" economy seat, with the 2-4-2 of A340 and A330 aircraft, and the 2-3-2 on Delta's 767s both popular layouts. On-demand entertainment is essentially fleetwide (with the exception of Virgin's lagging on-the-way-out A340-300).
The difference is in the middle of the cabin. Virgin offers a proper international premium economy cabin, whereas Delta offers Economy Comfort, which are regular economy seats with a few inches more legroom. Ensuring that both airlines fly each route allows both airlines to offer multiple product options, and to assure their own customers that they are not being fobbed off onto a codeshare partner if they don't wish to be.
But at the pointy end, Virgin's older Upper Class Suite and newer A330 Upper Class Dream Suite are excellent for truly long-haul flights like Tokyo and Cape Town, where their superior bed modes win passenger acclaim. But the bed benefits are negated on shorter flights by the negligible recline and lack of legrest for day flights — which are required in at least one direction on transatlantic runs.
Nevertheless, CEO Kreeger concludes, "We are confident that with this strengthened network, our new aircraft and our welcoming people delivering unrivalled service, we have all the right ingredients to achieve long-term success."