Editor's note: Virgin Australia has chosen the reverse herringbone B/E Aerospace Super Diamond seat for its long-haul Boeing 777-300ER and Airbus A330-200 fleet.  While our prior analysis of the Australian business class arms rate stands — the Super Diamond and Zodiac Cirrus seats share the reverse herringbone cabin configuration discussed at length below — we regret the incorrect seat manufacturer named in the original article.
Virgin Australia has announced that the next-generation business class product on its Airbus A330-200 and Boeing 777-300ER fleet is the B/E Aerospace Super Diamond seat.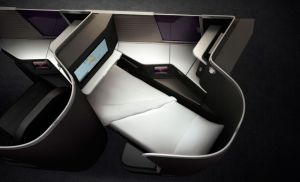 The reverse herringbone seat points away from the aisle and reclines to a fully flat position, while also allowing direct aisle access for every passenger in a 1-2-1 configuration on both the A330 and 777 cabin cross-sections.
It's a big step up from Virgin's current seat situation, where the newer A330 business class is an angled lie-flat seat arranged in a 2-2-2 pattern, while the 777-300ER offers older fully flat beds in a 2-3-2 layout.
Virgin Australia publicly unveiled the new business class seat in tandem with the delivery of its latest Airbus A330-200 from the European airframer, pipping Qantas to the post before the Red Roo has a chance to unveil its own Marc Newson-designed implementation of the staggered Thompson Vantage XL seat.
In the Qantas-Virgin arms race for Australia's business class passengers, Virgin comes out ahead. Both seats are fully flat. Both have direct aisle access. But half the Qantas seats in the cabin will be less desirable than the others as a pure function of their layout.
The Qantas Vantage XL seat comes in a staggered pattern, meaning one passenger's feet must slide into a box created by the side table of the passenger in front.
The staggered layout generates "window-window" and "aisle-window" seats on the outboard of the cabin: half the passengers have the preferable seats with a side table box between themselves and the aisle, whereas the other half get the less desirable seats with the box between themselves and the window. In the centre section, it's a similar story, though will vary depending on the eventual Qantas
By contrast, the B/E Aerospace Super Diamond seat's reverse herringbone layout ("reverse" compared with original herringbone layouts from Virgin Atlantic, where passengers point towards the aisle) means that every row is laid out in the same way. The only decision is between solo window or pairable centre sections, where an option is for the seat to move forwards, past the sculpted storage area, to enable business discussions or dining à deux.