ANAHEIM: Virgin Atlantic confirms it has tapped Gogo to install its 2Ku inflight connectivity product across the carrier's fleet, as first reported in RGN Premium.
The UK carrier is also the first European customer to sign for Gogo's fledgling 2Ku, which will operate over Ku-band satellites. The deal could position Virgin Atlantic to beat out arch rival British Airways in the inflight Internet stakes if BA doesn't announce its connectivity intentions soon.
Virgin Atlantic currently offers L-band connectivity on its Airbus A330 aircraft and part of its Boeing 747-400 fleet. British Airways offers L-band on its London City-New York JFK A318 all-business service, and has a Ku-band test running on a single Boeing 747, G-CIVG.
Fresh off its Passenger Choice Awards win for Best Inflight Entertainment User Interface at this year's APEX Expo, inflight connectivity will be a welcome boost for Virgin's passenger experience. That's especially true on its older Boeing 747 and Airbus A340-600 and -300 aircraft, where the VERA entertainment systems have been feeling rather long in the tooth for quite some time.
In terms of the contracts, Virgin and Gogo have agreed on the principal terms, and a definitive agreement is in the works, Gogo confirmed.
But Gogo wouldn't be drawn on the installation and passenger experience specifics of the deal. In Anaheim at the APEX Expo, RGN got a "no comment" to all our questions, including start and finish dates, install locations, the first fleet types or routes to be outfitted, or whether Virgin's London Heathrow mainline fleet or its Gatwick/Manchester/Glasgow fleets would be prioritized.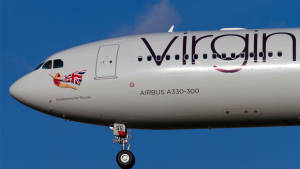 The question to be asked, of course, is what the implication might be for Delta's extensive installation plans for regular Ku-band connectivity across its widebody fleet, which is well under way. With Virgin and Delta operating increasingly closely, and arguably in a vassal-fief relationship, is Delta using Virgin as a technological and practical stalking horse to test 2Ku while it finishes rolling out Ku on its own aircraft?
Or will Delta's Ku rollout be swapped for 2Ku as well? A compounding issue: the Gogo deal is specifically worded to cover "Virgin Atlantic's existing fleet". With a significant order of Boeing 787-9 aircraft due to begin delivery within the month, this would seem to be a cagily worded exclusion. Gogo did not respond to requests for clarification around the 787-9 fleet, but other evidence is available.
Recent aerial photographs of the first Virgin 787-9 clearly show a connectivity hump, which bears a closer resemblance to the Panasonic Ku-band radome on United's 787-9 than to Gogo's 2Ku antenna. When asked whether Panasonic was the provider, Virgin would only quip: "That's a nice hump."
Despite the lack of detail about the nitty-gritty, Gogo couldn't have picked a more suitable airline for its first European partner, and to be an early adopter of the 2Ku technology. Its passengers, drawn by the airline's chic image, are more likely than many airlines' to be device-savvy. Its A330s also provide power throughout, while older aircraft have adapter or AC sockets in business and premium economy. Not too much battery anxiety there. Further, Virgin's route map is shrinking and focusing on US destinations where feed from its part-owner and joint venture partner Delta can boost the British airline's fortunes — and where Gogo can get to the aircraft quickly for any technical work required. They're also relatively short 6-9 hour sectors where a lack of connectivity, while frustrating, won't be on the same scale as an ultra-longhaul 15-hour flight.
Hong Kong, Dubai and Johannesburg will be the only destinations outside the Americas for Gogo's satellite capacity and 2Ku technology to contend with. North Atlantic provision of Ku-band connectivity is relatively well established, with numerous other airlines (including Delta) offering the service on routes identical or similar to Virgin's.
Elsewhere, Gogo won Vietnam Airlines' contract to provide a connectivity service for a mix of Inmarsat Global Xpress Ka-band and SwiftBroadband L-band on the carrier's new 787 fleet and "a majority of" its upcoming A350 aircraft. The deal is also big news for Honeywell, which provides the terminal units (antennas and associated hardware) to support the Global Xpress program.