What's a wireless IFE solution without movie or television content? Why, it's a wireless IFE solution tailor-made for truly short-haul carriers, that's what.
Content distributor Western Outdoor Interactive (WOI) recently announced a partnership with AirFi under which the two firms will collaborate to offer airlines the AirFi portable, battery-powered and self-scaling Wi-Fi network with WOI content.
Pictured above, the AirFi box can now be equipped with over 400 different magazines, games, TripAdvisor offline, newspapers and other entertainment and concierge services. The TripAdvisor feature – delivered by WOI through a new partnership with  the travel giant – will enable passengers to conduct research on their trip while en route to their destinations.
The first release of AirFi's solution "will not have movies available", confirms AirFi CEO Job Heimerikx. "The product is made for short flights where there is limited time to watch a full movie or as an addition to current IFE systems. There are plans to work with shorter video content, but not in the first release. And no there are no talks to get Hollywood approval."
Well, if ever one wanted to bring a wireless IFE solution to market quickly, skipping Hollywood licenses and requisite approvals to stream content would certainly be a start. Obviously, there is a limited willingness to pay for movies on short flights. But in a Twitter exchange with RGN, AirFi VP of engineering Nicolas Peeters explained that video is also not a priority because "many passengers have newer content on their devices than any IFE can offer".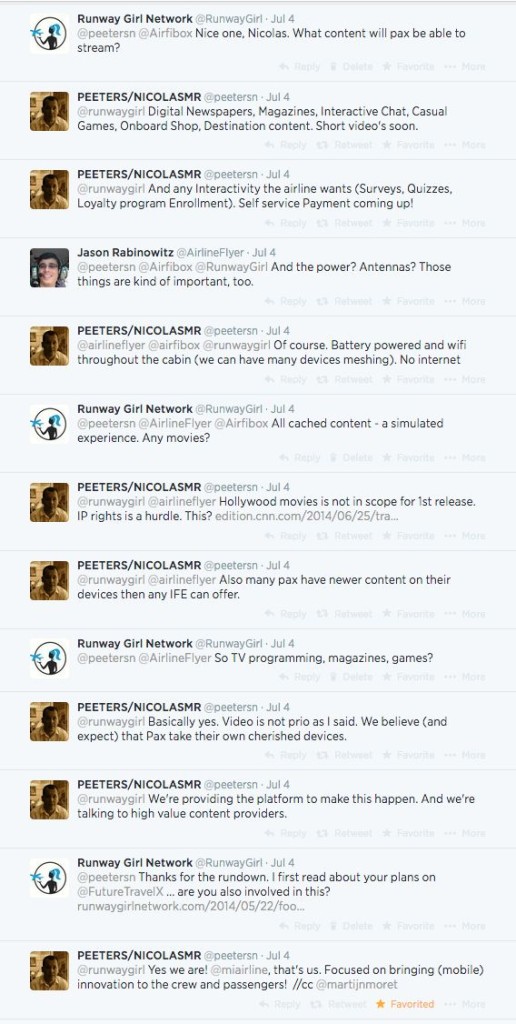 Peeters also suggested that AirFi can support "any interactivity the airline wants", including surveys and loyalty program enrollment.
AirFi's Heimerikz stresses that for AirFi the targeted customer also includes airlines that identify as "medium-sized" – those operators that fit somewhere between the global legacies and marginal regional carriers, and have short- to medium-haul aircraft and routes (A320s, 737s, RJs).
The company is particularly focused on low-cost carriers and holiday carriers that emphasize onboard sales, and which may operate aircraft only during certain seasons, as they in turn "strengthen the business case for the portable AirFi" box. For these carriers, he adds, "AirFi is a great step forward considering the relative low price to have the AirFi operational."
WOI vice president, marketing and services V K Narayanan sees AirFi as providing WOI with "a great opportunity to further distribute our content and services, to both our existing and new customers".
AirFi is supplied by MI Airline, which is also focused on delivering crew tablets to the industry, as previously reported by RGN.