During JetBlue's A321 media preview this week, the airline gave some insight into the technical constraints of its new LTV4 live television system; detailed the challenges it faces in making its Ka-band inflight connectivity service fully stable for passengers; revealed it will likely offer some element of free connectivity after the product comes off beta; and discussed the possibility of eventually moving to an OLED screen or even purely wireless environment in the cabin.
Although JetBlue's new, larger IFE screens on the A321 are "HD capable," they will not be displaying high definition content until at least 2017, says Jamie Perry, director of product development for JetBlue.
JetBlue utilizes the DirecTV-4S satellite, which does not currently broadcast HD programming. Instead, programming is broadcast in 480p standard definition, with many channels presented in a 16×9 letterboxed format. Once DirecTV is capable of transmitting HD signals that the system can receive, Perry says some changes will need to be made to the at-seat IFE boxes before HD content can be displayed.
The LTV4 inflight entertainment system, supplied by Melbourne, Florida-based LiveTV, accommodates closed captioning for all television channels. This is an important measure, as airlines in the US will ultimately be required to offer captioned content as an option for deaf and hard of hearing passengers.
JetBlue still does not offer video-on-demand (VOD), however. "I'm not sure we'll ever go to video on demand. The cost to install that on seat-back from where we are right now is well into the seven figures. Given what we have with Wi-Fi and our plans on that front, I would expect we'd see some sort of streaming content solution coming through that channel rather than pushing VOD through the seat-back," says Perry.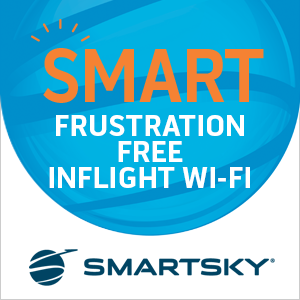 JetBlue this week finalized the sale of its LiveTV unit to Thales. Henceforth, the low-cost airline's management will be working with Thales on any changes or improvements to the hardware, or any implementation of wireless IFE. The latter service is clearly in the cards for JetBlue, and further down the road, the carrier is open to the possibility of going 100% wireless.
"I do definitely see a future where streaming to devices instead of having the seat-back is there. Alternatively, I can also see a world where you have very, very small sort of OLED flexible screens that almost form part of the seat cover, and instead of cabling to the seat-back you stream to the seat-back, so there is a number of possible futures out there but I would definitely think that streaming of content is in our short-term future," says Perry, adding, however, that he would be surprised if JetBlue ever decided to offer seat-back IFE for its Mint premium customers, while offering a differentiated service comprising purely wireless IFE in economy class.
Separately, Perry revealed that JetBlue is extending the beta period for its inflight Wi-Fi service, which is branded 'Fly-Fi' and supported by ViaSat's high-capacity Ka-band Exede service. "We're still testing and we don't have the software ready to launch where we think we're going to go to yet. We still have a lot of bugs, we know what they are; we are getting the bug fixes coded. We just need to get that thing totally stable 100% of the time," says the JetBlue executive.
Asked by RGN to describe the problems, Perry revealed, "It's a bit of everything. It's a bit of connectivity, a bit of the [satellite] handover … None of it is particularly massive. " He added that "nothing is changing in terms of what ViaSat gives us" in relation to Ka capacity.
Though JetBlue is eager to monetize its Fly-Fi offering, the carrier revealed it is considering continuing to offer a free element of the service when it comes off beta, as more and more passengers see connectivity as a human right. "So we have a lot of plans that are, I would say, in the works. What I can tell you is we've decided to extend the beta period beyond the end of June because we are not yet 100% sure how we are going to monetize. I suspect there will be some heavy tie-in with the True Blue and co-brand [credit] card programs and then the vast majority of the remaining monetization will come through content partnerships and sponsorships. What we have learned very clearly is that customers really appreciate free connectivity and their willingness to pay for access to connectivity is falling away," he says.
"I've mentioned to you before, I know, that we have Starbucks to thank for getting customers to believe that Wi-Fi is costless and should be free everywhere, which may be one thing on the ground, but certainly in the air is not true so we do need to find a way to monetize the product, but I'm increasingly of the view that charging for access is not the way to do that. I think it is extremely likely there will be some level of free service after our beta period exits. We need to finish some testing we're doing with LiveTV [Thales] right now, we need to firm up the monetization plans we're working on, and build those into the portal we're currently working on, so I would say it's probably another few months away [before we leave beta]."
JetBlue is expected to announce a new content service partner shortly, though Perry was not at liberty to discuss this arrangement.
Additional reporting by Jason Rabinowtiz, who is also credited with the featured image.