Roughly seven years after Spirit's transition to an ultra low-cost carrier, the airline has introduced a customer education initiative to help passengers gain a better understanding of its business model as negative passenger sentiment for Spirit continues to grow.
Just before Spirit launched its new "Bare Fare" campaign paired with the tagline "Less Money More Go", the airline garnered the unfavourable distinction of drawing the highest volume of customer complaints among US airlines in a study conducted by the US Public Interest Research Group Eduction Fund.
The study concluded that Spirit generated the most consumer complaints relative to passengers carried between 2009 ad 2013, growing from just under seven per 100,000 enplanements to roughly 9.5 per 100,000 enplanements.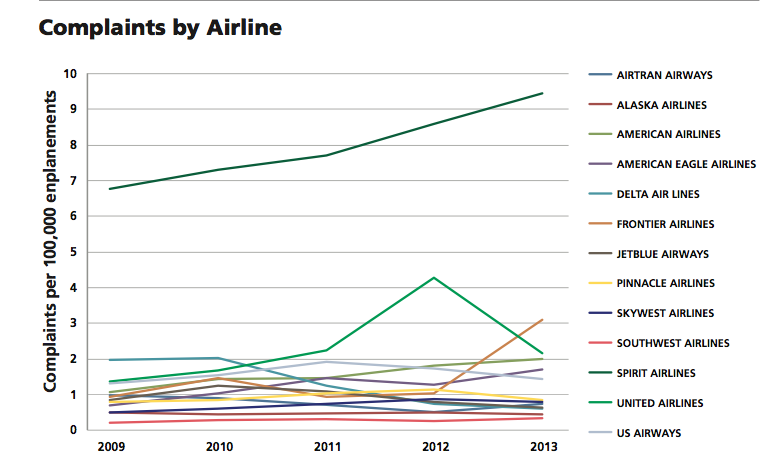 But the examination by the public interest group is not the first time that Spirit's bare-bones business model has drawn criticism. Since starting its ULCC journey in 2007, customers have balked at the carrier's approach of offering a distinctly lower fare and charging for every other aspect of the travel experience, including printed boarding passes at the airport.
So what has prompted Spirit to finally launch a campaign focussed on deepening passenger understanding of its business model? Long-time industry consultant RW Mann explains one motivation for Spirit is to ensure it does not upset its passenger base at a faster rate than its customer levels grow. Spirit is targeting more than 30% capacity growth in 2015, so naturally it needs to expand its passenger traffic to absorb the marked increase in supply. Given Spirit's growth targets having outspoken passengers "can come back to bite you", Mann concludes.
In its early days Southwest Airlines successfully executed a traffic stimulation scheme by "creating few expectations and exceeding them", says Mann. Spirit's "austere" model is still relatively new in the US market and there is no precedent for "that type of product positioning".
Elements of the "Bare Fare" education programme include spirit.com/101 that explains why the carrier is different and tips for travelling on Spirit such as purchasing checked or carry-on luggage early and printing boarding passes at home to save money. The airline has also created videos featuring "Jack and Theresa" illustrating how to strip down and save with the airline's Bare Fare.
The campaign is less than a month old, so it is too early to measure or predict Spirit's success in changing customer sentiments. But Mann believes "anything they do is positive compared with doing nothing". He predicts the campaign could evolve over time to improve communication with customers and suggests that an effective way to educate customers is in the buying stream. "If you have a customer on the fence, educating during the buying process is the place to do it," to deflect negative sentiment later on.