Ubiquitous connectivity is not a fad and airplanes are no longer considered an exception in the same way they once were. But providing Internet connectivity is neither cheap nor easy. And even when connectivity is available the take rates are limited when there is a charge involved. So, is it possible to make the service functional and free to consumers? Depending on the technology involved it just might be.
At the 2014 Aircraft Interiors Expo, Panasonic Avionics VP Global Communications Services David Bruner addressed a media session noting that demand for such a service is coming from not only passengers but the airlines as well. "We have a number of airlines who are going complimentary or super low subsidized service and you're going to see massive competition [from] that service. They'll be putting pressure on us, saying 'you've gotta give me more bandwidth, you gotta get things cheaper'. This is an on-going battle." And the expanding Ku-band install base is helping Panasonic in that effort. Bruner claims a "reduction of 50-70% to our costs" based on the company's increased purchase volume. And that's great news, but it might not be enough.
Panasonic does not provide pricing details, which leaves the market open to speculation. Industry analyst Tim Farrar, for instance, has suggested that Panasonic's costs are somewhere in the 12 cents/megabyte range. And speaking about Bruner's most recent claims Farrar was somewhat skeptical. He believes that the decreased costs are more of an "averaging down" effect than an absolute cost reduction. That could temper the value proposition for Panasonic or its airline customers that are looking to pay the way for their passengers on that service.
Of course, there's also the Ka-band service currently flying in partnership between ViaSat and LiveTV. One executive indicated that passengers on that platform are using an average of 65-75 megabytes per session. That adds up to more than $10/device using the previous Panasonic pricing estimates – for Ku – and still likely north of $5/session based on Bruner & Farrar's revised numbers. For the Ka-band network, however, the costs are much lower – understood to be in the 3 cents/megabyte range. At that price point the cost to the carrier is near $2/session. That's still eating away at margins which are already perilously thin in the industry, but it becomes much more feasible. And there's the part where ViaSat also expects costs to decrease over time.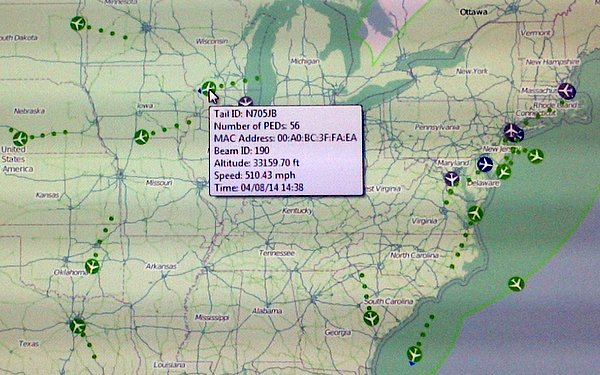 With Ka costs apparently so low, why not charge a trivial sum and recoup the expenses? United is taking that approach with its Ka-supported implementation, and yet it doesn't see big take rates. Even at a dollar or two per hour – some of the cheapest paid service in the sky – customers are not as keen to pay for it. And if the carriers are on the hook for bandwidth anyways then recouping the minimal revenue might actually not be worth their while, assuming the total exposure remains low on the per-passenger basis.
JetBlue suggests that a 50+ user flight is "roughly middle of the range" and obviously higher on transcon flights. That is borne out by a report of 133 devices on line on a recent flight, besting the 125 mark set only a couple weeks prior. See the tweet from JetBlue's Jamie Perry below.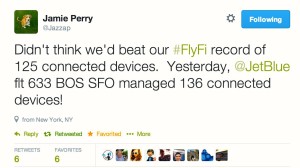 With usage rates that high the costs to JetBlue are very real. But the public goodwill of having a free, fast service which can support that many users may outweigh the costs to deliver. Hotels that do not offer free Wi-Fi are now being named and shamed. It remains to be seen if JetBlue will continue to offer the service for free when Fly-Fi comes out of beta.
We've observed complaints on social media about Southwest's Ku service, which is provided by Global Eagle Entertainment. But Southwest and Global Eagle dispute that there is any sort of systemic problem.
Meanwhile, Panasonic has work to do to get its pricing as low as Ka to make a free option financially viable for its customers, while ViaSat/LiveTV have geography limitations for their offering. Neither is perfect, but both present a strong case.