Updated with patent information
Should the FAA and other aviation authorities mandate the use of child restraint devices on board aircraft? And should they seek an internationally recognized solution? These are certainly questions that continue to arise, most especially after any serious turbulence-related incident occurs.
It appears that Zodiac Aerospace might not wait for regulatory bodies to decide a path forward before tabling its own unique solution to the airline industry. The company has just received a patent for its new integrated child restraint system, which seamlessly incorporates a child seat into a regular aircraft seat.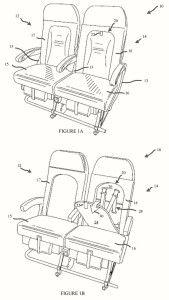 The structure is described thusly:
An integrated child seat base may be moved between a stowed position and a deployed position. When in the stowed position, the integrated child seat base may fit within a recessed surface of the seat backrest and the seat may then accommodate an adult passenger. When in a deployed position, the integrated child seat may then accommodate a child passenger. 
Perhaps one of the most interesting aspects of this 5-point restraint built into an airline seat is that it can be deployed if a child is seated; otherwise, the adult passenger does not know it is there. Additionally, the seat allows a small child to safely travel without the inconvenience of parents carrying a child seat during travel.
Dianna Sabo, a project engineering manager for Zodiac, is one of six inventors listed on the patent. She kindly alerted us to its existence today.