Last year's tragic crash of Asiana Airlines Flight 214 at San Francisco International Airport placed renewed focus on the role of aircraft seats and seat belts in passenger safety, due to the substantial number of spinal cord injuries suffered by passengers on board the Boeing 777-200ER.
At that time, the airline industry found itself asking the question of whether installing three-point seat belts on economy class seats would make sense. After all, the National Transportation Safety Board's survival factors group noted that seat belts in Asiana's business class had a shoulder/lap belt and coach class had lap only (see pictures of Asiana's business class seat belts here and here). NTSB chairman Deborah Hersman also said members of the group would examine each seat in the two-class cabin and compare the seat damage to the injuries suffered by passengers.
But nearly six months after the 6 July 2013 crash, as the NTSB continues its investigation into what caused the crash, aircraft interiors experts suggest the three-point harness discussion is a non-starter.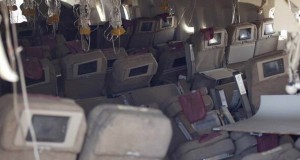 "That will never happen," notes one interiors insider. "Aircraft seat tracks today aren't made to accommodate a 200-pound man, at 16gs, wearing a three-point harness. If you take a first class seat with a three-point harness, those seats are much bigger and longer and can spread the load on a track much better. An economy class seat is smaller, more upright and the center of gravity is much higher."
He says that this is the reason why so-called "stand-up seat" concepts would not pass certification under today's standards. "The stand-up seats are pitched so close and are very long; the center of gravity is so much higher; there is no way [they'd pass 16g testing]. There is only so much load that the track can take. So you'd have to redesign the aircraft, and probably have the seat somehow attach to the ceiling as well. It would need to be reinforced, which would make it super heavy."
The three-point harness discussion "has gone quiet", confirms Ronn Cort, president of thermoplastics specialist KYDEX. "I think what happens, obviously, is the risk assessment versus cost; the usual discussion. The only thing I've seen is in relation to flammability, be it heat release or smoke. There is a FAA working committee around flammability and the Asiana crash put urgency on that to keep moving forward – that it's worthwhile work. Nothing has changed but there is renewed momentum."
For its part, the NTSB says its investigation is ongoing. "We haven't drawn any conclusion from that accident. It could take 12 to 18 months [after an accident] to determine a cause. We are months away from determining a cause [for Asiana 214]. We will look at survival factors as part of an ongoing investigation but we're not necessarily focused on on seats; survival factors is one of many issues we're looking at," says the board.
Meanwhile, Asiana Flight 214 is back in the headlines this week after CBS released a video showing footage of the aftermath of the crash, when one of the injured passengers was accidentally run over by firefighters.