In April 2010 Apple debuted the iPad and press reviews were generally negative – consumer polls were about the same. One consumer poll conducted by Retrevo Pulse "confirmed Apple's Abject 'failure' to convince any new buyers to consider the iPad", and it revealed that 61% of respondents stated they did not feel they needed one. Critics from both the media and consumer realm lauded it as a large iPhone without phone capabilities, and many reviewers called it a gimmick. The iPad "won't revolutionize the computer market" since it "doesn't solve a problem or fulfill a need that wasn't being fulfilled before".
In less than four years, multiple US airlines have turned that gimmick into a 1.5 pound device that saves hundreds of thousands of gallons of fuel, millions of dollars, and reduces the aircraft carbon footprint, all while saving paper, facilitating pilot access to flight information, reducing workload and increasing safety and efficiency inside the cockpit. The airline industry was able to not only implement this tool into their workflow, but they were able to receive FAA and FCC approval in less than four years.
On the aircraft support side of things, to ensure passenger safety on well-maintained airplanes, Boeing is improving its customer service by adopting and developing WSO2's SOA (service-oriented architecture) open-source software as a platform, enabling it to better connect with it's airline customers. It's called the Digital Aviation Platform, and one of Boeing's major business units is using this cutting edge technology to create cloud-based solutions to integrate its many years of aircraft data with existing airline systems.
Even airline luggage is not exempt from commercial aerospace technological advances. Airbus is working with a luggage manufacturer, Rimowa, and T-Systems, an information technology services firm, to create a system that allows real-time tracking, check-in and self-service drop-off for airline passengers' luggage, all paperless and entirely electronic. Its primary focus is to ensure ease of use for its customers and to enhance the passenger experience, but just as importantly it will be reducing the high costs associated with lost bags, totaling 2.5 billion per year.
On the manufacturing side of aerospace, the narrative is quite different. Manufacturers are struggling to keep pace with record breaking sales; Airbus' total backlog to date is a company first at 5,559 airplanes, with Boeing trailing not far behind at 5,080 planes, also a company record. The demand for on-time delivery, faster production rates, reduced costs, and higher quality is increasing.
Although the industry is doing its best to keep up with the market, and Boeing and Airbus are breaking company production records, suppliers are paying a high price by ignoring the critical pinch points that exist in their supply chain work flow. If these critical pinch points were addressed, suppliers would see greater efficiency and profit margins, and Boeing and Airbus would see an increase in its deliverability to customers.
As the industry has grown, commercial aerospace manufacturing has become bogged down with inefficient and outdated reporting methods, poor communication systems between OEMs and suppliers, and smaller suppliers unable to keep up with the demands of larger ones. Poor visibility to updated customer delivery dates and an overall lack of interactively managing the continuous customer feedback and updates throughout the program and production lifecycle all lead to missed on dock dates and poor performance ratings in the long run.
IFE firms, for example, are clearly feeling the effects of this lack of communication and visibility. The introduction of the FAA's advisory circular AC-21-49 in June of 2012 was announced far in advance, nearly one year before being placed into effect, and yet the industry in general wasn't and still isn't ready for it. Hundreds if not thousands of additional data submittals were thrown on top of product parts EDRs, and certification engineers were expected to keep up with response times. The overall lack of tools and the ability to manage data submittals was creating a huge and 
serious problem
 –  the lack of visibility to what submittals needed attention was causing delays in approval. Delays in submittal approval equal delays in product shipment. And the problem still exists. Not only does a delay in data submittal processing place an additional burden of cost on the supplier, but by delaying the submittal process, you delay the shipment. And this does not begin to address the potential cost risk factors due to FAA regulatory compliance mismanagement.
Certification overall is suffering from the absence of an industry specific communication platform between suppliers. For example, if one existed, engineers would no longer need to go through the tedious and time consuming task of tracking down supplier Bill of Materials when parts lists were missing from drawings. The data would be readily available, for both suppliers, ensuring efficient and accurate real time communication.
If we want to save millions of dollars in man hours and late delivery fees; if we want to be able to efficiently address certification data submittals, EDRs and project reporting and status; if we want to increase on-time deliveries and improve quality performance; and if we want to meet the demands customers have placed on OEMs, we need to be willing to invest the money in a supply chain integration platform that allows us to manage the enormous amount of data exchange that goes into designing, approving, building and delivering commercial aircraft.
Unlike other areas of commercial aerospace which have been advancing with technology and new processes, manufacturing has been stuck in a holding pattern for years. The buzz words of 2013, "Big Data", seems to be a missed approach in the manufacturing supply chain.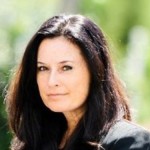 About the Author, Debbie Bahrani
Debbie is the President and CEO of Tesken Incorporated, an aerospace consulting and software company dedicated to helping commercial aerospace suppliers achieve 100% quality, on-time delivery and FAA compliance. Tesken's premier integrated business management software platform, AeroCompass™, was built specifically for the commercial aerospace industry, and gives the supply chain visibility to key business metrics all in one place.