Delta Air Lines believes 2014 is the year the enormous effort and expense it has dedicated to transforming its presence in the highly competitive New York market will culminate in the ultimate goal – profitability.
During the last few years Delta has worked feverishly to improve its standing in New York through a hard-won slot transaction with US Airways to secure 132 slot pairs at LaGuardia and a massive $1.4 billion refurbishment of terminal four at JFK that includes the largest "Sky Club" lounge in the carrier's system.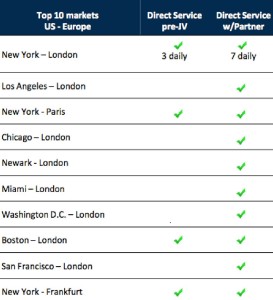 Admitting that "New York is not at the level of profitability we aspired towards," company president Ed Bastian recently explained Delta's losses in the market four years ago were in the $600 million to $700 million range.
As it hopes to attain profitability in New York during 2014, Delta's evolution in the market continues with the launch of its joint venture with Virgin Atlantic that Delta believes will improve its competitive standing in some of most lucrative transatlantic markets. Once all the schedule changes are complete, Delta and Virgin Atlantic plan to jointly offer seven daily flights from New York to London, Paris and Frankfurt. Of course American Airlines and its oneworld joint venture partner British Airways remain the leader in terms flights between New York and London Heathrow, one of the top global corporate markets.
Delta aims to start enjoying the fruits of its labor in New York this year as Bastian declared: "We look at 2014 as the that New York will be profitable as an overall set of hubs, and that's a very important benchmark for us."
Bastian now concludes most of the pieces are in place for Delta to reverse its losses in New York. Many of the improvements centre on enhancing the passenger experience including flat bed seats on international flights and transcontinental service from JFK to Los Angeles, San Francisco and Seattle. Other upgrades include a $160 million investment in refreshing terminals C and D at LaGuardia.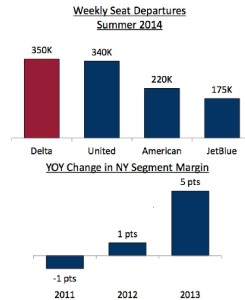 Obviously, terminal four is the major improvement Delta has undertaken to elevate its standing among New York passengers, as Bastian remarked that "it's been several years of 'pardon our dust' as we've been making good progress in New York, but doing it candidly with one arm tied behind our back. We're anxious to hit the market with all these tools, and that's another, again, another big pipeline of opportunity as we look into 2014."
Even as Delta believes it can turn the corner to profitability in New York this year, it is not blind to the reality that competition in the market continues to intensify. United Airlines recently touted to investors that it offered 451 daily departures from New York during 2013 versus 417 flights deployed by Delta. United also boasted its yields in the New York market – which the carrier serves primarily from its Newark hub – were 15.6 cents last year.
With so many carriers working to woo corporate travellers in the New York market, Bastian acknowledged that "I don't ever think New York is going to be number one on the hub parade in terms of profits." But with the changes Delta has made to the customer experience in New York, "every year you see the margins continue to improve", he states. And now the countdown has started for Delta to deliver on its promises of profitability in New York for 2014.