With an estimated 80-plus percent of travel decisions made by women – and the number of female air travelers continuing to rise – Airbus is eager to gain a better understanding of how the female demographic is impacting the passenger experience (#PaxEx), and the value-added products they're willing to pay for.
"We look at future trend setters – our aging society, accessibility, and [the impact of] digital natives, and last but not least, females. And the reasons are very obvious, but we have not made any substantial new insights into [women and #PaxEx]," says Airbus VP cabin innovation & design Ingo Wuggetzer.
He reveals that an Airbus study into women and air travel was delayed last year, but that the airframer "hopes to get that done" this year, in 2014. "This is not something that [will] directly pay off, but basic research that we need to do."
In the past, Wuggetzer has highlighted the fact that baby-changing tables in aircraft lavatories were developed in a man's world, and that these could be made more ergonomic (for both women and men!) The mere presence of baby changing tables on all aircraft would be a positive step, notes @AeroSombrero on Twitter. "Pre-merger UA B757s don't have them, for example."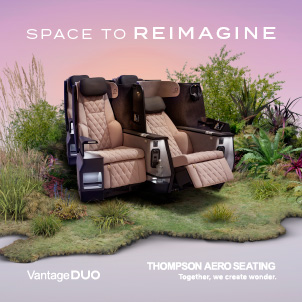 Finding innovative ways to enhance onboard retail programs might also appeal to the female traveler, notes Wuggetzer, adding that the introduction of real-time credit card transactions will facilitate the sale of higher end items. At present, most airlines process transactions at the gate.
Certainly, as more female travelers take to the skies, inflight entertainment programming can be tailored to meet their needs, as well as their male counterparts.
Airbus is also paying close attention to how the mobile Internet and social media is shaping #PaxEx. "That is really interesting. We want to launch a study with the Airline Passenger Experience Association in terms of how do passengers use their time on board. How do they spend ten hours of flight time?"
Additionally, the airframer studies the "greening of lifestyles" and its impact on #PaxEx. "People pay attention to environmental [issues]. That's more a mid- to long-term consideration and implementation [of new products] will take a while."
Airbus' Wuggetzer will speak about understanding passenger choice and experience in February at the Hamburg Aviation Conference.
Featured image credited to Airbus