Air Canada has taken a fair amount of heat on social media for configuring its long-haul aircraft in what the carrier acknowledges is "high-density" seating layouts, but management is making no apologies for the state of affairs in steerage.
During Alcorp Capital and ATB Corporate Financial Services' 2nd annual institutional investor conference this morning, Air Canada executive VP and CFO Michael Rousseau noted that high-density Boeing 777s and 787s provide significant cost advantages to the carrier.

Four of five new three-class, 458-seat Boeing 777-300ERs have been delivered to Air Canada and are in service, said Rousseau, and these have provided an estimated reduction in cost per available seat mile (CASM) of 21% compared to older two-class 777-300ERs in its fleet.
The new 777-300ERs, which are flying between Montreal and Paris, Toronto and Vancouver, and Vancouver and Hong Kong, offer 36 seats in International Business Class, 24 seats in Air Canada's new Premium Economy class and a whopping 398 seats in economy, pitched at 31 inches. By contrast, the two-class 777-300ERs carry 42 seats in business and 307 economy class seats pitched at 32 inches.
Starting this spring, Air Canada will begin taking delivery of the first of 37 Boeing 787s to replace less efficient Boeing 767s and to pursue international growth opportunities. When the carrier recently released a video detailing the 787's interiors, many travelers didn't exactly jump for joy. "It's very beautiful for the first class but economy is packed in like cattle," said one. "You seemed so squeezed in economy class in this video," said another.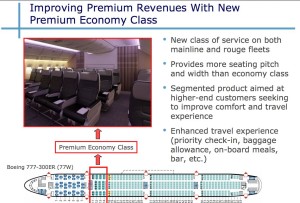 "Let's hope it doesn't have 9-across seating and thin butt-breaking seats like the British Airways 787 I took back and forth from Toronto to London recently……PLEASE Air Canada, 8 across….and don't reduce the SEAT PITCH like they did….I had bruised knees after those flights," begged a traveler.
But such pleas will likely fall on deaf ears, as they have done by other carriers operating high-density aircraft. Air Canada estimates a CASM reduction of 29% compared to the 767-300ER aircraft when the 787s – with 9-abreast seating in coach – enter service, said Rousseau.
Will the economy class experience overall eventually improve for passengers? "The only way is that some airline (probably a legacy) realizes that they lose in the race to the bottom. Someone (Spirit, Allegiant, a startup) can always reduce seat pitch some more and charge what looks like less because they have lower costs. The more stuff is commoditized, the more the legacies lose. So one of them will have to say, 'no, we'll give more and hope the smart passengers find us'…," suggests consultant and columnist Joe Brancatelli.
He adds, "Now you can't blame it all on seats, of course, but the entire awful coach travel experience. That includes fares, the TSA, lousy inflight conditions, etc."
Meanwhile, as new 777-300ER and 787 aircraft enter Air Canada mainline fleet, the carrier will continue growing its low-cost leisure carrier Air Canada rouge, which will fly as many as 50 aircraft (up to 20 767-300ERs and 30 Airbus A319s), as demand warrants.
Air Canada rouge offers significantly lower seat costs than mainline with A319 and 767 CASM reduced by an estimated 21% and 29%, respectively, versus mainline. The carrier will pursue opportunities in markets made viable by its lower operating cost structure, and – subject to market conditions – will expand to other destinations as Air Canada takes delivery of new 787 aircraft, said Rousseau.
Planned fleet growth in 2014 will allow Air Canada rouge to expand to new Caribbean destinations, Mexico, Florida, and Las Vegas, and to introduce service to Dublin, Lisbon, Nice, Barcelona and Manchester, he added. See Air Canada's fleet growth chart below.