Southwest Airlines and DISH have extended their partnership and agreed to continue offering their 'TV Flies Free' promotion through 31 December 2014.
The program was originally announced in July 2013 when DISH and Southwest surprised passengers aboard a Southwest flight with a giveaway of free iPad 2 devices to celebrate the new partnership. Since that time, DISH has enabled millions of Southwest customers to watch television shows in-flight at no charge.
At present, Southwest customers using iOS, Android and most other Internet-ready devices have free access to nearly 20 live TV channels and up to 75 video on-demand (VOD) shows on the airline's nearly 440 Wi-Fi-enabled aircraft. DISH sponsors the content, which is offered over a Ku-band satellite-supported connectivity pipe provided by Global Eagle Entertainment's Row 44 unit.
During a recent conference call, Global Eagle CFO Dave Davis said, "We'll be adding more channels in the future so that you can get on and watch [more] live TV."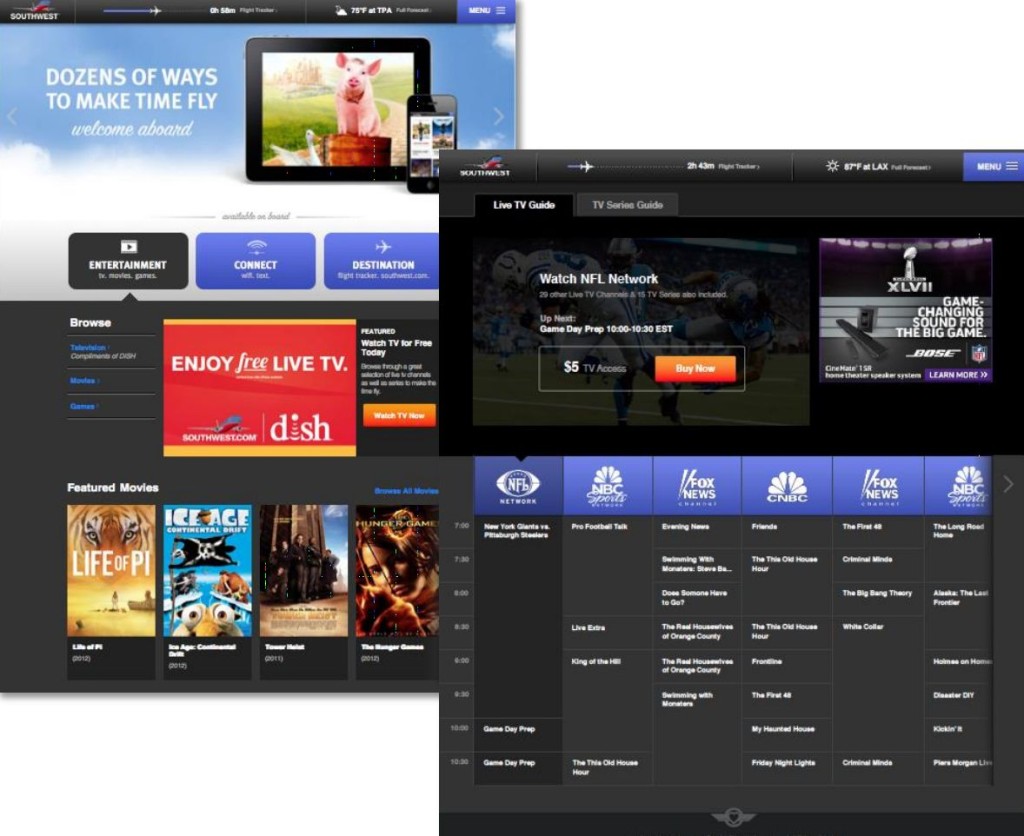 Passengers can also access Row 44's pay-for-use inflight Internet service to surf the web, and can avail themselves of a new texting product, which costs $2 for unlimited use. "Just between the people in this room it might not be $2 for ever," revealed Davis at the conference. He added that unlimited texting is "an answer" to the divisive issue of whether or not to allow passengers to use their mobile phones in-flight. "We don't think passengers should be disturbed by people on their cell phones."
Meanwhile, since the FAA changed its rules regarding personal electronic device usage, allowing for their gate-to-gate use, mobile video viewing on Southwest flights has increased more than 20%, according to James Moorhead, DISH chief marketing officer. "By extending our partnership with Southwest we are able to give their Customers a sample of what DISH customers experience on a daily basis, their favorite TV programs, anytime, anywhere and at no additional cost, simply the best mobile TV experience," said Moorhead.
"We have a true gate-to-gate system. You can get on aircraft, open your device, watch TV, log onto the Internet…" noted Davis.
As part of the extension of DISH's partnership with Southwest, DISH will continue offering 12,500 points in the Southwest Airlines Rapid Rewards program and the choice of a free iPad Mini to new customers who sign up for its Hopper whole-home HD DVR and a qualified programming package.