Launching a satellite is always a harrowing experience for the satellite operator and its partners. Proton launchers don't always perform as planned, and many a satellite has found itself in the ocean, versus say, its rightful place in geosynchronous orbit.
On 8 December, the first Global Xpress (GX) Ka-band satellite – positioned on an ILS Proton Breeze M rocket – successfully launched from Baikonur Cosmodrome in Kazakhstan, and enjoyed a successful spacecraft separation.
The Boeing-built satellite – the first of three that will comprise Inmarsat's next generation I-5 network – will initially cover the Indian Ocean region. The remaining satellites are expected to launch in the second and third quarters of 2014.
The GX network holds a special significance to the #PaxEx industry; it will support near global inflight connectivity (save for the poles) on board aircraft. Inmarsat is promising that the network will deliver "consistent high-performance download speeds of up to 50Mbps and up to 5Mbps over the uplink".
As they say, time will tell! We know that many passengers enjoy using bandwidth-heavy web sites and services. For instance, passengers on board JetBlue's recent Fly-Fi launch did everything from live stream video to listen to Pandora.
But before the introduction of GX-powered inflight connectivity, testing must commence, and GX hardware must be certified for aircraft.
An Inmarsat spokesman tells Runway Girl Network that the London-headquartered firm expects to test the first transmissions over the I-5 satellite in March 2014, and that "this will take place on vessels at sea". Flight testing, meanwhile, is scheduled to begin before the close of 2014, he says. "We are on course for the commercial introduction of the GX Aviation service in 2015."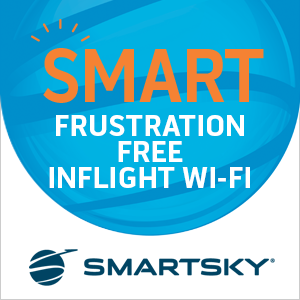 Honeywell is providing the terminal units for GX. And a network of distribution partners will provide the service to commercial and business jet operators. Inflight connectivity providers Gogo and OnAir are GX service partners, and will supply the service to airlines.
"With the launch of Inmarsat's first satellite in the Global Xpress constellation, passengers and airlines will get exactly what they desire: faster in-flight Wi-Fi that provides everybody with the ability to shop, access email, connect with friends on social networking sites, and enjoy live streaming for entertainment with a consistent connection across oceans and regions," says Jack Jacobs, VP of marketing & product management at Honeywell.
In order to build redundancy into the GX program – and avoid a program crisis should a rocket launcher fail – Inmarsat recently ordered a fourth I-5 satellite from Boeing; this is scheduled for delivery in 2016.
"At this time, a decision has not been made regarding the launch of a fourth Inmarsat-5 satellite," says the Inmarsat spokesman, adding: "The fourth satellite has a dual strategic role. Initially, it will serve to provide an early available spare in the unlikely event of a launch failure of any of the first three Inmarsat-5 satellites.  If it is not required for this purpose, Inmarsat will consider incremental opportunities that have emerged and could drive enhanced returns through the launch of a fourth satellite. "