Sofant Technologies, a leading innovator in advanced antenna technologies, and Inmarsat Government, the leading provider of secure, global, mission-critical telecommunications to the U.S. Government, are pleased to announce a joint development aimed at revolutionizing the communication capabilities of aircraft.
Together, the two companies will collaborate on a state-of-the-art phased array antenna designed to enhance connectivity, reliability, and performance in airborne operations.
The collaboration will combine their respective expertise to develop an innovative solution that addresses the Government airborne users' growing demand for efficient, low-profile communication systems.
The new phased array antenna will leverage Sofant's core technology to produce a compact, lightweight, and low-power terminal, which will enable reliable, seamless high-speed global coverage on a wider range of aircraft through Inmarsat's Global Xpress (GX) network, the world's first and only high-throughput commercial wideband network available worldwide. This includes seamless switching on the GX commercial network's global service beams and Inmarsat's high-capacity, global military Ka-band (Mil Ka) network's steerable beams.
David Wither, CEO, Sofant Technologies, said, "We are thrilled to partner with Inmarsat Government on this development program. By leveraging our leading-edge antenna technology, we aim to deliver a transformative solution that will redefine communication capabilities for airborne platforms. This collaboration aligns with our vision of revolutionizing connectivity in the aerospace industry and beyond. We are confident that our joint efforts will yield exceptional results."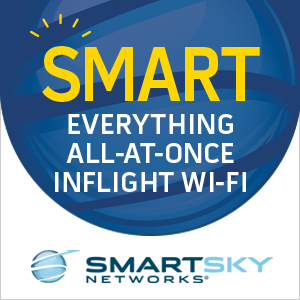 Steve Gizinski, President, Inmarsat Government, said, "We are dedicated to providing cutting-edge communication solutions that empower our customers to excel in their missions. Collaborating with Sofant Technologies allows us to push the boundaries of innovation further, and together, we will develop a phased array antenna that sets new industry standards. This collaboration represents a significant step forward in meeting the Government's growing demand for secure and reliable connectivity worldwide."
The development collaboration between Sofant Technologies and Inmarsat Government underscores their commitment to driving advancements in airborne communication technology. By combining their strengths and expertise, they are poised to reshape the future of connectivity for airborne platforms, ensuring safer and more efficient operations in the sky.
About Sofant Technologies
Sofant's satellite terminal technology leads the industry in terms of Size, Weight, Power consumption and Cost (SWaP-C) enabling mobile connectivity across a wide range of airborne, land and sea applications including in-flight connectivity (IFC), maritime communications plus communications on the move (COTM) for military and commercial applications. Its low power, passively cooled terminals deliver unparalleled performance supporting multi-orbit connectivity across LEO, MEO and GEO satellite networks. Sofant ensures that wherever you are, you are connected!
About Inmarsat Government
The U.S. government has relied on and trusted Inmarsat satellite services since 1979. Inmarsat Government continues to deliver the world's most advanced global, mobile satellite communication services to U.S. defense, intelligence, homeland security, public safety and civilian agencies, with highly reliable, secure and affordable connectivity. Built with government users in mind, Inmarsat Government provides resilient, flexible capabilities to complement government satellite resources, anytime, anywhere. Leveraging an industry-leading scalable multiband network infrastructure, Inmarsat Government offers a suite of managed network services and end-to-end communication solutions to support users on land, at sea and in the air, even in the world's most remote regions. Headquartered in Reston, VA, Inmarsat Government is a wholly-owned subsidiary of Inmarsat Group Holdings Limited.
ABOUT INMARSAT
Inmarsat delivers world leading, innovative, advanced and exceptionally reliable global, mobile communications across the world – in the air, at sea and on land – that are enabling a new generation of commercial, government and mission-critical services. Inmarsat is powering the digitalization of the maritime industry, making operations more efficient and safer than ever before. It is driving a new era of inflight passenger services for aviation, while ensuring that aircraft can fly with maximum efficiency and safety. Furthermore, Inmarsat is enabling the rapid expansion of the Internet of Things (IoT) and enabling the next wave of world-changing technologies that will underpin the connected society and help build a sustainable future. And now Inmarsat is developing the first-of-its-kind, multi-dimensional communications network of the future, ORCHESTRA.
In November 2021, Inmarsat and Viasat announced the planned combination of the two companies, to create a new leader in global communications.
Featured image credited to Sofant Technologies