SmartSky Networks, the innovative inflight connectivity provider, today announced Davinci Jets as its newest sales and installation partner.
Davinci Jets, a North Carolina-based aircraft management and charter firm, was the very first aircraft management company to offer SmartSky to its customers. It has since opened a new division, Davinci Jets Services, which provides FAA Part 145 certified, full-service Maintenance, Repair, and Overhaul (MRO) capabilities based at Charlotte Douglas International Airport.
Through the expanded partnership, Davinci is now both a customer and, through its MRO, an enabler for equipping more business aircraft with SmartSky's unprecedented capabilities that allow the entire aircraft to stay connected nationwide.
Davinci Jets Services is authorized to perform work on a wide variety of airframes and engines including but not limited to many models of Gulfstream, Bombardier, Embraer, Textron, and Pilatus aircraft.
Traditionally, it has provided high-quality preventative maintenance and scheduled inspections. Now the operation is adding aircraft modifications to its repertoire for owners/operators and external clientele.
"Inflight connectivity is the most requested upgrade and now we can offer the most advanced system, SmartSky," said Joe Chaundy, Director of Davinci Jets Services. "SmartSky's greatly-enhanced performance features ensure each passenger can stay continuously connected on multiple devices simultaneously while using the same applications at the same high performance that they do on the ground. As an MRO, we want a fast and easy installation that minimizes downtime for the aircraft. SmartSky delivers the speed our customers need in both connectivity performance and installation."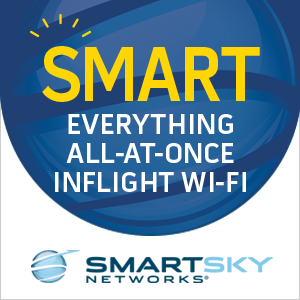 "We are proud to partner with Davinci in a bigger way. Because they are a leading provider of customized management, charter, and MRO services, they are committed to offering the best available solutions for their customers," said Aria Bahawdory, Director of MRO Account Management for SmartSky.
"Customers have grown tired of slow inflight connectivity because most Wi-Fi-equipped business jets are using technology that is nearly twenty years old. In order to get better performance, we understand they are now being strongly encouraged by their provider to upgrade, at a cost of hundreds of thousands of dollars, yet without the meaningful improvement you would expect from such an investment. SmartSky enables Davinci customers to get immediate access to the latest technology that will connect the cabin, cockpit, and operations, all in a single installation – and benefit from future SmartSky technology advancements delivered via software updates. The choice is really that simple."
About SmartSky
SmartSky Networks was founded to transform aviation through disruptive communications technologies, services, and tools. Its innovative air-to-ground network takes advantage of patented spectrum reuse, advanced beamforming technologies, and 60 MHz of spectrum for significantly enhanced connectivity. SmartSky uniquely enables an "enterprise in the sky" experience with unmatched capacity for data transmissions both to and from the aircraft. This real-time, very low latency, bidirectional data link makes SmartSky the best inflight user experience and a key enabler for new and enhanced applications and services. Passengers can use multiple devices at once for business applications, voice and video calls, and entertainment applications such as livestreaming, social media, and online gaming. For more information, visit SmartSkyNetworks.com 
About Davinci Jets Services
Davinci Jets Services is a full-service MRO with FAA part 145 Certification. Our highly skilled and experienced technicians are dedicated to keeping your aircraft properly maintained and safe! Based at Charlotte Douglas International Airport (CLT). Our team consists of FAA Certificated Mechanics, Avionics Technicians, Structures Technicians as well as a Maintenance Quality Department headed by our Chief Inspector. We provide minor to major scheduled inspections and routine maintenance as well as unscheduled aircraft-on-ground (AOG) maintenance at the Davinci Jets Services hangars. We are authorized per our FAA-issued Operations Specifications to perform maintenance on a wide variety of airframes and engines including but not limited to many models of Gulfstream, Bombardier, Embraer, Textron, and Pilatus aircraft. We work diligently to ensure your aircraft is maintained to meet or exceed factory standards and to be your partner in aviation.
Featured image credited to Davinci Jets