Achieving a work/life "balance" can be incredibly difficult, especially if you're a parent to small children. The struggle is particularly acute in aviation because "as everyone knows, aviation never sleeps," TP Aerospace business development and program manager Lindsey Gamell noted during the recent Leading Ladies of…Aerospace virtual summit.
A single parent for most of her children's life, Gamell spoke in a refreshingly candid manner about the 'mom guilt' that she and other working women face. "It's a real thing. Battling with that and the societal norms of what a good mom is," she said as a speaker for the summit's "Different Journey, Same Destination: How We Forged Success Through Adversity" panel.
One way in which Gamell tackled mom guilt was by visualizing the end goal, and reminding herself that her kids were watching: "Knowing that they could do it too, and just showing them that perseverance pays off."
Another panelist, Cargo Airline Association senior vice president Yvette Rose agreed with Gamell. "There are so many, women especially, going through the same struggles and challenges and adversity out there." For those who are wrestling with mom guilt, Rose recommended that you "find your peers" and seek support from people in the same proverbial boat.
A first generation immigrant — both of Rose's parents were from Ecuador and English was not her first language — she was the first in her family to go to college. Lacking a college-going tradition can come with its own pressures, but it is not a foreign phenomenon, as the session's moderator, Spirit AeroSystems vice president – fabrication Mandy Trainer, can attest.
Trainer grew up in a town "where the corn grows exceptionally high and the expectation for girls is very low", but she said she was "blessed" to attend the second oldest women's college in the United States, Stevens College, as a first-generation college student.
After college, Trainer spent five years in the public sector and then made the leap to aerospace, taking a position at Boeing Defence, Space & Security, where she ultimately held roles in finance, customer contract negotiations, and program management. In 2012 she left Boeing to start working with Spirit AeroSystems.
During the panel discussion, she underscored the importance of creating that "sense of belonging" for those in the minority, and ensuring "more diverse representation" in industry.
Rose agreed. "[H]ow many times have we been the only woman in the room at a meeting?" she asked. "How many, you know, Hispanic females?" Ensuring a safe space can be critical for companies that wish to retain a diverse workforce, she noted.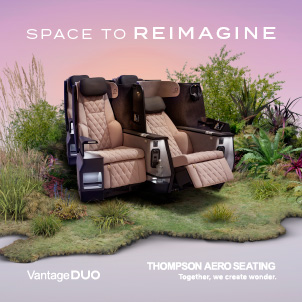 As for the mommy guilt conundrum, a growing number of senior executive women now suggest that, instead of work/life balance, the goal should be to have a work/life "presence".
Indeed, panelist American Airlines VP safety systems, efficiency and compliance Bobbi Wells gave three poignant pieces of advice that can aid those grappling with these pressures.
Be kind to yourself, she advised, noting that we are all hardest on ourselves and need to afford ourselves forgiveness as we do for the people we care about.
Network in order to build relationships, she also recommended. "Don't see networking as simply that political thing that you have to do to get ahead. See it as an opportunity."
And do what scares you. "You're scared because there's a bigger propensity for failure, but do that."
Related Articles:
Featured image credited to Image: istock.com/gStudio