Airbus is planning to use its uncrewed aerial system drone Zephyr as the technology springboard into a new connectivity business spanning both ground and inflight technology. Zephyr, a record-breaking long-duration solar-electric aircraft, has an exceptionally long loiter time at altitudes roughly double those of commercial air routes, making it well suited for inflight connectivity.
Runway Girl Network sat down with Samer Halawi, the newly appointed chief executive officer of the new Airbus HAPS Connectivity Solutions services business, to learn more about the commercial aviation connectivity applications for this new platform.
"The Zephyr programme is really the only programme — maybe in the world — on the fixed wing that has broken this equation of power and weight: what can you achieve in terms of weight and power for a certain design of an aeroplane?" Halawi asks rhetorically. "Because of the advances in the battery technology and the platform design, this technology has matured to be to be productised and to be commercialised."
Cost is a key benefit: drones based on the Zephyr platform can take off from existing runways and be swapped out for easy maintenance or a change of payload as and when required.
The latest Zephyr test aircraft is at present continuing an exceedingly long flight over the southwestern US, approaching forty days, and has achieved altitudes above 76,000 feet at its highest point. The current form factor is a 75kg (165lb) aircraft, enabling a variety of payloads to be carried on board.
Intriguingly, Airbus is proposing direct cellular communication from the cabin environment upwards to the loitering platform.
"At 20 kilometres [some 65,000 feet]," Halawi says, "you can communicate directly with a smartphone, and that's the biggest advantage over satellite."
Halawi did not elaborate about the regulatory requirements for this kind of proposal, but whether the model is direct-to-passenger or via an onboard antenna, modem and wireless access point, the opportunities are intriguing.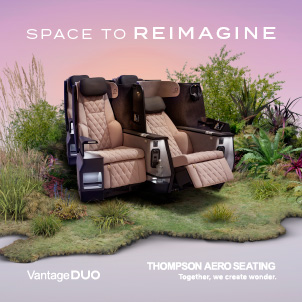 A perhaps more evolutionary proposal than direct cellular connectivity is to address the thorny issue of satellite capacity saturation over and near hub airports, which in some cases stymies satellite gate-to-gate inflight connectivity options.
"The concentration of capacity that you need over a hub city is enormous, and will become enormous. And today, all the satellites in the world together, do not have the capability of serving those hub cities in a proper way," Halawi says. "It can augment the capacity [so] that you can integrate the capability within the whole solution."
In essence, the idea is that loitering platform aircraft at 75,000 feet supplement coverage over the hub. With little latency to disrupt matters, the question really becomes one of base station range.
Here, Halawi suggests that "our coverage is bigger, much bigger, than terrestrial base station, less than satellite, but it gives you the connectivity, the capability, of a terrestrial base station."
"But the most important element," Halawi argues, "is not just the need for connectivity, but the need for symmetrical connectivity. In the past we used to download more than upload. Today, it's becoming closer to 50:50, and the satellite world is not designed for this: the satellite world is designed for maybe 75:25, not more than that."
Outside of the commercial aviation applications, the platform is also expected to be used for cruise ship connectivity, earth observation including persistent live videos, and to provide terrestrial connectivity in swiftly developing periurban and exurban areas.
HAPS as a platform and services business is clearly in its infancy. But Halawi, with previous stints at Intelsat, OneWeb, Inmarsat and elsewhere, comes across as incredibly keen to make the most of the opportunities at hand. 
Featured image credited to Airbus