Lighting can affect the passenger experience in a multitude of ways, either by disrupting flyers' circadian rhythms, or bathing the cabin in unnaturally bright light, making apples look more like oranges. Indeed, as flights get longer and pass from day to night and back again, the impact of poor-quality lighting becomes more acute onboard. 
That is why Collins Aerospace is working to revolutionise the onboard lighting experience through its new Hypergamut Lighting System, which it unveiled last month at the Aircraft Interiors Expo (AIX) in Hamburg. Runway Girl Network sat down with Collins business development director John Alotta to discuss Hypergamut and to see a live demonstration of its capabilities. 
Collins claims that this technology is attuned to human biology, utilising an improved lighting environment to regulate the body's release of melatonin and reduce jet lag. Melatonin is produced by the brain to regulate our sleep-wake cycle, and is affected by exposure to light, especially the artificial blue light associated with screens and electronic devices. Hypergamut mitigates this effect by simulating natural light in the cabin, which creates a warmer and less tiring environment, but by also managing the light that is diffused in the cabin.
Alotta explained that the full cabin lighting system can be pre-set to either encourage or hinder the production of melatonin throughout the flight by varying the intensity of the light. For example, Hypergamut can remove greenish-blue cyan from the cabin to encourage rest and sleep at the beginning of a flight, and then increase it upon landing, with any variation of cycles within the service for mealtimes or other events where passengers need to be awake.
By increasing the number of colored LEDs used in traditional lighting systems, Hypergamut is also effectively color-optimized to improve the appearance of materials, food and fixtures throughout the cabin. Collins has achieved this leap in lighting through its own proprietary technology, which the firm attests "provides the widest color gamut in the industry" and outperforms standard RGB (red, green, blue) and RGBW (red, green, blue, white) LED systems, enabling a unique passenger experience of saturated colors with a Color Rendering Index performance of >98 out of 100.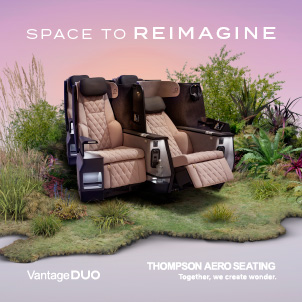 The system can be controlled via set commands for the duration of the flight, or operate dynamically itself.
"Hypergamut's advanced intelligent connectivity system syncs with inflight data generated by the aircraft. The real-time flightpath, timing, weather conditions and global positioning information from the airplane is collected and intelligently interpreted by the lighting system to enable predictive functionality and autonomous operation, reducing flight attendant inputs and workload," explains Collins in a statement.
While most passengers hope to never fly through tempestuous skies, Hypergamut can ensure that the cabin remains calming even as outside light does not.
This sounds very impressive, but it's hard to comprehend the difference without seeing it firsthand. RGN was fortunate enough to get a demonstration of the technology at AIX. Collins placed a variety of items including fabric swatches and a rubber duckie under the lights, and the results were profound.
With Hypergamut switched on, primary colours were bold and fresh, with nuances of blues and greens very clear. Without it, these colours became a subdued wash of greys, with the yellow duck becoming a distinctly pallid orange colour. Once the difference could be seen, it could not be unseen, and it is easy to conclude that passengers will also notice the difference once they have travelled in a cabin with Hypergamut installed. 
In addition to offering improved passenger experience, Hypergamut is also more sustainable. The high-efficiency LED system provides energy savings compared to legacy systems, according to the firm.
The impact of lighting on the passenger experience can be significant. Hypergamut demonstrates a way for this facet of the customer experience to be elevated to the next level, improving both the natural ambience and the visual experience for passenger enjoyment. Airlines that opt for this solution would be wise to shine a light on how they are using the tech to improve passenger comfort from the shadows. 
Related Articles: